People are being advised to stay indoors where possible and drink plenty of fluids.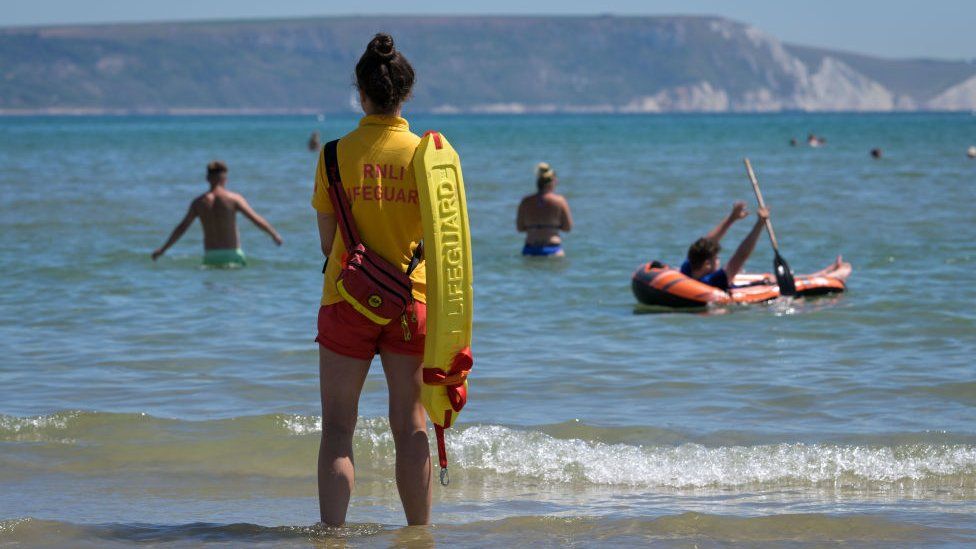 The Met Office has issued an extreme weather warning for Sunday, as temperatures are expected to climb to 34C on Monday.
The rare amber alert is used to warn people of potential health and transport issues caused by the heat.
The warning, covering most of England and parts of Wales, will last into early next week.
A high of 31.2C has been recorded at Heathrow, with temperatures soaring elsewhere in England.
That airport was also the site of the UK's hottest day so far this year on 17 June when it was 32.7C.
Level three heat-health alerts, which are separate to the amber alert, are in place across the south, the Midlands and eastern parts of England.
BBC weather presenter Chris Fawkes said Monday had a "decent shout at being the hottest day of the year so far".
He said eastern parts of England, including Cambridgeshire, could see 34C being reached.
The Met Office said central and southern parts of England could possibly see maximum highs of 33C, but for most it will be dry and sunny – and "well into the high 20s".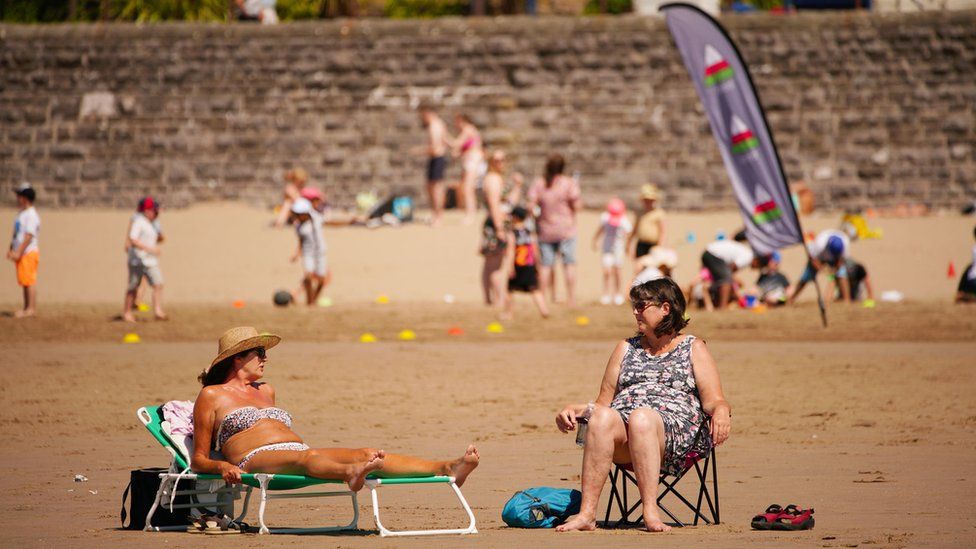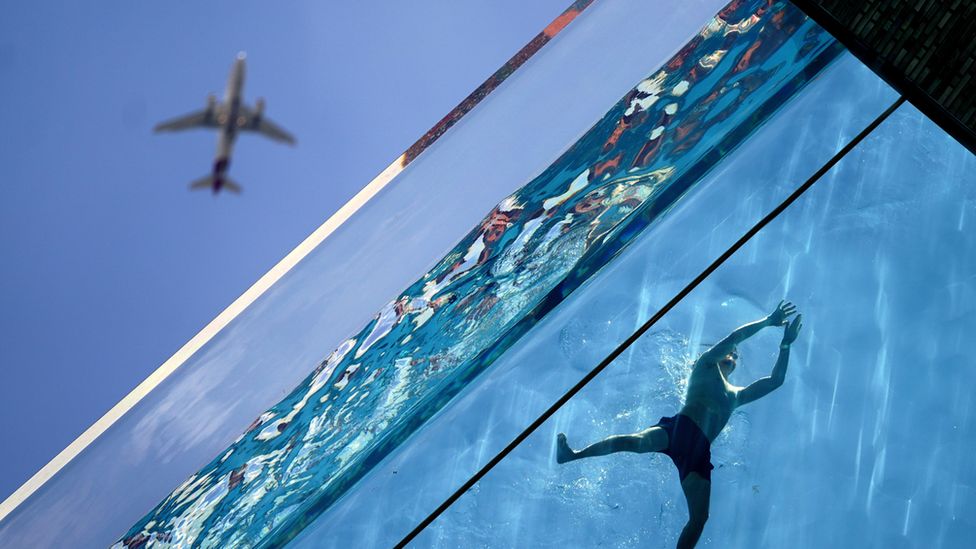 Temperatures could remain high overnight going into Tuesday, making it an uncomfortable night for many.
The Met Office is advising people to stay indoors where possible and to drink plenty of fluid to cope with the heat.
Parents are also being encouraged to limit their children's exposure to the sun.
The heat-health alerts, issued jointly by the UK Health Security Agency (UKHSA) and the Met Office, are expected to stay in place until next weekend.
Heatwaves are becoming more likely and more extreme because of climate change.
The highest temperature ever recorded in the UK was 38.7C on 25 July 2019 in Cambridge Botanic Garden.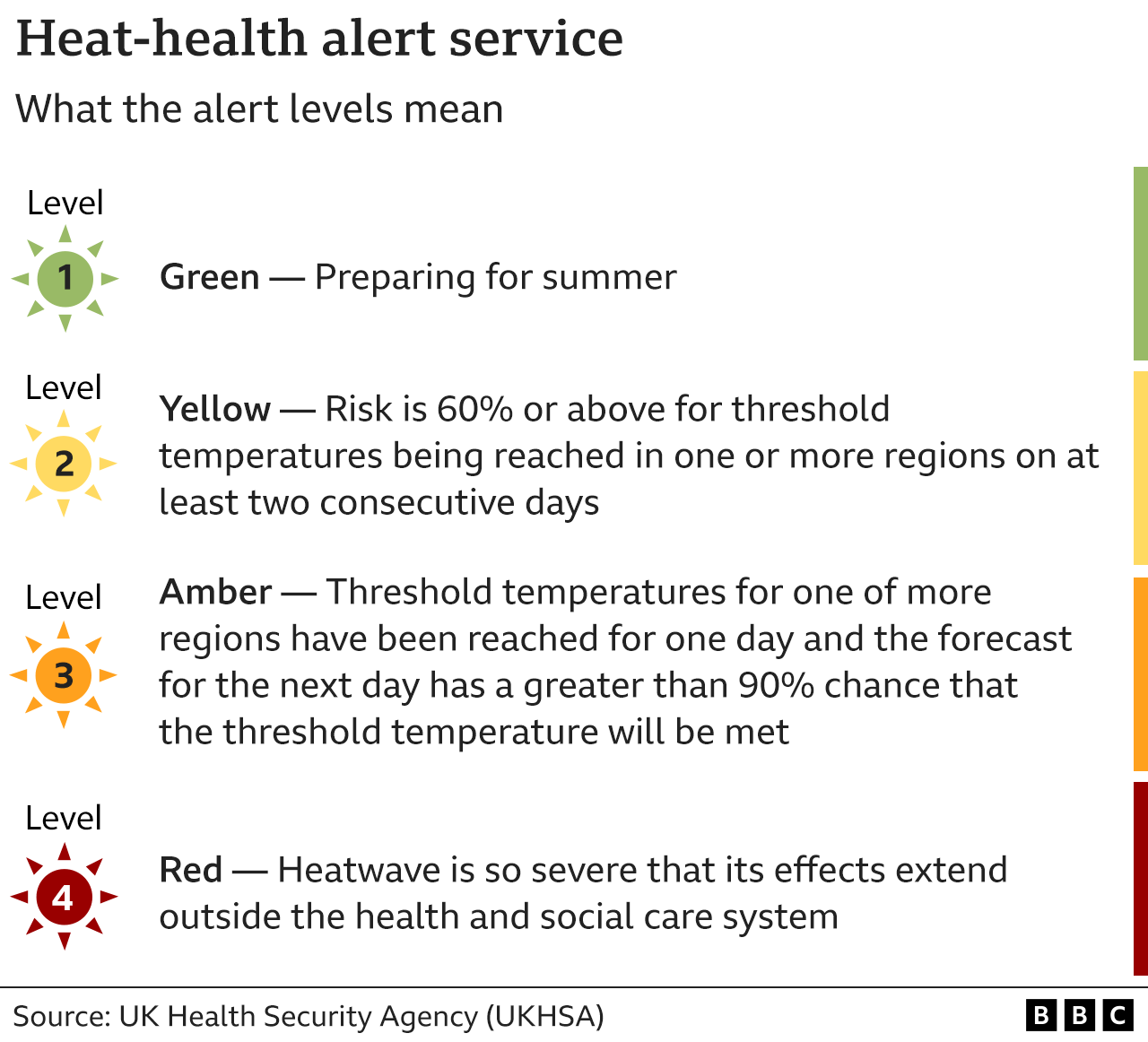 Scotland and Northern Ireland had their hottest days of the year so far on Sunday.
Aboyne in the Highlands hit highs of 27.3C, while Derrylin in Country Fermanagh reached 24.3C.
Sweltering temperatures are also affecting the north of England, with Manchester set to reach a high of 28C.
A heatwave is sweeping across Europe, with a plume of hot air coming up from Africa and northwards through Spain.
Temperatures are expected to hit 38C in Madrid and 47C in Seville on Monday.
France, Germany and Italy could see the heat exceed 40C over the coming weekend.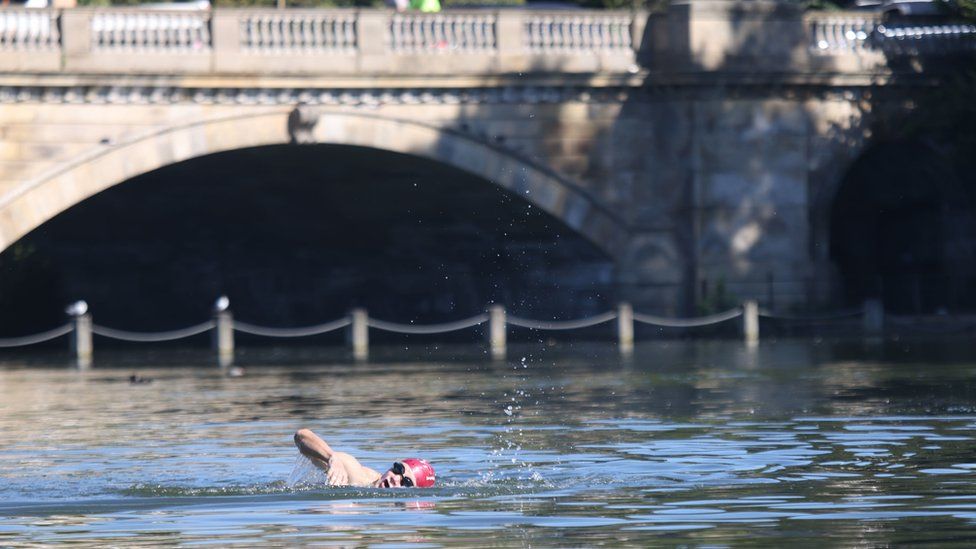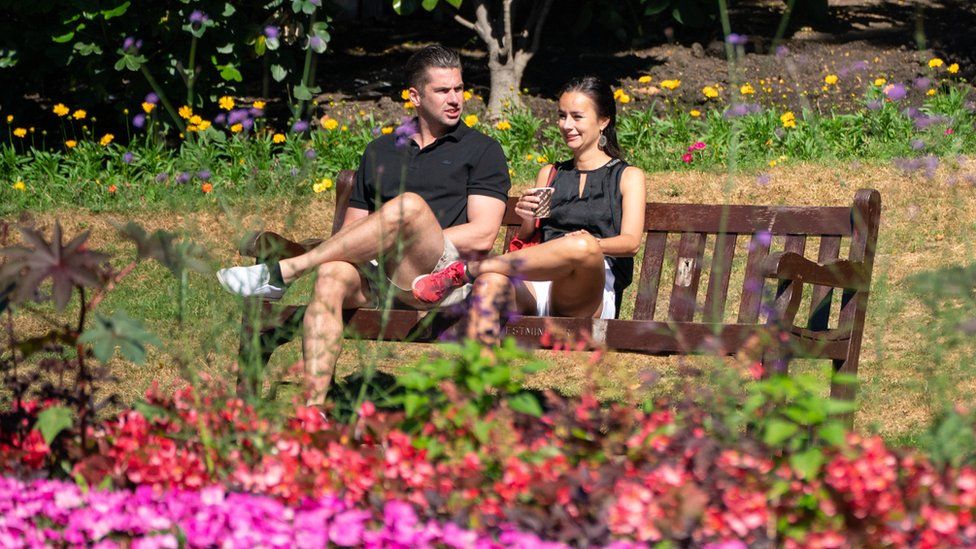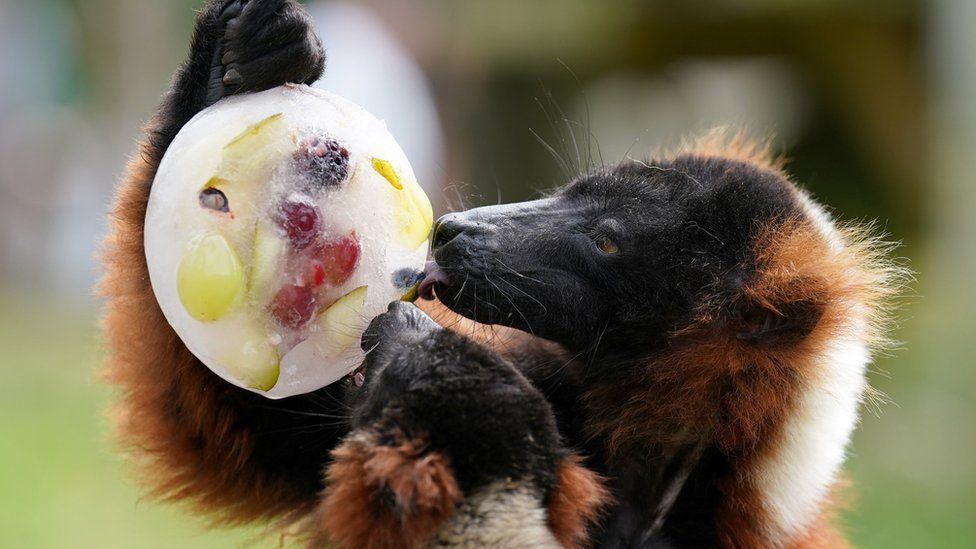 Dr Agostinho Sousa from the UK Health Security Agency (UKHSA) has urged people to stay hydrated and try to find shade when the rays are strongest in the afternoon.
The agency said the elderly, people with underlying health conditions and those who live alone are particularly at risk.
It suggests people shade or cover windows exposed to direct sunlight, check fans and fridges are working properly, and that medicines are correctly stored.
The Met Office declares a heatwave when it records at least three days in a row with maximum temperatures exceeding a set temperature – which varies in different areas of the country.
The UK's four-level heat-health system highlights the potential health impacts of high temperatures.
The level three currently in place requires health and social care workers to target high-risk groups of people such as the elderly and vulnerable.
Train services were suspended between Victoria and Brixton in south London earlier when a fire broke out on tracks at Battersea Bridge.
Network Rail believes the fire was caused by a stray spark touching the bridge's timbers.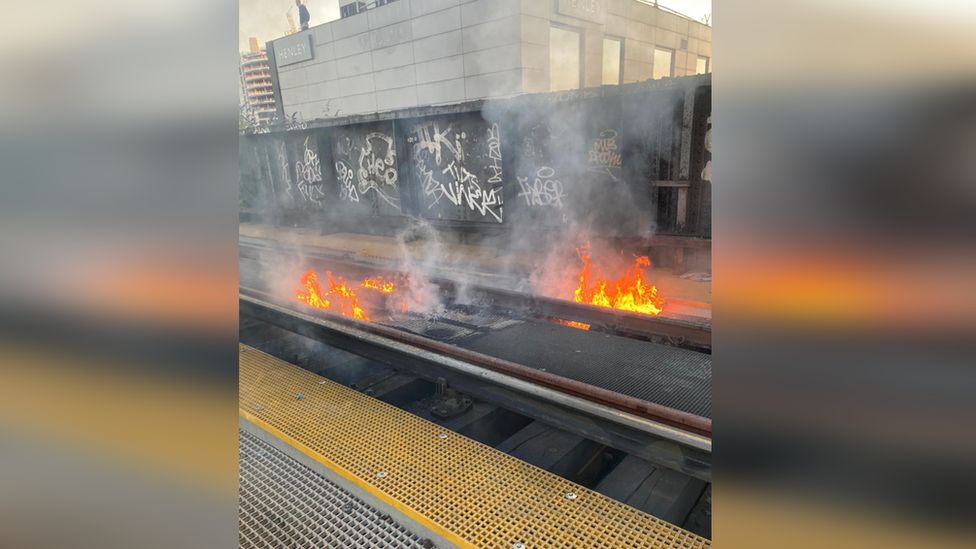 High track temperatures meant fewer trains could run because of a speed restriction, West Midlands Railway said.
Hampshire County Council is preparing to deploy gritters to deal with road surfaces being melted by the sun.
The machines are normally used to tackle snow but will instead be spreading light dustings of sand to help drivers.
Dog owners have also been advised to avoid over-exercising their pets in hot weather.
Battersea Dogs and Cats Home said taking your pet for walks in the early morning or early evening when temperatures have cooled can prevent heatstroke.
It also added that dogs should never be left in parked cars when temperatures go above 21C – in a locked car this can jump to 40C.
Some weather models are predicting extreme heat for the UK next weekend.
BBC weather presenter Chris Fawkes said temperatures could rise to the high 30s due to hot weather across Spain and Portugal being drawn to the UK – boosting temperatures through the week and into next weekend.
In some cases, temperatures above 40C (104F) are being predicted in southern England.
Some weather models are showing extreme heat for the UK from next weekend.☀️🌡️ #UKWeather

But it's much too early to call.

Here's Sarah Keith-Lucas to explain why👇 pic.twitter.com/Y2MeywMwTE

— BBC Weather (@bbcweather)
The world has already warmed by about 1.1C since the industrial era began in the latter half of the 18th century, and temperatures will keep rising unless governments around the world make steep cuts to emissions.
In England, there were 2,500 excess deaths in the summer of 2020 as a result of hot weather, while heat-related deaths in the UK could treble in 30 years, the British Red Cross predicts.