Party bosses have also changed the rules to make it more difficult to enter and progress in the race.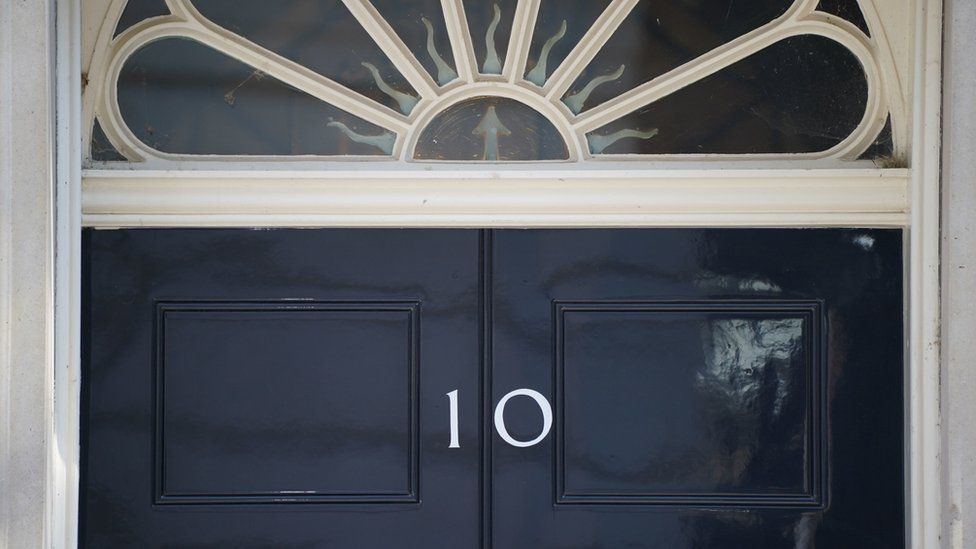 The next Conservative leader and UK prime minister will be announced on 5 September, party bosses have announced.
In a bid to rapidly eliminate fringe candidates, they have also decided to make it harder to enter into and progress in the contest.
Tory MPs will whittle the field down to two final candidates before the end of next week, in successive rounds of voting.
Around 160,000 party members will then pick the winner in a postal ballot.
Eleven candidates have come forward so far in the race to replace Boris Johnson, who resigned last week after a revolt among his MPs and ministers.
Other candidates could still enter the race, with Home Secretary Priti Patel believed to be weighing up whether to run.
Brexit Opportunities Minister Jacob Rees-Mogg has ruled himself out, telling the Telegraph he wanted to "unite rather than further fracture the right".
The contest so far has been dominated by the issue of taxation, with nearly all of the candidates pledging cuts to personal or business taxes, or both.
'Fairy tales'
Earlier, Chancellor Nadhim Zahawi, who launched his campaign over the weekend, set out plans to cut corporation tax, income tax and business rates.
Fellow candidate Foreign Secretary Liz Truss has also vowed to cut taxes "from day one" and scrap April's hike in National Insurance. Another, former Health Secretary Sajid Javid, outlined £39bn in tax cuts over the weekend.
The various tax-cutting proposals mark a contrast with ex-Chancellor Rishi Sunak, who has played down the prospect of immediate cuts.
At an event to officially launch his campaign on Tuesday, he will rule out cutting taxes until inflation has been "gripped".
"We need a return to traditional Conservative economic values – and that means honesty and responsibility, not fairy tales," he will add.

Conservative leadership timetable
Tuesday 12 July – nominations to get on the ballot open and close
Wednesday 13 July – first round of voting among Tory MPs
Thursday 14 July – likely date for second round of voting
Monday 18 July – likely date for third round of voting, if required
Thursday 21 July – deadline for deciding final two candidates
Monday 5 September – winner announced

The 1922 backbench committee, which organises leadership contests, has decided candidates will now require 20 nominations from fellow Tory MPs to stand, up from 8 at the last contest.
Contenders will also require at least 30 votes from Tory MPs to progress past the first round of voting, up from 18 last time.
Committee chairman Sir Graham Brady said they had aimed to strike a balance between letting "serious candidates" enter the contest, and avoiding a "cast of thousands who don't really have great prospect of progressing".
The contender with the most declared supporters among MPs is currently Mr Sunak, followed by Trade Minister Penny Mordaunt and backbencher Tom Tugendhat.
Speaking earlier, Mr Johnson said he would not be endorsing any of the candidates running to replace him.
"I wouldn't want to damage anyone's chances with my support," he added.
Earlier, Labour leader Sir Keir Starmer criticised the candidates for their tax pledges, accusing them of entering an "arms race of fantasy economics".
He also accused Tory challengers of "hypocrisy", as they had backed the tax hikes that have been introduced under Mr Johnson's government.


The party has had to strike a balance between getting on with things and giving the party a chance for a hearty debate about its future.
Requiring 20 nominations to get on the ballot paper may prove tricky for some, but it's not as high a hurdle as some had thought it might be.
And getting to 30 nominations to make the second round will knock out some more, although again it's not as high as the 10% of the parliamentary party, 36, suggested by some over the weekend.
In short, very quickly, this broad field will narrow considerably – and then it will prove crucial where the supporters of some of the early drop outs go to next.