The comedian reassured fans after he suffered the "worst cramp ever" while on stage at the weekend.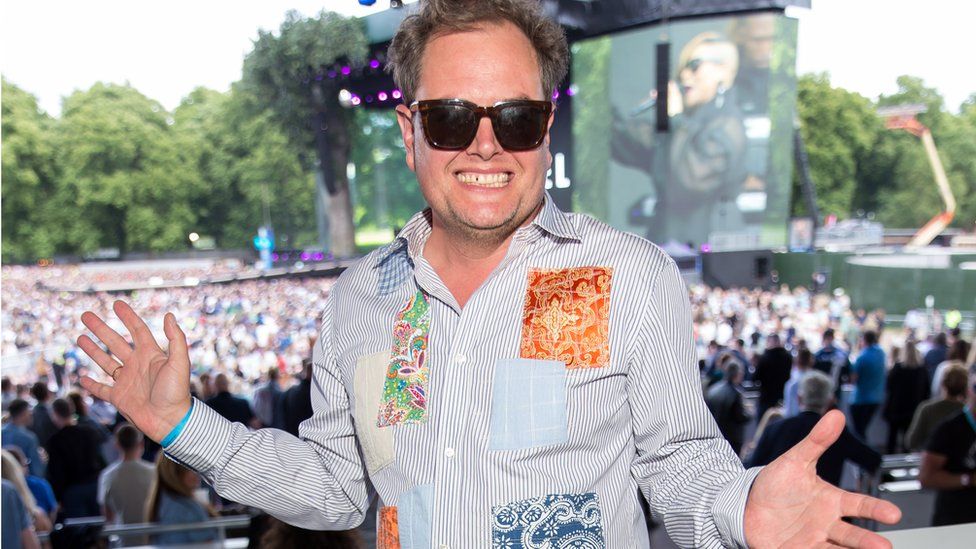 Alan Carr has reassured fans he is "fine" after he collapsed on-stage with a shooting pain in his leg.
The comedian had to finish his show at Glasgow's King's Theatre on Sunday on crutches after suffering what he later described as "the worst cramp ever".
Some fans online thought it had been all part of his act until Carr posted a picture of himself icing his leg with frozen peas afterwards.
He subsequently told fans he felt "silly" but fears he has torn a muscle.
"I've been performing up in Glasgow and there's a bit in my routine where I pretend to be Jason Statham and I high-kicked, and then I got the worst cramp ever," he explained in an Instagram video seemingly posted from his hotel bedroom.
"Oh my God! It was shooting pains and I was rolling around on the floor, and people thought it was part of the act."
Carr went on to explain that he had had to finish the last five minutes of the show in pain, with the help of his "lovely tour manager" who pushed a crutch through the curtains for him to help him to stand.
He said he had taken some pain relief tablets since and was essentially now "healed" but thinks he may have torn leg muscle, as well as suffering a bruised ego.
"I'm fine… I just felt silly rolling around the floor," he added. "I've never felt pain like it, but I will solider on as I always do."
Reacting to his post online, fellow comic John Bishop replied: "What a trooper – you are an example to us."
"Worried about you," presenter Vanessa Feltz posted. "Should you be checked out by a GP or at A&E just to be sure?"
Carol Vorderman simply exclaimed: "Oh Al."
"Oh, bless you," offered actress Martine McCutcheon. "What a trooper! Rest up and take care of yourself tho please!"
'Rubbish year'
His on-stage collapse came mid-way through what Carr recently described as "a rubbish year" after his separation from husband Paul Drayton.
"I wrote it [the show] before Covid," he said. "We had a week to go and it was all written and done. It was about me getting married and Adele getting ordained especially to marry me and Paul.
"But then, during Covid, the relationship fell apart, and I was divorced when we came out the other end. So it's probably my most personal [tour], but it sort of works and it's quite raw and I go to places that I don't normally talk about. It's like therapy really."
Last week the 46-year-old also spoke about his "weird rivalry" with the late Sir Bruce Forsyth ahead of the launch of Alan Carr's Epic Gameshow on ITV.
Carr told the Press Association that the pair "often had a laugh" at one another's expense on TV,
He recalled how his fellow entertainer and presenter, who died in August 2017, had singled out his breakthrough Chatty Man talk show as a "hit".
Last year, Carr revealed he was making a TV sitcom about his life growing up in his hometown Northampton in the 1980s.