The MoD says the British army will give volunteer recruits the skills to take on Russian troops.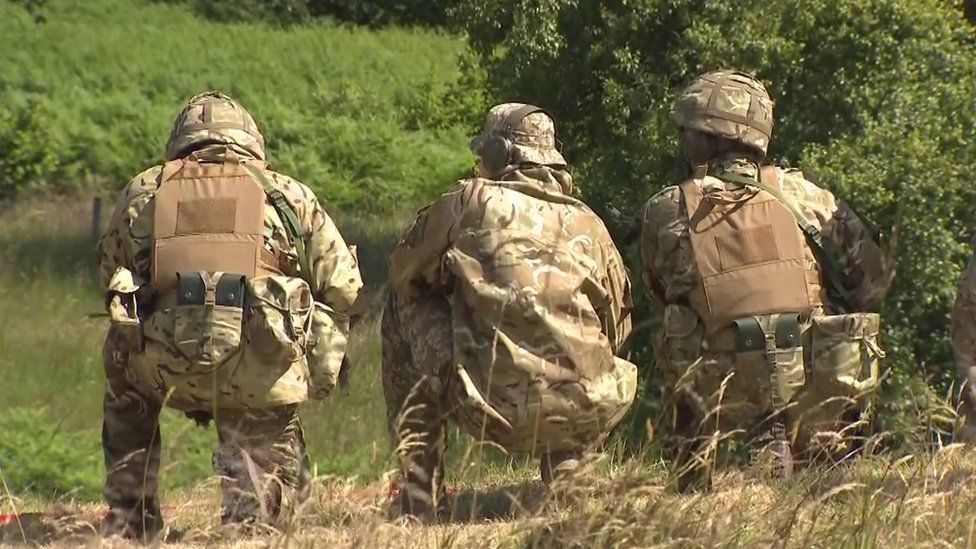 The first cohort of Ukrainian soldiers have started a new training programme in the UK to help in the fight against invading Russian troops.
Up to 10,000 will be trained at Ministry of Defence (MoD) sites across the country over the next few months.
The programme will give volunteer recruits the necessary skills to fight on the front line, the MoD said.
Defence Secretary Ben Wallace said it was the "next phase" in the UK's support for Ukrainian armed forces.
Around 1,050 UK service personnel are being deployed to run the programme at sites across the UK – more than 1,000 miles away from the battlefields of the Donbas in eastern Ukraine.
The UK-led programme aims to train up to 10,000 Ukrainians in 120 days, but would be "open to more", the defence secretary said.
"We're in the hands of the Ukrainians," he said.
"Using the world-class expertise of the British army we will help Ukraine to rebuild its forces and scale-up its resistance as they defend their country's sovereignty and their right to choose their own future."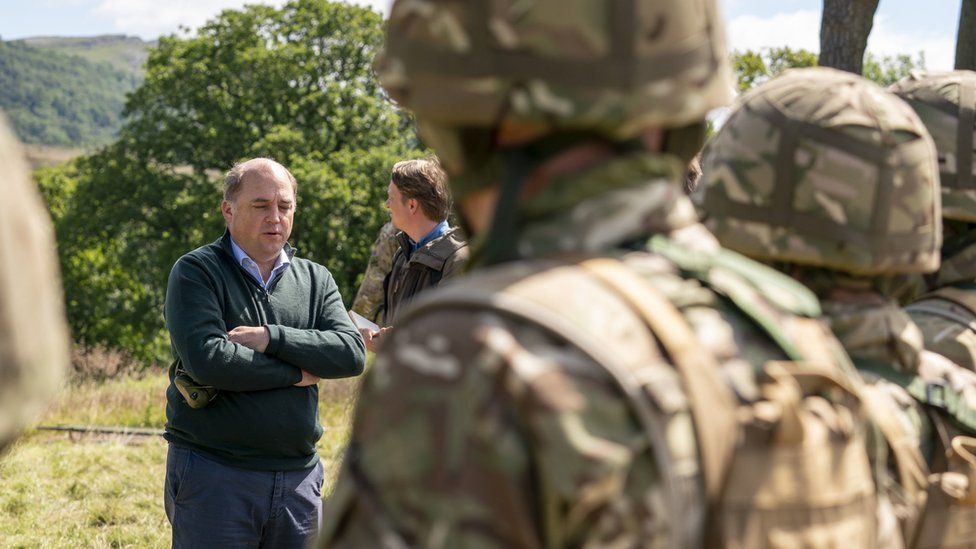 The course – run by the Army's 11 Security Force Assistance Brigade – is based on the UK basic soldier training, covering weapons handling, battlefield first aid, fieldcraft, patrol tactics and the Law of Armed Conflict.
Some 22,000 Ukrainian service personnel have already been trained by the UK through Operation Orbital between 2015 and 2022.
The UK has so far invested £2.3bn in military aid in light of Russian aggression, including more than 5,000 NLAW anti-tank weapons and M270 multiple launch rocket systems.
The UK is now counting its support for Ukraine as part of its defence spending, bringing the current total to 2.3% of GDP – above the target set by Nato of 2%.
Mr Wallace, considered a potential frontrunner to replace Boris Johnson as prime minister and leader of the Conservative Party, said the next occupant of No 10 needs to commit to invest in defence spending.
Senior-level officers have been studying at Fort Leavenworth in Kansas, the knowledge gained there helping them mount a fierce defence of their country, experts say.