Greg Clarke and James Cleverly are among those given roles as Johnson replaces ministers who quit.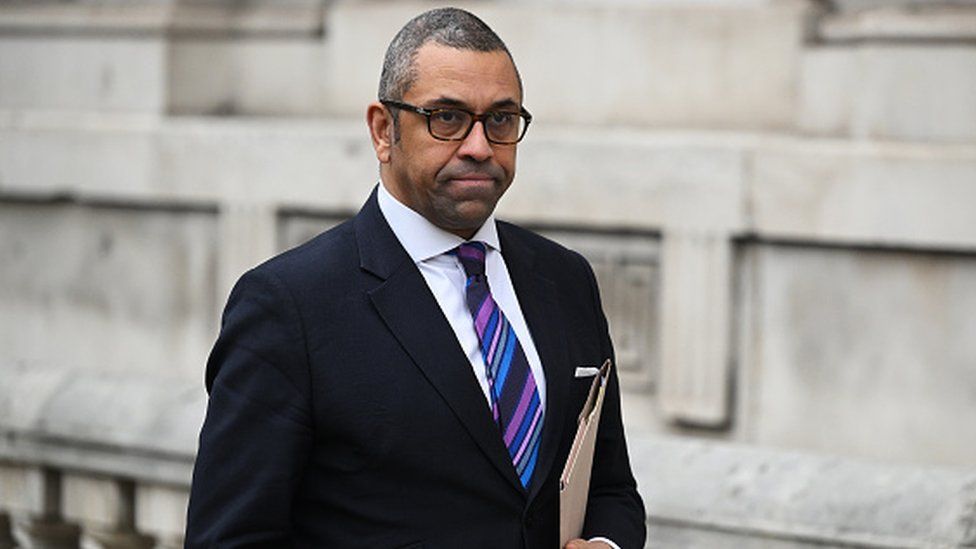 Boris Johnson has filled vacant cabinet posts, ahead of his expected resignation as Tory leader, despite calls for him to leave as soon as possible.
Mr Johnson is to stand down as party leader but intends to stay on as PM until the autumn.
Greg Clarke has been named new levelling up secretary, and James Cleverly as education secretary.
But some Tory MPs are urging him to go now to avoid government paralysis.
Labour leader Sir Keir Starmer said Mr Johnson must not be allowed to "cling on" in No 10 once he has resigned and threatened to use a confidence motion in Parliament to oust him.
"If they don't get rid of him, then Labour will step up in the national interest and bring a vote of no confidence because we can't go on with this prime minister clinging on for months and months to come," Sir Keir said.
Former minister Sir Bob Neill told MPs there was a "serious question mark" over how long a "caretaker" prime minister could stay in place.
"Might it not be in everybody's interest to speed up the transition as much as possible?" he added.
Mr Johnson has also appointed Robert Buckland as Wales secretary, Shailesh Vara as Northern Ireland secretary, Kit Malthouse as chancellor of the Duchy of Lancaster, and Andrew Stephenson as minister without portfolio.

Boris Johnson resignation
It follows a dramatic 48 hours which saw dozens of ministers – including former chancellor Rishi Sunak – resigning and plunging Mr Johnson's leadership into crisis.
Mr Sunak's replacement as chancellor Nadhim Zahawi was among the ministers urging the PM to quit.
Mr Johnson resisted the calls until Thursday morning, when it became clear that he had lost the confidence of his MPs and that the government could no longer function.
Less than three years ago, Mr Johnson won an historic landslide victory in a general election – but he has been dogged by controversy in recent months, including a fine for breaking his own lockdown laws.
The revolt this week was triggered by revelations about the prime minister's handling of sexual misconduct allegations against former Deputy Chief Whip Chris Pincher.
Liberal Democrat Leader Sir Ed Davey said it had long been clear Mr Johnson was "unfit to lead our country", adding the "public won't forgive the Conservatives for propping him up for so long".
In a tweet, Scottish First Minister and SNP leader Nicola Sturgeon said there was a "widespread sense of relief that the chaos of the last few days (indeed months) will come to an end".

Is it sustainable for Boris Johnson to carry on as prime minister until the autumn?
His supporters will argue that offers some semblance of continuity and stability at a time where there's not much of either.
Critics, such as Scotland's First Minister Nicola Sturgeon, are already arguing it isn't sustainable, given the huge number of vacancies in government.
Labour also think he should leave as prime minister now and there should be an interim prime minister until the autumn.
That argument will rage today.
And another will begin: who should be our next prime minister?

Mr Johnson's resignation will make him one of the shortest-serving British prime ministers since World War Two, with his tenure currently falling short of that of his predecessor, Theresa May.
Mr Johnson became prime minister on 24 July 2019, meaning he has been in post for two years and 349 days.
In contrast Mrs May, who became prime minister on 13 July 2016, served for three years and 12 days until she was forced out by her MPs over a Brexit deadlock.