The prime minister makes it clear he plans to stay, as he prepares to face a grilling from MPs later.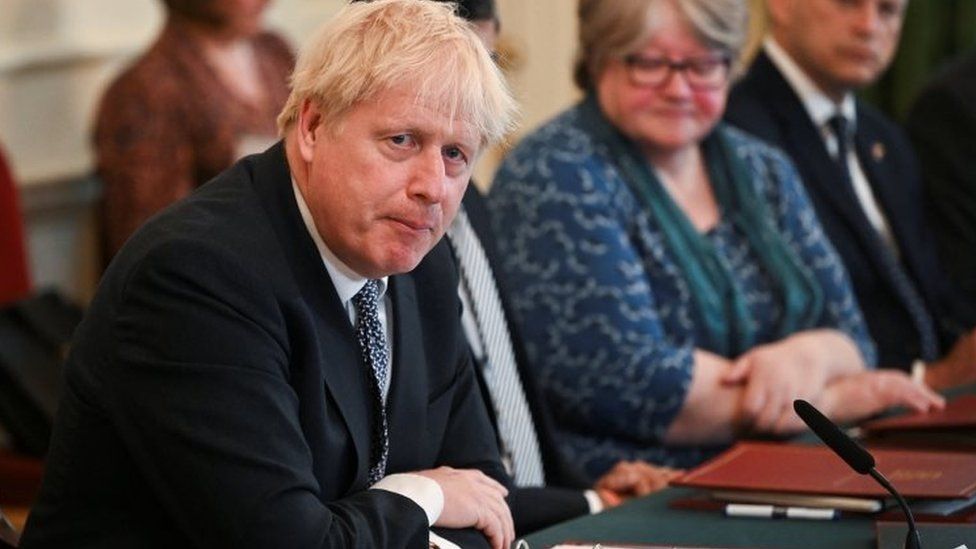 Boris Johnson is battling to stay in office, amid further resignations from his government in protest at his leadership.
New chancellor Nadhim Zahawi has urged unity after his predecessor, the health secretary, and several junior ministers walked out.
But the prime minister has been hit by three further resignations, taking the total to 13 in the past day.
It comes as he prepares for PMQs later and a grilling by senior MPs.
Mr Johnson's premiership has been plunged into crisis following the dramatic resignations of Chancellor Rishi Sunak and Health Secretary Sajid Javid.
They quit within minutes of each other on Tuesday following a row over Mr Johnson's decision to appoint Chris Pincher deputy chief whip earlier this year.
Further resignations have followed, with education ministers Will Quince and Robin Walker and ministerial aide Laura Trott quitting on Wednesday.
Mr Javid, who has now resigned from Mr Johnson's cabinet for the second time, will make a resignation statement to Parliament later.
Mr Johnson has admitted it was a "bad mistake" to appoint Mr Pincher, despite being aware of misconduct allegations against him.
It followed days of changing responses from No 10 over what exactly the PM knew about Mr Pincher's past conduct when he gave him the job.
Mr Quince, who was sent out to defend the PM in media interviews two days ago, said Downing Street had given him "inaccurate" information.
In a resignation letter, he added he had "no choice" to resign – adding that he had repeated No 10's assurances "in good faith".
Leadership rule questions
The row over Mr Pincher's appointment comes after the PM's relations with his backbenchers have been damaged by the Partygate scandal and unhappiness over tax rises.
He survived a no-confidence vote among Tory MPs last month, meaning under current party rules he is immune from another challenge for a year.
Several key cabinet ministers, including potential foreign secretary and leadership challenger Liz Truss, have rallied round the prime minister.
However, rebel Tories want to use an upcoming vote to the backbench 1922 committee to scrap the year-long gap between contests, making it possible he could face another challenge later this summer.

PM's future far from secure

Boris Johnson is braced for more resignations, perhaps not from the cabinet but the next rung down the ministerial ladder.
For a little while, after two cabinet resignations, Westminster wondered what might happen next – and so did the PM.
Not in control of events, he was ringing around the rest of his cabinet to work out if they were still with him. They were, and the moment of greatest jeopardy for him has passed – for now at least.
A smattering of more junior resignations did follow, but there's a defiance from his team; they point out their mandate from the electorate at the last election, in contrast with the anger and anguish among many Conservative MPs.

Mr Zahawi, who becomes the fourth chancellor in three years, was appointed alongside the prime minister's chief of staff, Steve Barclay, who became health secretary.
A No 10 source said the new chancellor was "more dynamic and more aligned" with Mr Johnson, and described the new health secretary as a "massive upgrade".
Mr Javid had warned the leadership was not "acting in the national interest", while Mr Sunak said the public expected government to be conducted "properly, competently and seriously".
The departures triggered a wave of resignations, including Solicitor General Alex Chalk, five ministerial aides, two trade envoys, and Bim Afolami as vice-chair of the Tory party.
Ashfield MP Lee Anderson, a previously loyal supporter of Mr Johnson, also withdrew his support, saying in a Facebook post he could not "look myself in the mirror" and accept the PM's handling of Chris Pincher's appointment.

How could Boris Johnson go?
If party bosses change the one-year rule on leadership challenges, rebel Tory MPs could try again to oust him later this summer, or in the autumn
If Mr Johnson lost a vote of no confidence in Parliament, he would have to resign or call an election
Otherwise, he would have to resign himself – possibly in the face of cabinet pressure, like Margaret Thatcher – or after a fresh wave of ministerial resignations

Pressure on the prime minister was also elevated last month by the loss of by-elections in Tiverton and Honiton and Wakefield and the resignation of Conservative Party chairman Oliver Dowden.
Conservative MP Andrew Bridgen told the BBC the prime minister should resign and if he does not do so "the party will have to force him out".
"The 1922 committee will deal with this turbulent prime minister, it's what it was created for," he said.
Bob Blackman, a member of the 1922 executive committee, said elections to replace the executive team – an event rebel Tories want to use to force a leadership rule change – will take place before Parliament's summer recess two weeks' time.
Meanwhile, Labour leader Sir Keir said he would welcome a snap election and the country needed a change of government.
He said: "After all the sleaze, all the failure, it's clear that this Tory government is now collapsing."
The next general election is expected to be held in 2024 but could be earlier if Mr Johnson used his powers to call one.
Leader of the Liberal Democrats Sir Ed Davey told the BBC that Conservatives must do their "patriotic duty" and "get rid of Boris Johnson today".
Scottish First Minister and SNP leader Nicola Sturgeon said "the whole rotten lot" in Mr Johnson's government should go, accusing ministers of "lying to the public".