A new version of the star's 1960s classic Blowin' In The Wind is expected to make £1m at auction.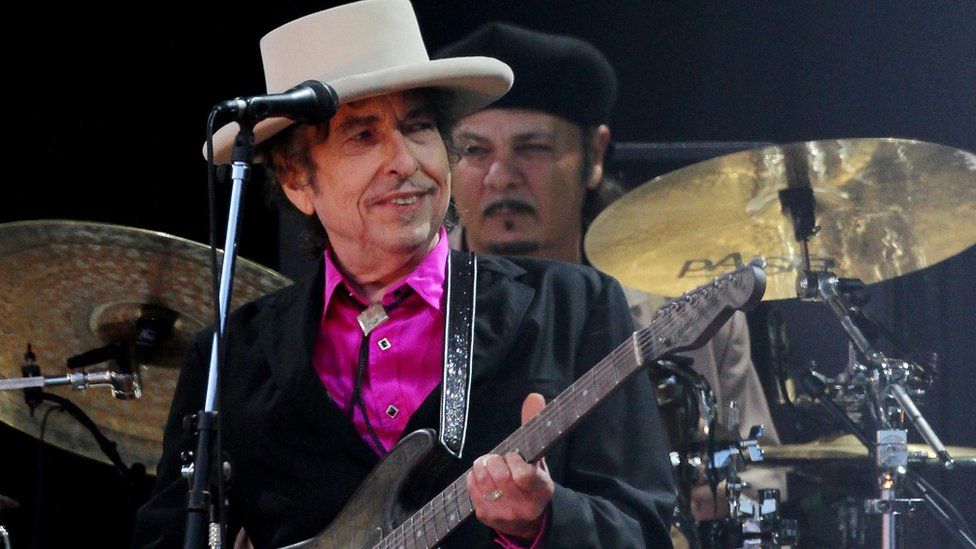 A one-off Bob Dylan record is expected to fetch up to £1m when it is auctioned at Christie's on Thursday.
The disc features a new version of the star's classic song Blowin' In The Wind, made in March 2021 with his long-time collaborator T Bone Burnett.
"It felt holy," he tells BBC News. "It always feels holy for me, playing with Bob – and I think we did it in one take, if I'm not mistaken."
It is the first new studio recording of the song since Dylan wrote it in 1962.
The one-off release also showcases a new type of record that combines some of the materials used in CDs and vinyl, and promises better sound quality and durability than vinyl.
Playable on any regular turntable, the new format is described as "the pinnacle of sound" by Burnett, who helped develop it.
Ultimately, only one deep-pocketed Dylan fan will get to own the new version of Blowin' In The Wind. However, fans can go to Christie's in London to hear the record before it is sold.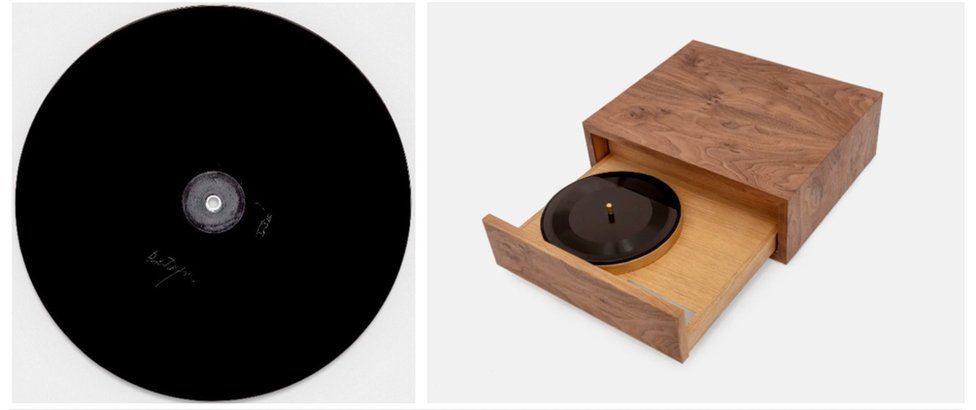 There, they will be ushered into a sedate side-room of the auction house, where the 10-inch disc is handled with silk gloves before being placed on a £30,000 hi-fi system.
Listening on headphones, the warmth and precision of the sound is immediately apparent, save for a few pops and cracks (maybe four in total) attributable to dust or static on the surface of the record.
Dylan's voice is smooth and dextrous throughout, having benefitted from an extended break in touring during the Covid-19 pandemic.
When it appears, his characteristic rasp only adds to the weight of the lyrics, which are inextricably linked to the civil rights movement of the 1960s.
Lines like, "How many times can a man turn his head / and pretend that he just doesn't see?" resonate harder than ever when sung from the perspective of an 81-year-old who's witnessed history repeat decade after decade after decade.
As a result, the song becomes more contemplative, a rumination on our failures. Dylan stretches out his syllables as though he's contemplating every line anew; taking almost a minute longer to reach the song's conclusion.
Unlike the original, the 2021 re-recording features a full band, recorded live in the studio as Dylan sang. Their subtle and sympathetic arrangement – with Greg Leisz on mandolin and Don Was on bass – adds a new dimension to the song, without stealing focus from the message.
It almost seems a shame that, in the words of the Christie's catalogue, "this is the only copy of Bob Dylan's 2021 recording,…. that will ever be manufactured. No other versions of this recording will be released or sold".
"We're only making one because we view this work as the equivalent of an oil painting," says Burnett, who is best known for his Grammy-winning work on Raising Sand by Alison Kraus and Robert Plant, as well as the soundtracks for O Brother, Where Art Thou? and The Big Lebowski.
He hopes that future releases in the format will "help develop a music space in the fine arts", allowing artists to combat "the devaluing of our work by the commoditisation of the internet".
"I don't know what an original recording of Bob Dylan singing one of the most important songs of the last century is [worth] today, but I know it's not point $0.001 divided by 5 billion, which is the reality that musicians face now."
The exclusivity of the new recording has informed its estimated sale price of between £600,000 and £1 million.
Peter Klarnet, Christie's senior specialist in Americana, says it was hard to calculate an estimate, as nothing of this nature has ever been sold before. The closest analogy is the Wu-Tang Clan album Once Upon a Time in Shaolin, which was limited to a single CD copy in 2015.
That record was initially bought by hedge fund manager Martin Shkreli for an unspecified sum. When he was later convicted of fraud, the US Department of Justice re-sold the album for a reported $4m (£3.35m), making it the most expensive work of music ever sold.
Klarnet says the Dylan record is unlikely to top that sum, but suggests his initial estimate is on the conservative side.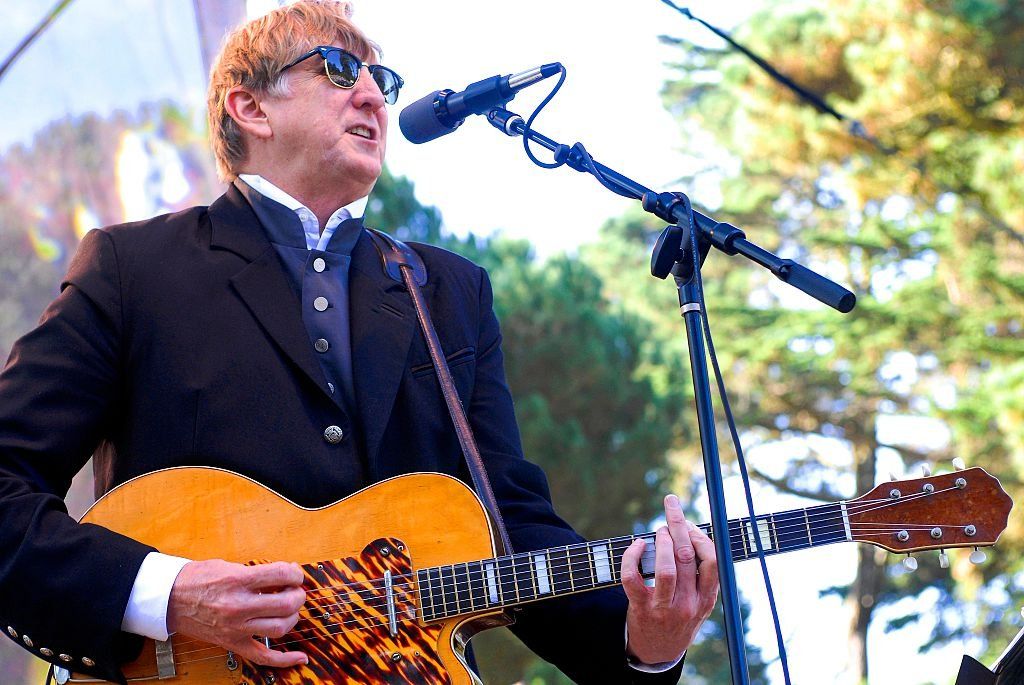 Meanwhile, Burnett is enthused by the potential of his new physical audio format – known as an Ionic Original.
Announced in April, it consists of "lacquer painted onto an aluminium disc, with a spiral etched into it by music".
This is essentially the same technology that the music industry has used for decades to create test pressings, known as acetates or dubplates.
Musicians generally agree that these acetates sound better than vinyl – but they degrade quickly, as the force of the needle pushing into the groove melts the lacquer.
"So we started looking into what they use on the Space Station to shield it from the direct light of the sun," says Burnett. "And we've been able to coat the acetate with that, and it removes enough friction that the acetate doesn't degrade over thousands of plays."
He says the coating – made from a gradient of sapphire and quartz – also reduces the crackle associated with vinyl.
"Friction creates static electricity, which attracts dust, which causes pops," he explains. "So with this coating removing friction, if some dust does land on the needle, it cleans it out. So the discs are essentially self-cleaning."
At the time of writing, the discs cannot be mass produced, meaning they are likely to remain collector's items and investment opportunities for now. But Burnett hopes they will be more widely adapted in the future.
"I don't look at this as a replacement for anything," he says. "I just look at it as another arrow in the quiver for every musician in the world [and] a whole new way of earning a living that we've never had before."
This isn't Burnett's first venture into audio formats. In 2008, he developed a hi-fidelity technology known as ΧΟΔΕ (or Code), which allowed listeners to play "studio quality" recordings from a DVD player.
Releases on the format included John Mellencamp's Life, Death, Love and Freedom – but the format died out relatively quickly.