The brand explains price rises after photos of security tagged butter were spread across Twitter.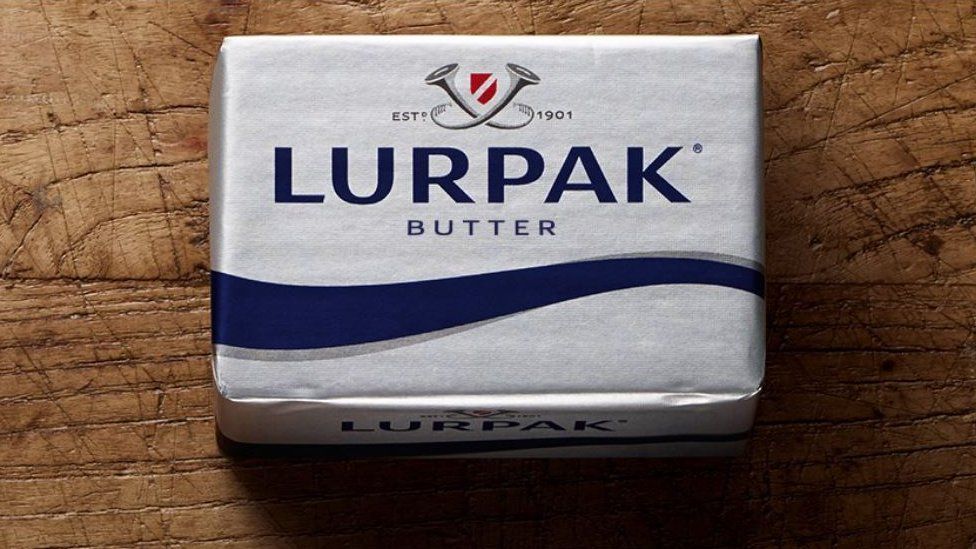 Butter brand Lurpak has said the price of its products has gone up so that dairy farmers get a fair deal.
Lurpak was trending on Twitter as shoppers expressed shock at the price of the spread in supermarkets. A 750g tub is £7.25 in Sainsbury's.
Asda said photos of the butter covered in security tags did not indicate that they were being stolen more often, but an issue in an individual store.
Lurpak said: "Prices on the shelves have had to rise in recent months."
A statement from Lurpak's owner Arla Foods said: "We understand that recent inflation in food price is hitting many households really hard right now.
"Unfortunately, our farmers are facing a similar situation with prices for the feed, fertiliser and fuel they need to produce milk, all rising significantly in recent months.
"While we don't set the prices on the shelves, we do work closely with the retailers to ensure our farmers receive a fair price for the milk they produce."
Britain in 2022… Lurpak butter is at £6 a tub in ASDA and even has a security tag on it.

Mental! 😂🤦🏼‍♂️ pic.twitter.com/ZxOocgYeZg

— Charlie Bennett (@CharIieBennett)
Asda said its largest pack of Lurpak had been at about the £6 mark since last year, its price had not changed and it was not considered high value.
"We've no data to suggest it's being stolen more than anything else or more than it has been in the past," a spokesperson said.
"Asda hasn't started tagging this product as a rule, individual stores may add tags to products they may have noticed have been going missing."
Sainsbury's said: "The price of products will be influenced by a range of factors, including manufacturer's costs, and we are doing all we can to mitigate rising costs where we can."
A spokesperson for the supermarket pointed out it had own brand options and butter was also part of its Sainsbury's Quality, Aldi Price Match campaign.
Food security
Retail analyst Steve Dresser, chief executive of Grocery Insight, said high costs for production, energy, fuel and other raw materials at the start of the supply chain were now making their way to the shelf edge.
He said: "Paying farmers a fair price is important for our wider food security and as their costs rise, the price paid for their produce has to rise too. It all leads to a higher cost price and thus, a higher shelf price.
"Of course, Lurpak is a brand with a distinctive taste and lots of loyal fans, but it's a reminder that other (cheaper) brands are also available.
"A non-promotional price for Lurpak at £5/£7/£9 is a reminder of the significant inflationary pressure we're all feeling at the minute.
"We often hoped with Covid we'd flatten the curve, with inflation, it's a similar story. But we see no signs of the upper trajectory slowing down, let alone levelling off."