Police said further bodies could be found in the coming days as crews searched the scene in Bedford.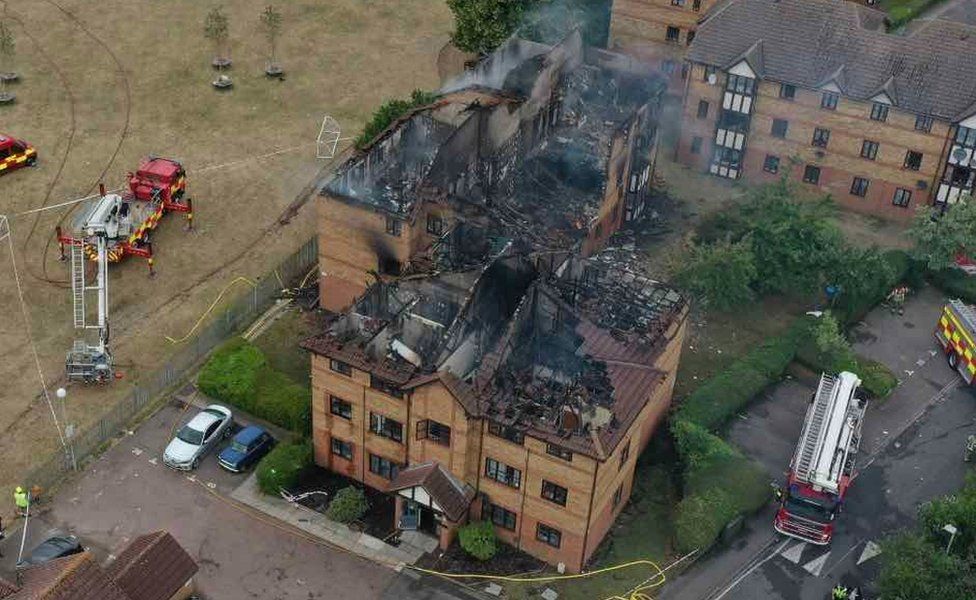 Dozens of people spent the night away from home unaware if their flats were destroyed in a fatal gas explosion.
One neighbour said he believed he had lost everything he owned in his flat, which he understood was destroyed.
Bedfordshire Police said further bodies could be found in the coming days as crews searched the scene.
The fire service said an investigation was under way and more details would become known in the coming days.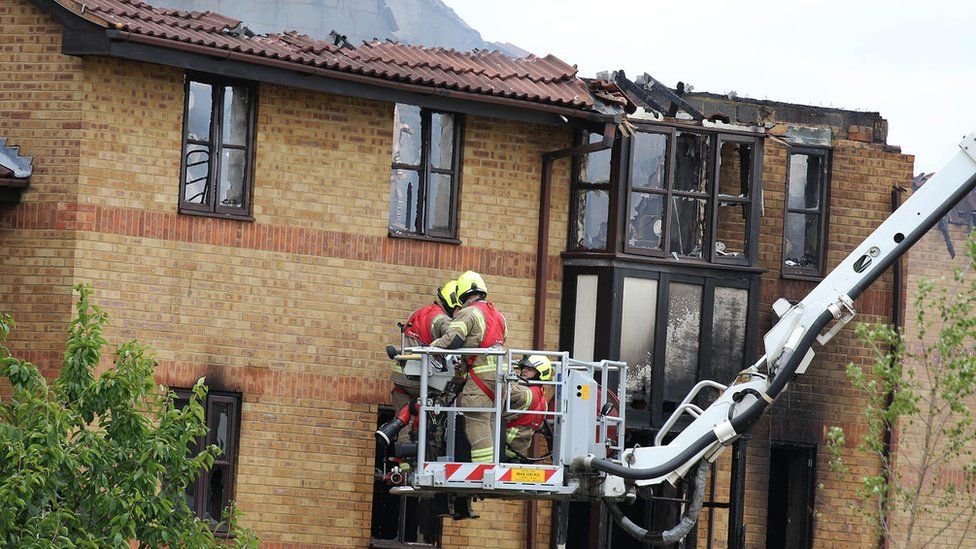 Jas, who lives in a flat in the affected building, said he had been sitting on his sofa when he heard a "massive explosion".
"I thought it was an earthquake but when I went to have a look the door had come off the hinges and the attic had split in half and the roof had collapsed," he said.
"People were jumping out the window, someone had collapsed in the hallway, there was dense smoke and fire everywhere."
Jas's daughter, Cornelia, said his entire flat was "gone".
"Everything he owned was in there," she said.
"It's his whole life, all his possessions.
"It's been very traumatic."
Lauren Townsend was with her young daughter at their home in the neighbouring building when the blast happened.
The 21-year-old said: "I just heard an explosion, the flat shook and then I heard my neighbours screaming, telling us there was a fire.
"It seemed like it was in our block so obviously I panicked and got my little girl out of bed, got the dog out and just started banging on doors trying to get everyone out."
Ms Townsend said she had been waiting to speak to the council about where she and her family could stay as they were unable to return home.
"All my stuff is in there, my little girl's stuff is in there – her nappies, wipes, milk, everything," she said.
"Obviously you can get that from the shops but there's all her comforts, toys, clothes."
Ms Townsend said the incident was "shocking".
"To think how close to home that was and that it could have been us – it's mad," she said.
Another resident, who did not want to be named, said she and her husband had been on their way to Wales when they were called about the explosion.
The couple said they did not know how badly their home had been affected but said they were in "a better situation than some people" as they had clothes and toiletries with them in a suitcase for their holiday.
"When I saw the aerial photo I just burst into tears," she said.
"I just thought, 'thank god we weren't in the building'."
The couple said they were "lucky" they could stay with family nearby but hoped they could return at some point to "collect sentimental things".

Related Internet Links
The BBC is not responsible for the content of external sites.