Young people following the #gentleminions TikTok trend are accused of disturbing other cinemagoers.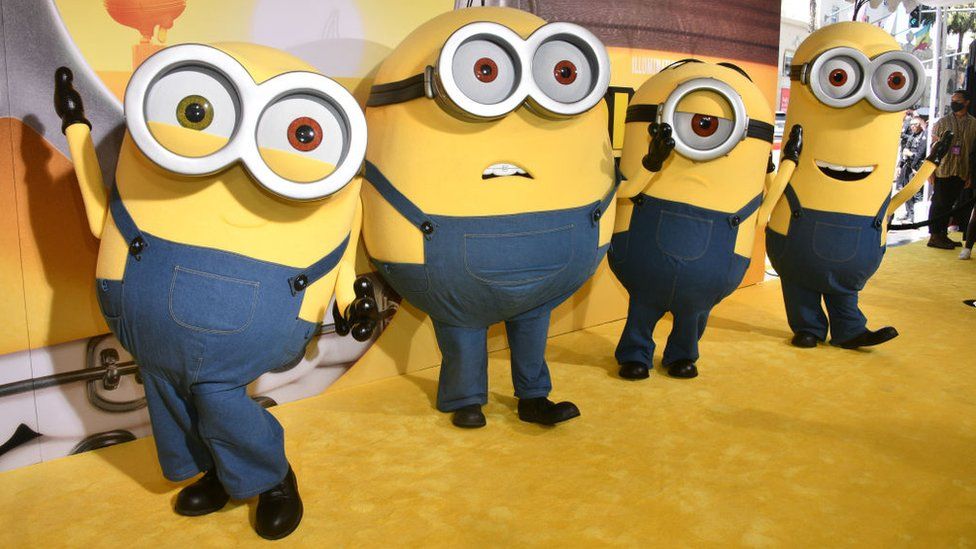 Some cinemas have banned young people wearing suits from screenings of Minions: The Rise of Gru over rowdy behaviour fuelled by a Tikor trend.
Teenagers following the #gentleminions trend have been accused of making noise and throwing things during screenings.
A staff member at one venue told the BBC they wanted to ensure the experience was not spoiled for younger children on their first cinema trip.
Some cinemas said they have had to give huge numbers of refunds.
Videos showing young people dressing up in suits to watch the movie in large groups and cheering loudly during the screening have gone viral on TikTok, racking up millions of views in some cases.
The teenagers filmed themselves copying the characteristic steepled fingers of the movie's supervillain Felonious Gru and celebrated that "the five year wait is over" – referring to the time since the franchise's last instalment, Despicable Me 3.
But cinemas have been less appreciative, with several complaining about the behaviour of the young fans drawn to the movie by TikTok.
Mallard Cinema manager Daniel Phillips-Smith: "It's been absolutely heartbreaking. We've had families who won't even go back into the screen when we've tried to sort it out, families leaving before the film has even started, and of course the children have been in tears."
Box office staff told the BBC young people in suits had been "cheering, clapping, whooping" and rising to their feet throughout the film.
"We were trying to talk to people on the way in after a while, but that wasn't really getting anywhere. So we had to just decide to put a stop to it and say thanks very much, but we're not doing the whole TikTok trend thing," a staff member said.
"We had people coming in with children for their first cinema trip ever and we wanted to protect that really."
The manager of the Vue Cinema in Worcester told the local Worcester News they had to refund £1,300 of tickets on Sunday because a group of young people had caused so many complaints.
Images on social media showed several Odeon cinemas displaying signs warning customers: "Due to recent disturbances following the #GentleMinions trend, any group of guests in formal attire will be refused entry for showings of Minions: The Rise of Gru."
But some cinemagoers praised the behaviour of the #gentleminions at their screenings.
Stace Woods, a teaching assistant from Surrey, said on social media that a group in suits when she saw the film were "so much fun" and "so well-behaved", adding they politely stopped bowing down and worshipping a giant poster of Gru so her children could pose for a photo with it.
They were reportedly turned away from their pre-booked screening until parents could drive down with a couple of jumpers to cover the offending items of smart clothing.
A spokesperson for the Odeon said: "Due to a small number of incidents in our cinemas over the weekend we have had to restrict access in some circumstances."
The Minions movie franchise, which began with 2010's Despicable Me, follows reformed supervillain Gru and his army of small, yellow henchmen, who quickly became the subject of endless online memes.
The latest film tells Gru's origin story as an 11-year-old, struggling to break into the supervillain business.