Police confirm one person has died after a gas explosion causes a major fire at a block of flats.
Three people have been taken to hospital, one with serious injuries, after a "major gas explosion" at a block of flats in Bedford.
The incident happened in the Redwood Grove area of the town at about 09:30 BST when fire engulfed 20 flats.
Witness Alex Feltham said he heard "a huge boom", and the roof of the block of flats had been destroyed. He said the flames spread quickly.
The ambulance service said three people – including one firefighter, were hurt.
The East of England Ambulance Service said one person was taken by helicopter to Addenbrooke's Hospital in Cambridge with leg injuries.
The other two patients, one of whom was a firefighter, were taken to Bedford Hospital after breathing in smoke.
Adrian Marz, who lives in a top floor (third floor) flat in a block adjoining the one where the explosion happened, said he saw two people jump from windows to escape the blaze.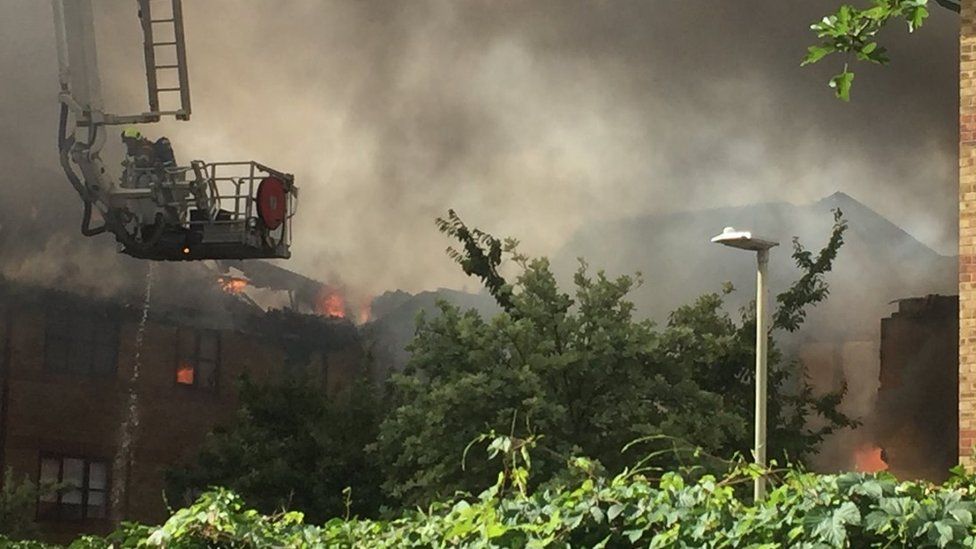 He told how on hearing the explosion, he and his partner rushed to "start knocking on people's doors to get everybody out, and then when I was outside the building I saw the walls being torn apart… and all of the windows out, and smoke and flames pretty much instantly".
"I saw a couple of people jump out of the building and started helping them out… bringing them away from the fire, away from the danger, but it was a very, very serious and very big explosion."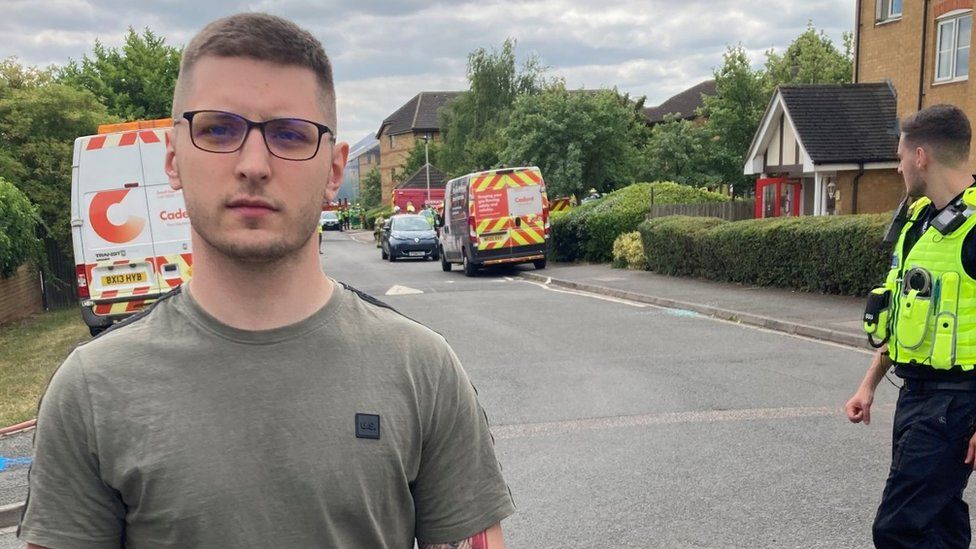 Mr Marz's flat has been destroyed in the blaze.
He said he hoped his neighbours in the building were all "OK".
"We saw people jumping out from the flat that was directly affected," he said. "I think that was the flat that blew up, and that was where the gentleman jumped out and hurt his hip really badly – we pulled him away.
"And then I saw another gentleman on the other side of the building – seems like he's just been blown out of the window by the whole explosion."
He added: "The walls [of the building] have just been completely cracked like a walnut – there's been so much debris flying out of everywhere – ashes, smoke, dust, fire – just instantly everywhere – blazing out of the windows – and that's why people started to jump out."
An emergency centre has been set up at The John Bunyan Centre in Bedford for evacuees and those needing support, police said.
Bedfordshire Fire and Rescue Service said the fire was caused by a "major gas explosion" and urged people to keep doors and windows closed.
Witness Mr Feltham said after hearing the "boom" the block of flats became "a raging inferno".
"The damage is extensive", he said.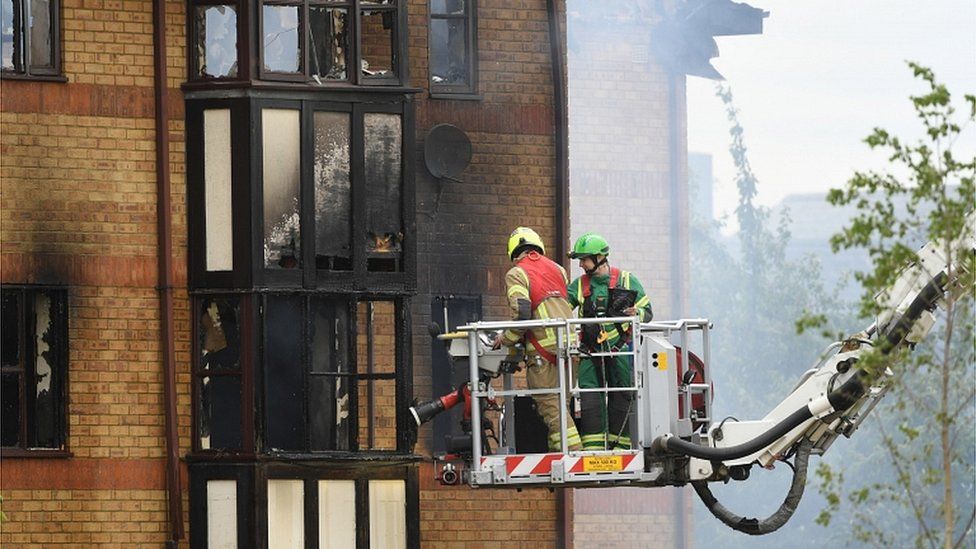 Another witness, Adam Fisher, described "a huge explosion".
"Everyone went to our work car park to see what was happening," he said.
"Our building is adjacent to the apartment complex – immediately an inferno [was] visible, huge smoke cloud billowing, people screaming and people frantically calling for emergency services."

At the scene: Sarah Jenkins, BBC News, East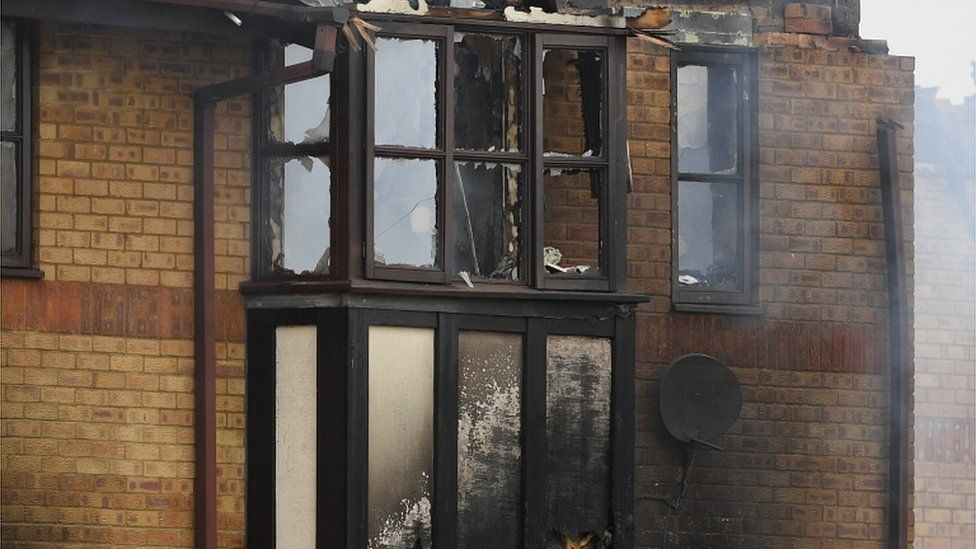 A large emergency service presence remains here in Redwood Grove.
A police cordon is in place and there are several fire engines are behind it.
Those who live in the affected area are waiting for information as to the condition of their homes and when (or if) they can return.
One resident, who fled from the building with his family when he heard the initial explosion, says he does not yet know if his flat, which is in the building next to the site of the explosion, has been affected.
The community, he says, has pulled together to help those affected adding that many residents and children were out at the time of the explosion, either at school or at work.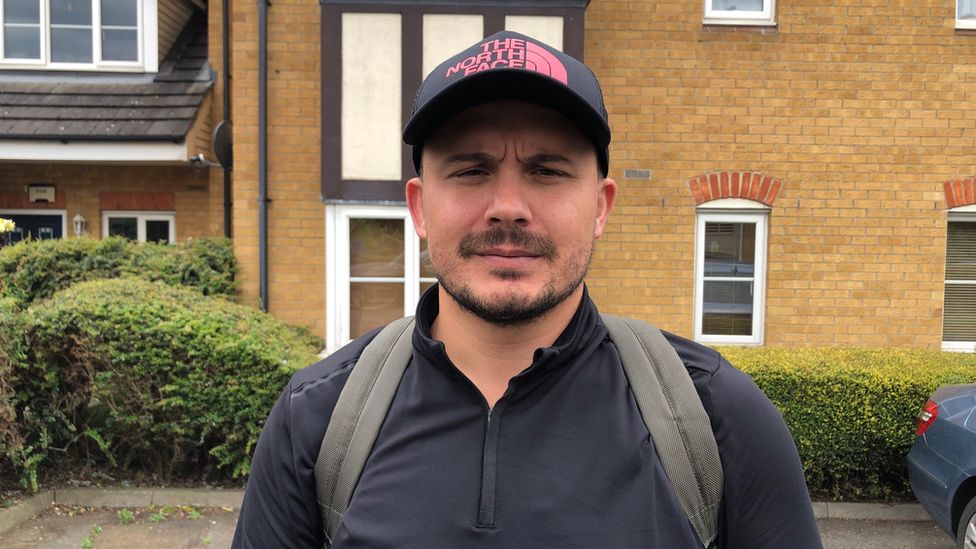 A block of flats next to the three-storey block where the explosion happened has also been evacuated, and police said they were "working as quickly as we can to get people back into their homes as quickly as possible".
Dezso Balazs lives in a neighbouring block of flats.
"I heard a big noise like an explosion and then I grabbed my family and we came out and we saw the next flat block on fire. Part of the building had been blasted out. Everybody started to panic and run around.
"Everybody just looked after their loved ones and other people to make sure everybody was alright."
A nearby primary school has also been evacuated.
Andy George, head of Shackleton Primary School, said: "Following the fire in the Redwood Grove area of Bedford earlier today, pupils at Shackleton Primary have been sent home due to the school's proximity to the incident.
"All children are safe and the school is working with the emergency services. The school expects to re-open tomorrow."

Related Internet Links
The BBC is not responsible for the content of external sites.