The long-running dispute is over how much criminal barristers are paid for legal aid work.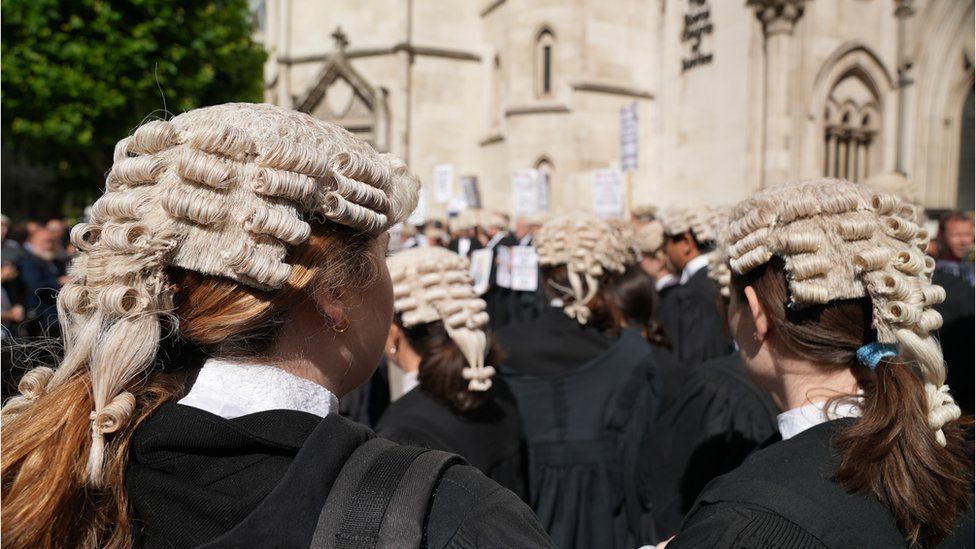 Criminal cases in courts across England and Wales face disruption for a second week as barristers pledge to extend their strike action into August.
Rallies are under way outside the Royal Courts of Justice, in London, and Liverpool Crown Court.
Members of the Criminal Bar Association have rejected the government's 15% pay offer, saying it will not kick in immediately or apply to existing cases.
But the Criminal Bar Association says long-term legal-aid cuts are the cause.
The CBA is asking for a 25% rise in pay for legal aid work, representing people who could not otherwise afford lawyers.
It says some junior barristers currently make less than the hourly minimum wage.
Ministers say a typical criminal barrister would get £7,000 more a year under the offer, adding that before expenses, median earnings for criminal barristers in 2019-20 were £79,800, although it admits junior barristers often earn a fraction of this.
The CBA's four weeks of action escalates to a three-day walk-out this week, increasing by one day a week to a five-day strike from 18 July – and from August, barristers will strike on alternate weeks.
Justice 'in limbo'
Ministers say the number of backlogged cases is coming down, due to government initiatives – but say the strikes will lead to more delays and more people waiting for justice.
"Our energetic efforts to tackle the courts backlog are working but the strike action by criminal barristers threatens all that progress, despite the very generous pay offer on the table," said Justice Minister James Cartlidge.
But the CBA says a 28% cut in legal aid fees over the past decade has forced barristers out of the sector, with their numbers down a quarter compared to five years ago.
"There are simply too few criminal justice barristers to prosecute, to defend and even to provide the judges the government relies on and the public expects to be there, to crack a record backlog and ensure victims of crime and the accused are not left in agonising limbo," said a CBA spokesperson.
"The criminal justice system has been grinding to a halt for a number of years, not because of us but because the government has simply mismanaged the system and underfunded it considerably," said CBA chairman Jo Sidhu.
The CBA says its own analysis of government figures suggests that in the year to March 2022 more than 1,000 criminal trials were postponed at the last moment because there was no prosecuting or defence barrister available.
Solicitors working in the criminal justice system have told the BBC they face similar problems.
"We believe the years of underfunding have lead to a crisis in the criminal justice system," said Hashem Puri, president of the London Criminal Courts Solicitors Association.
"Large numbers of barristers and criminal solicitors are leaving the profession because of the low pay…
"Our members are considering taking similar action and joining the bar in days of action."