The Royal College of Nursing said the decision shows "how little" the government valued NHS staff.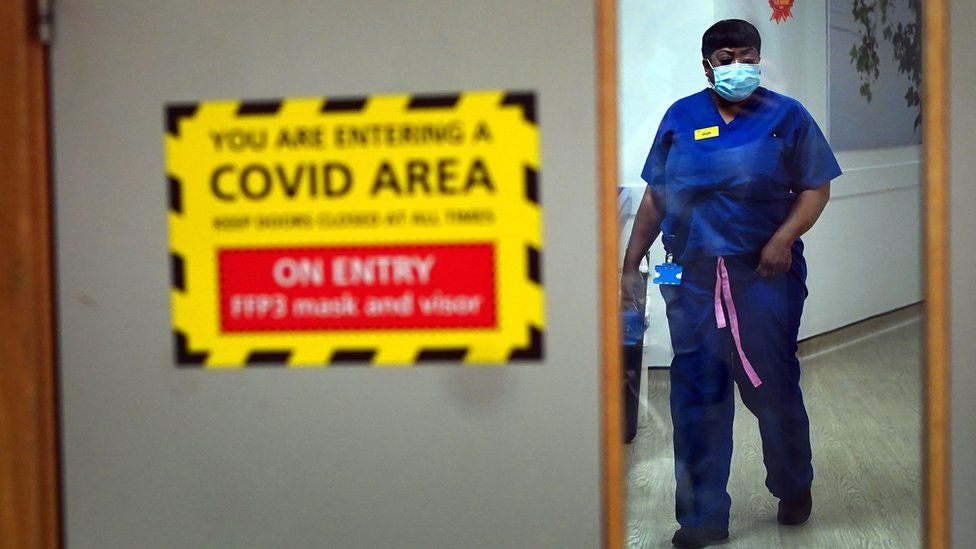 Special paid leave for Covid-related sickness and isolation will be scrapped next week for NHS staff in England, it has been announced.
From 7 July staff will revert to normal contractual sick pay arrangements.
The Royal College of Nursing (RCN) said the decision was "hugely disappointing" and indicated "how little" the government valued its staff.
The Department of Health and Social Care (DHSC) said the changes were part of learning to live with Covid.
It comes as Covid infections and hospital admissions rise, driven by two new fast-spreading sub-variants of Omicron – BA.4 and BA.5.
Currently, episodes of sickness absence related to Covid are fully paid for all NHS workers regardless of their length of service.
But the RCN said the DHSC had announced that sick pay for new episodes of Covid-19 sickness will be withdrawn, as will access to Covid-19 special leave for the purposes of self-isolation.
Patricia Marquis, RCN England director, called the decision "hugely disappointing", adding that nursing staff face a higher risk of exposure and are therefore disproportionately affected.
"We know many of our members are suffering from long Covid, with their lives adversely affected, making them unable to work," Ms Marquis said.
"Facing the threat of losing full sick pay should they remain off sick from a condition some could argue is an occupational hazard, is neglectful and unfair.
"It's another indication of how little the UK government values its nursing staff."
A DHSC spokesperson said: "As we learn to live with Covid, we are withdrawing the temporary NHS staff sickness guidance that was put in place at the height of the pandemic, as part of plans to move back to the normal arrangements set out in the NHS terms and conditions.
"This provides generous support for NHS staff with up to six months full pay and six months half pay, depending on length of service."