BA and Heathrow say the move will help minimise disruption for passengers during the peak season.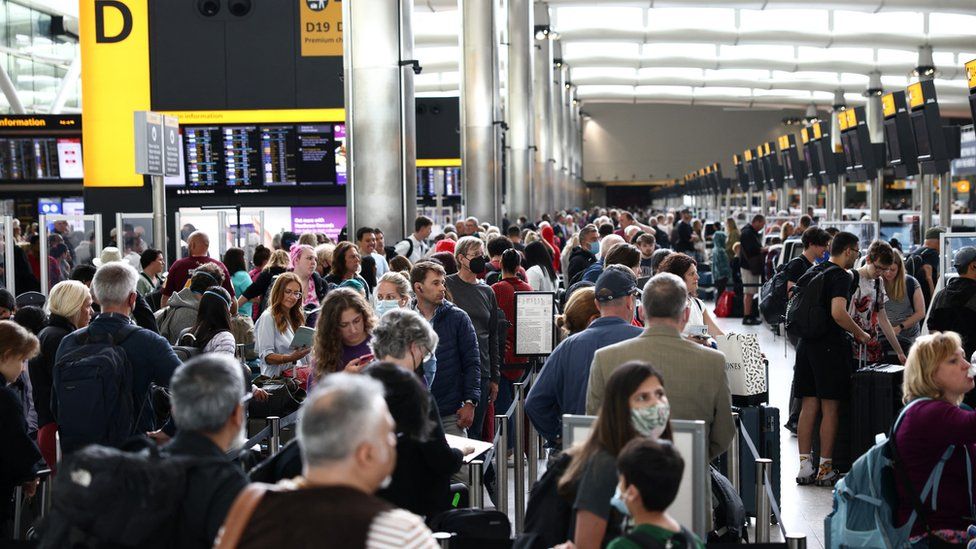 Airlines are expected to announce a series of cancellations to UK summer flights this week aimed at minimising disruption in the peak holiday season.
A government "amnesty" to the rules on airport slots is in place until Friday, allowing airlines to change schedules without facing a potential penalty.
Ministers told carriers to review their plans after chaos in May, blamed on a shortage of airline and airport staff.
British Airways said the move would help provide "certainty" to customers.
The airline, whose services from Heathrow are likely bear the brunt of this week's cancellations, said the measures would make it "easier to consolidate some of our quieter daily flights to multi-frequency destinations well in advance, and to protect more of our holiday flights".
Airport slots provide airlines with the authorisation to take off or land at a specified time on a specified day. In usual circumstances, the carriers risk losing the slots – and taking a hit to their business – if they cancel flights.
The Department for Transport (DfT) amnesty will give airlines a short window to hand back the slots in the summer season they are not confident they will be able to operate.
A DfT spokesperson said: "This will help passengers find alternative arrangements ahead of time, rather than face the kind of last-minute cancellations seen over the Easter and half-term holidays."
That earlier disruption prompted the government and the aviation regulator, the Civil Aviation Authority, to write to airlines telling them to ensure their summer timetables were "deliverable… based on the resources you and your contractors expect to have available".
Heathrow said the slot amnesty would "enable airlines to make early choices to consolidate their schedules, boosting the resilience of summer operations and giving passengers the confidence they deserve ahead of their journeys".
It added: "We encourage airlines to take this opportunity to reconsider their summer schedules without penalty and inform passengers as early as possible of any changes."
Thousands of aviation jobs were lost during the Covid pandemic and many businesses have struggled to recruit enough new staff in time to deal with resurgent demand for travel following the easing of rules.
Meanwhile, passengers also face the prospect of disruption from strikes involving airline staff over summer.