The former Tory MP resigned after being accused of groping two men in a private members' club.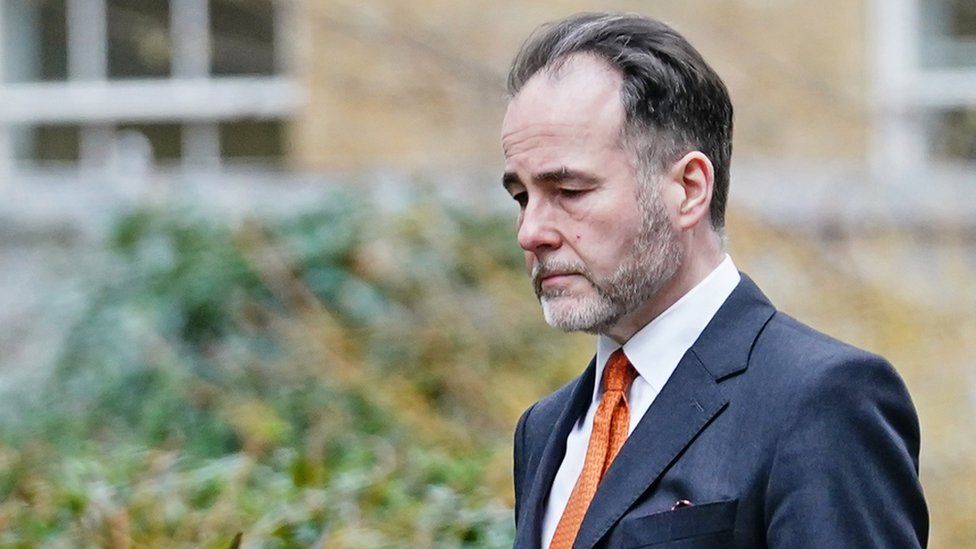 A parliamentary watchdog is to examine allegations of sexual misconduct by former Conservative deputy chief whip Chris Pincher.
Mr Pincher is accused of groping two men in a private members' club.
He quit his government job in a letter on Thursday, saying he had "drunk far too much" and "embarrassed myself and other people".
Boris Johnson faces criticism for not suspending him sooner, but a Downing Street source said he acted swiftly.
Before Mr Johnson acted, he was told by senior Conservative MPs and opposition parties that Mr Pincher's position was untenable.
Earlier, Downing Street had suggested the prime minister considered the matter closed after Mr Pincher's resignation as deputy chief whip.
But on Friday afternoon, the decision to suspend him as a Tory MP was taken after a formal complaint was lodged with the Independent Complaints and Grievance Scheme (ICGS).
It is not yet clear whether the watchdog will launch a formal investigation.
The watchdog, set up in 2018, is designed to investigate complaints about inappropriate behaviour, such as bullying, harassment or sexual misconduct, and its inquiries can result in sanctions for MPs.
'Double standards' claim
Conservative MP Andrew Bridgen has suggested Downing Street was guilty of "double standards" in its handling of Neil Parish and "arch-loyalist" Mr Pincher.
Former Tory MP Mr Parish, who resigned in May after he admitted watching pornography twice on his phone in Parliament, also accused the government of "double standards".
Mr Bridgen told BBC Newsnight the recent allegations were "a very similar circumstance to Neil Parish", adding: "I have a lot of sympathy with his remarks this evening that there seems to have been double standards.
"You have to ask the reasons behind that. Neil was a very independent-minded Conservative backbencher. He never really sought patronage and he did hold ministers to account.
"And obviously Chris Pincher is seen as an arch-loyalist and I think that, to most people, will be the reason for the difference in their treatment, and that's not tenable either."
'Drank far too much'
In his resignation letter, Mr Pincher wrote to the prime minister: "Last night I drank far too much."
He added: "I think the right thing to do in the circumstances is for me to resign as deputy chief whip. I owe it to you and the people I've caused upset to, to do this."
Witnesses told the BBC that Mr Pincher was seen "extremely drunk" at the Carlton Club, the Conservative Party members' club in St James's, central London, on Wednesday night.
The BBC has been told that the Metropolitan Police has not received any report relating to an incident at the venue.
The Sun newspaper first reported the resignation, saying he was drinking at the club when he is alleged to have assaulted two other male guests.
A Tory MP told the BBC they had previously raised concerns about Mr Pincher's behaviour with senior figures in No 10 and the Conservative Party.
But a No 10 spokesperson said Mr Johnson was not aware of any specific allegations against Mr Pincher before he appointed him as deputy chief whip.
Mr Pincher will now sit as an independent.

How the process for complaints against an MP works
An investigator carries out a full investigation and makes a recommendation on the verdict to Parliament's Standards Commissioner
The commissioner reviews the evidence and, if rules have been breached, they can demand an apology to the House of Commons or refer the case to a separate independent expert panel if more serious sanctions are needed
This panel, which does not include any MPs, decides on sanctions and hears appeals
If it decides to suspend or expel the MP, this would need to be voted on by MPs