The overnight strikes hit a residential building and a recreation centre in a village, Ukraine says.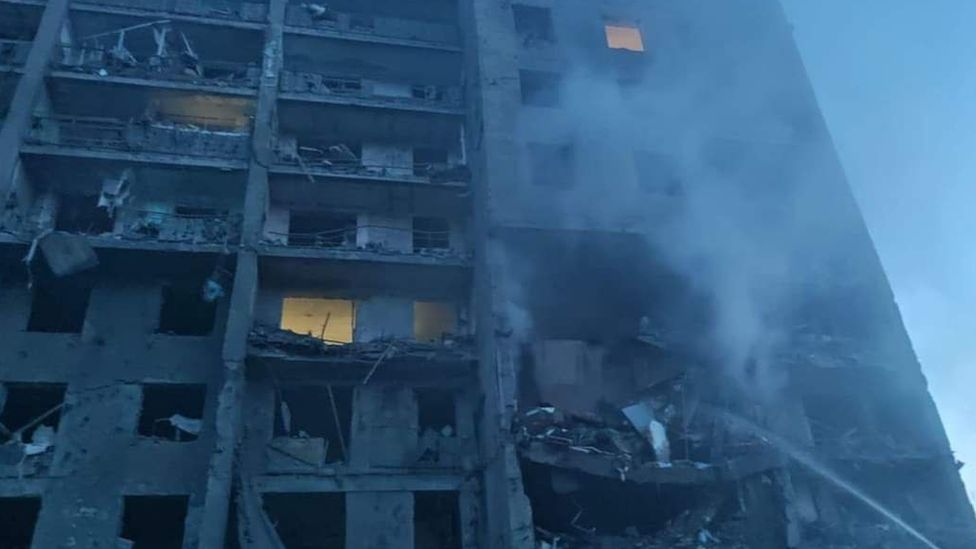 At least 18 people, including one child, have died in overnight Russian missile strikes on Ukraine's southern Odesa region, Ukrainian officials say.
The state emergency service, DSNS, says 16 people were killed and 30 injured when one missile hit a nine-storey building in the Serhiyivka village.
Two more people, including the child, were killed in a separate strike on the village's recreation centre.
Russia has fired dozens of missiles on Ukrainian cities in the past few day.
The DSNS said the missiles hit Serhiyivka at about 01:00 local time on Friday (22:00 GMT Thursday).
It released footage showing firefighters searching for survivors in the wreckage of the nine-storey building.
They are also seen carrying what looks like the body of one of the victims in a bag.
Odesa regional administration spokesman Serhiy Bratchuk said the missiles were launched from Russian warplanes over the Black Sea.
He said Soviet-era X-22 missiles were believed to have been used in the overnight strikes.
Moscow has so far made no public comment.

War in Ukraine: More coverage