Flight attendants may walk-out for nine days in July, adding to holiday woes for travellers.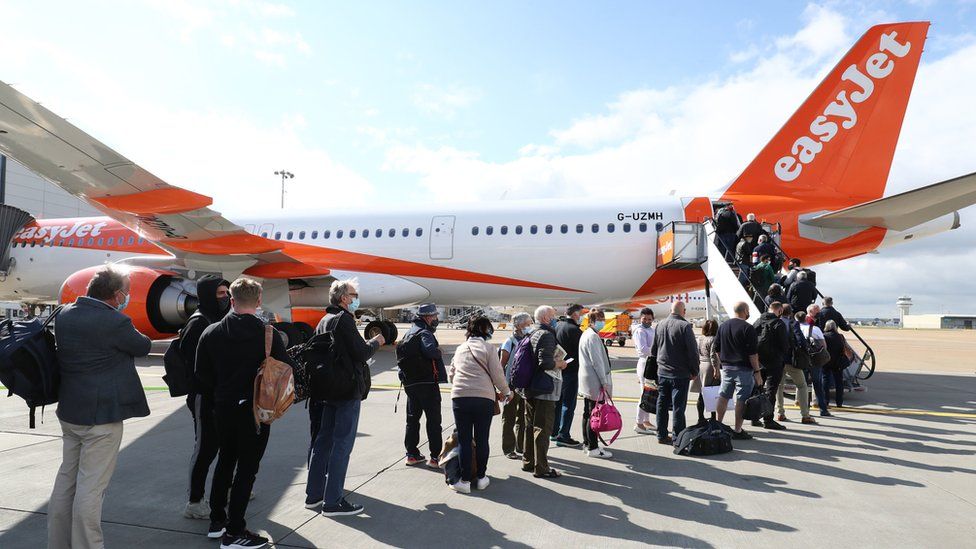 Unions have called for EasyJet cabin crew based in Spain to strike for nine days in July as part of a dispute over pay.
The walk-out would add to passenger woes as airlines struggle to cope with demand after Covid restrictions lifted.
EasyJet has already had to cancel thousands of flights this summer because of staff shortages at Gatwick.
EasyJet and Spanish union USO have been holding talks on cabin crew pay since February, but are now in a "deadlock situation", the union said.
Union members working from El Prat, Malaga and Palma de Mallorca will walk out from 1-3 July, on 15-17 July and on 29-31, the union said.
Miguel Galan, USO general secretary for EasyJet Malaga, said flight attendants want a 40% increase in their basic salaries.
He said that Spanish cabin crew pay is not on a par with their French or German counterparts.
EasyJet's Spanish crew get basic pay of €950 per month (£816), the union said, which excludes bonuses and extra pay.
But the union, which says it represents 80% of the 450 EasyJet staff based in Spain, still hopes an agreement can be reached to avoid the strikes during a meeting with management on Tuesday, Mr Galan said.
EasyJet has been contacted for comment.
UK holidaymakers have faced disruption to their flights in recent months as airlines and airports struggle to cope with increased demand after cutting workers during Covid lockdowns.
On Monday EasyJet said it would cancel flights between July and September after Gatwick Airport said it will reduce the number of flights during the peak summer period due to staff shortages.
Also on Monday around 30 flights carrying up to 5,000 passengers were cancelled at Heathrow Airport due to baggage-handling problems.
On Tuesday Heathrow said the backlog, which the BBC understands numbers thousands of bags, was "clearing up".
The baggage system has been "back up and working" since the weekend, a spokeswoman said, adding that "bags are being sent to their destinations".