More than 150 former embassy workers are in Afghanistan – some say they've been beaten and tortured.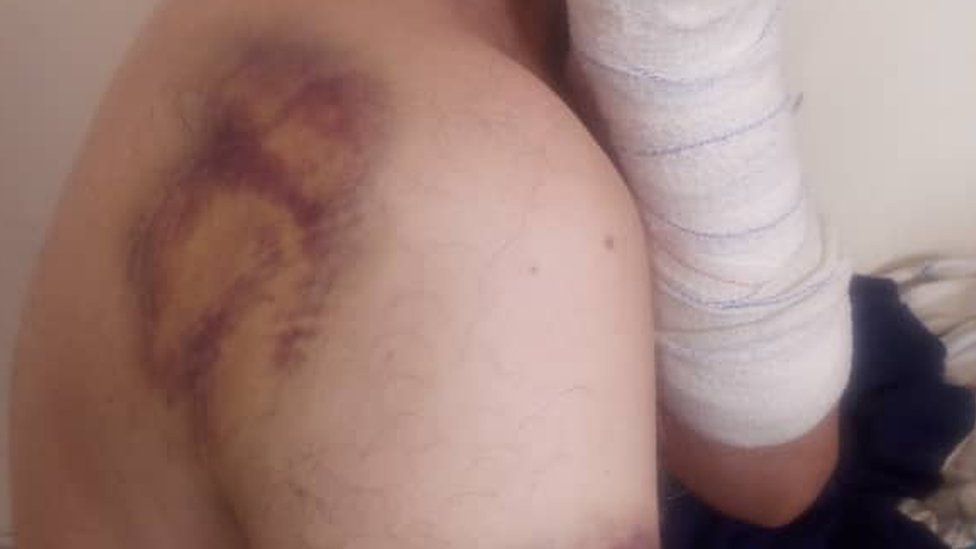 More than 100 men who worked at the British embassy in Afghanistan remain in the country, with some telling the BBC they have been beaten and tortured.
The men worked for the global security company, GardaWorld, and many had been in post for more than a decade.
Several shared photos of injuries they say were caused by the Taliban.
The UK government says it has evacuated more than 15,000 people since last year and is working to bring more to the UK.
A spreadsheet listing the names of more than 150 men who worked at the embassy and still live in the country has been seen and verified by BBC Two's Newsnight.
One man, who cannot be named to protect his identity, said he was recently beaten by the Taliban because of his previous job as a guard at the embassy.
"I was sitting outside when gunmen approached me, one of [them] attacked me," he said.
"They said you were working for the British embassy. They started beating me and they threw me on the ground. They attacked me again and again."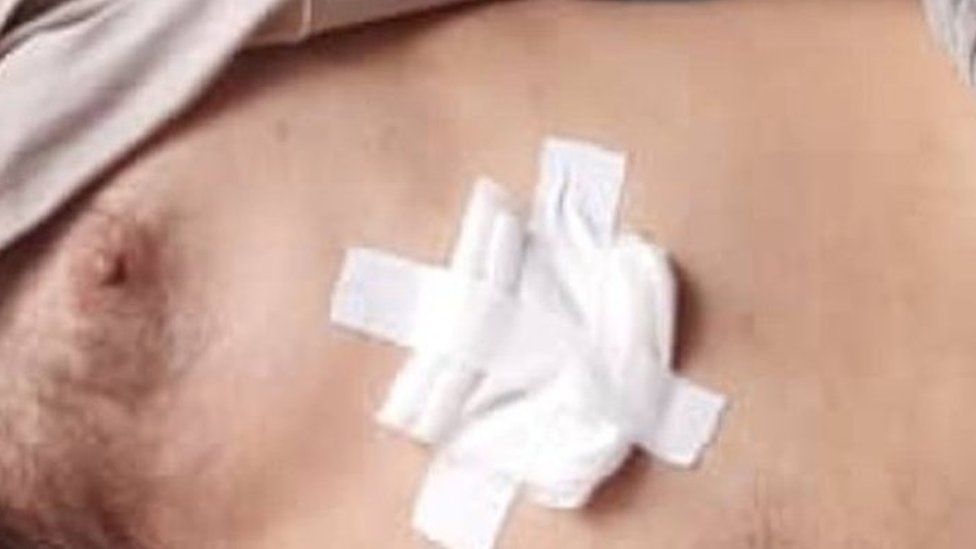 Another former guard said a militant hit him over the head with the butt of a rifle. He says he was only released after the Taliban was convinced he no longer worked for the British.
This week, the UK government said the men would be able to apply to come to the UK from 20 June as part of its Afghan citizens resettlement scheme (ACRS), which is primarily targeted at those who assisted the UK efforts in Afghanistan.
It was officially launched in January but application requests can only be submitted from next week. Critics say that is too little, too late.
A separate government scheme, the Afghan Relocations and Assistance Policy (ARAP), aimed to relocate those who were employed directly by the British government, including interpreters who helped British forces.
One Afghan who came to the UK earlier this year under ARAP said many of his former colleagues from the embassy were being threatened on a daily basis. He is not being named to protect his family who remain in Afghanistan.
"I feel like the British have been disloyal," he said. "They made a promise – these men worked hard for them and now their lives are at risk.
"I can't sleep or eat without thinking of what they're going through. They message me constantly asking for help.".
This week armed forces minister James Heappey told the Commons 9,500 Afghans have already been successfully relocated to the UK under the ARAP scheme.
But he said thousands more still remained in Afghanistan. "We think we've got about the same to go in terms of the number of people who are eligible," he said.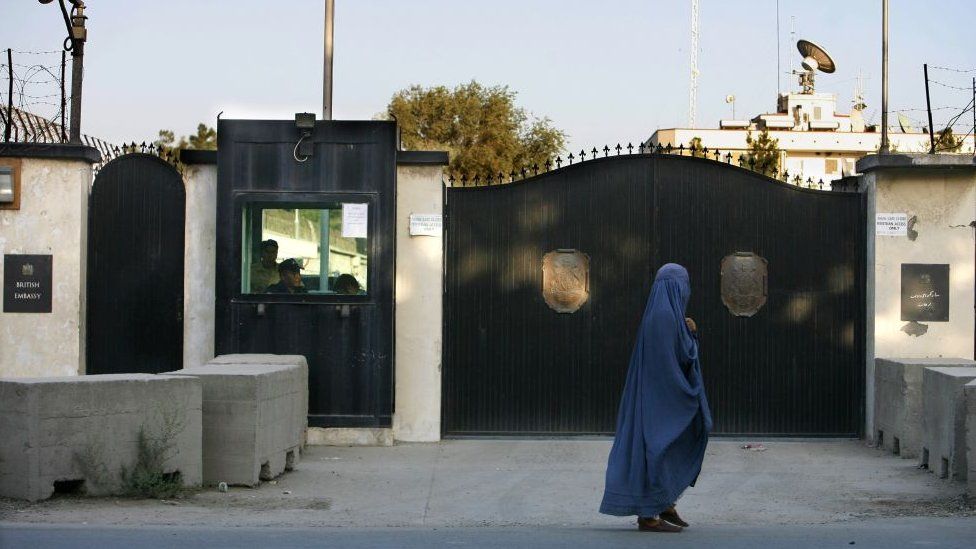 The human rights charity, Azadi, works to support and evacuate targeted Afghans. Sarah Magill, the charity's director, said there had been no explanation why it had taken so long to begin the next process.
"Through their inaction the government has caused incalculable trauma," she said. "It is a deeply inhumane way to treat a body of staff entrusted to keep British ministers and civil servants safe."
The government has faced fierce criticism of its handling of the evacuation in Afghanistan last summer, with one group of MPs saying there had been a "total absence of a plan for evacuating Afghans who supported the UK mission".
At the height of the Taliban takeover the government issued a statement, saying: "We will help all those Afghan security guards contracted through GardaWorld to protect the embassy.
"They will be granted the right to enter the UK and we are now working through the challenging logistics of getting them out of Kabul."
A UK government spokesperson said: "Our staff worked tirelessly to evacuate over 15,000 people to safety from Afghanistan within a fortnight in the biggest and fastest emergency in recent history. We are still working hard to assist the people of Afghanistan, having already helped over 4,600 individuals to leave the country since the end of the military evacuation.
"We have opened the Afghanistan Citizen Resettlement Scheme, one of the most ambitious resettlement programmes in the world and the first bespoke scheme in Europe to begin resettling evacuees and individuals."
GardaWorld added: "Since the closure of the British Embassy in Kabul, we have been working tirelessly with the UK government to ensure the maximum take-up for our Afghan staff on the UK resettlement schemes."