The European Court of Human Rights blocks the removal of one of seven passengers from Tuesday's flight.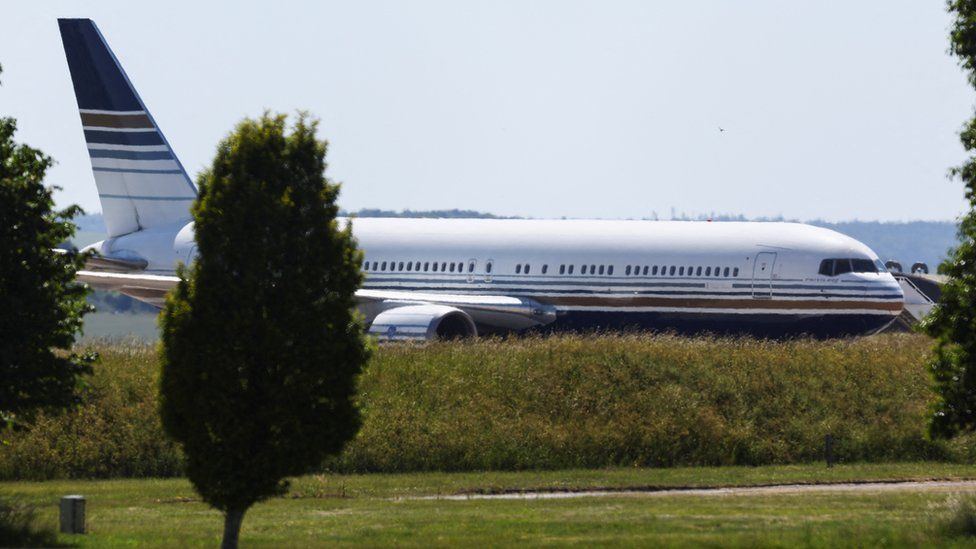 A last-minute legal battle is under way over the UK government's first flight transporting asylum seekers to Rwanda.
The European Court of Human Rights (ECHR) says it has blocked the removal of one of seven passengers due to depart on Tuesday night.
An out-of-hours judge is currently examining the remaining half dozen cases and there are fears in the Home Office the flight may not depart.
It is not clear how the Home Office will respond to the ECHR injunction.
In a statement hours before the flight's planned departure, the ECHR said it had granted an "urgent interim measure" in the case of an Iraqi man, known only as "KN", and one of seven remaining passengers.
The man, who is in his fifties, left Iraq earlier this year and crossed the English Channel to reach the UK, rather than claiming asylum in another European country. Doctors have since said he may have been a victim of torture.
KN's lawyers petitioned the ECHR on Monday after the UK's Court of Appeal in London refused to stop his inclusion on the flight.
The European court has indicated KN should not be removed to Rwanda until three weeks after the final decision over the policy is made in the UK courts.
The ECHR said that requests such as these were only granted on an "exceptional basis, when the applicants would otherwise face a real risk of irreversible harm".
That decision contradicts a ruling by judges in London, who had found no immediate risk to anyone sent to Rwanda.
A High Court judge ruled last Friday that there should be a full review of the Rwanda removals policy – but that the Home Secretary Priti Patel would be acting lawfully if in the meantime she sent some asylum seekers to Rwanda.
Should the policy be found to be unlawful some people could be returned to the UK from Rwanda.
The EHCR, based in Strasbourg, said that its decision had been influenced by concerns raised by the UN's refugee agency that asylum seekers sent to Rwanda may not be able to get a fair hearing or would be left in unsafe conditions.
On Monday the UK's Court of Appeal ruled that the first flight taking asylum seekers to Rwanda could go ahead, backing the decision of the High Court that it was in the "public interest" for the government to carry out its policies.
On Tuesday four of the men due to be on the flight made individual appeals to the High Court which were rejected.