Health Secretary Sajid Javid says the findings are "stark" ahead of the report's publication later.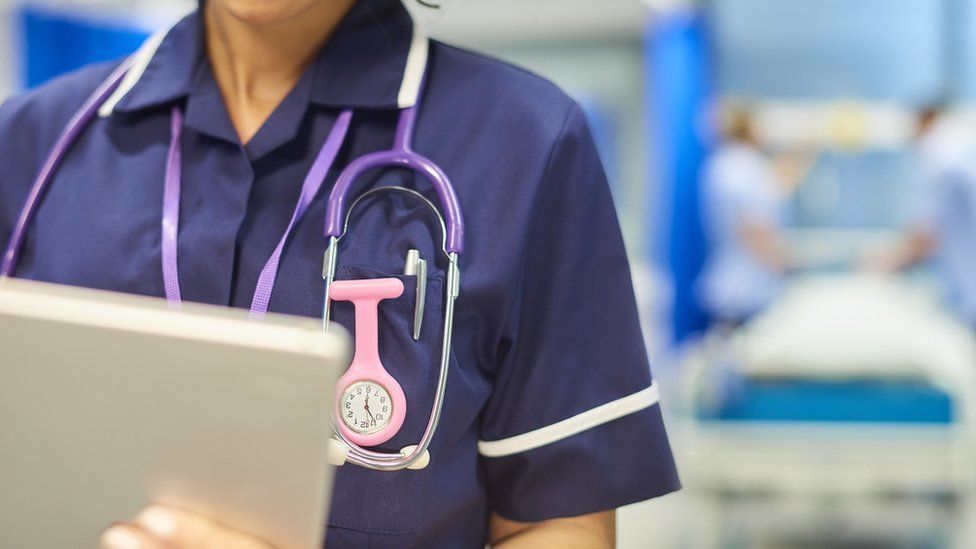 Health and social care leadership in England will be overhauled after a review found evidence of bullying and blame cultures, Sajid Javid has said.
Following a series of damaging scandals at NHS trusts, the government said the report found "institutional inadequacy" in how managers are trained and valued.
The health secretary said the findings – to be published in full later – were "stark".
He earlier likened the NHS to the defunct Blockbuster video rental shop.
Downing Street said Mr Javid told cabinet colleagues the NHS was a "Blockbuster healthcare system in the age of Netflix".
"The NHS is absolutely fantastic, we all rely on it, but much of how it's set up is a still very much 1948, we need to be thinking about 2048 and how we get from here to the needs of the British population when it comes to health in 2048," Mr Javid later explained to MPs.
Labour's shadow health secretary Wes Streeting responded: "I think it's slightly absurd that 12 years into a government we have government ministers who talk in the biggest generalities without plans to deliver anything."
Ahead of the full publication of the review into health management, the Department of Health and Social Care said in a press release that, while it highlighted instances of inspirational leadership, overall the report found "a lack of consistency and co-ordination".
It also said the report "identified a lack of equal opportunity for managers to access training and colleagues to progress in their careers, with those who have existing networks or contacts more likely to access these opportunities".
The review was headed by General Sir Gordon Messenger, a former vice chief of the defence staff who led the Royal Marines in the invasion of Iraq, and Dame Linda Pollard, chair of an NHS trust.
Mr Javid said: "The findings in this report are stark, it shows examples of great leadership but also where we need to urgently improve."
He fully supported the review's recommendations, which the government said include:
action to improve equality, diversity and inclusion
clear routes to progression and promotion
a simplified appraisal system to focus on how people have behaved, not just what they have achieved
the development of consistent management standards through accredited training
encouraging the best leaders and managers to take on the most difficult roles, so they are seen as "the best jobs rather than the most feared jobs"

Ministers have their work cut out

The review's ideas for improving NHS and social care leadership in England seem to have been widely welcomed.
Few could disagree with the view that patient care will benefit from a well-led and motivated workforce and that staff should be empowered to develop their careers.
But how that will be achieved is another matter.
Persuading talented managers to take on the toughest roles in challenged areas won't be straightforward. Changing institutional culture will take a while.
The suggestion of discrimination and bullying at some organisations is concerning.
And as the King's Fund think tank notes, the report comes at a time of a workforce crisis with chronic staff shortages which have not yet been faced up to the government.
Ministers will have their work cut out to explain how this review will address the underlying problems of a health and care system under great strain.

NHS Chief Executive Amanda Pritchard said: "As this report recognises, leaders across the health service do a fantastic job in often very challenging circumstances.
"The NHS is a learning organisation – we welcome this report and are determined to do all we can to ensure our leaders get the support they need".
Gen Messenger said the recommendations could transform leadership in the sector, adding: "A well-led, motivated, valued, collaborative, inclusive, resilient workforce is the key to better patient and public health outcomes, and must be a priority."
Meanwhile, Matthew Taylor, the chief executive of the NHS Confederation which represents health and care leaders, said the review had shown the need for more diverse leadership.
"We can't hide from the fact that all too often staff from ethnic minority backgrounds are still not being provided with the support they need to progress to leadership roles," he said.
The review into health service leadership follows a series of damaging scandals at NHS trusts.