Doctors will be required to notify their local council or health protection team about suspected cases.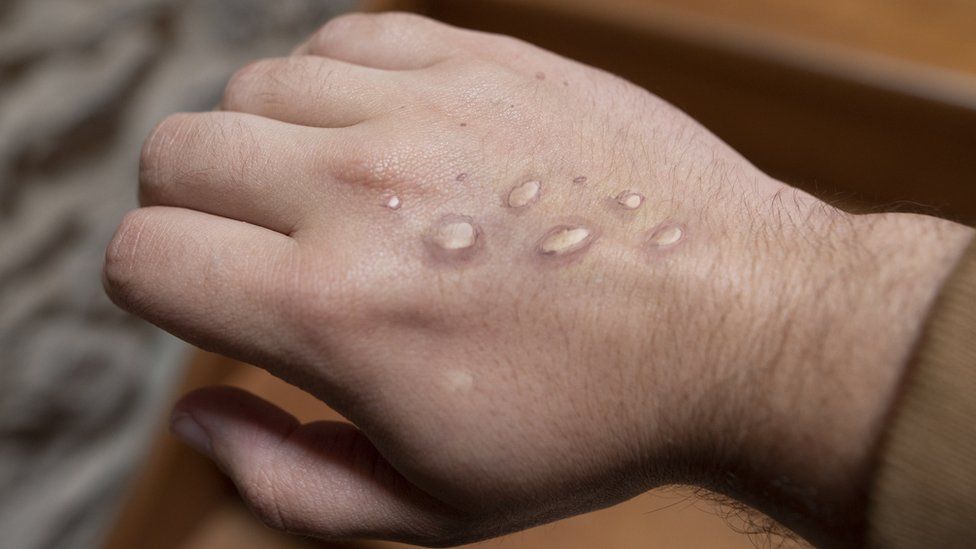 England is making it a legal requirement for doctors to notify their local council or health protection team about any suspected monkeypox cases.
It brings the infection in line with ones such as measles, scarlet fever and tuberculosis.
The move is intended to help manage the rare virus, which appears to have been affecting people in many countries, including the UK, in recent weeks.
The UK has reported more than 300 confirmed cases.
Another 26 countries have also had cases, including many in Europe.
Until recently, cases were seen in remote parts of central and West Africa only.
Sexual-health clinic
Monkeypox is not spread easily between people but health officials say anyone can catch it, particularly after close contact with someone with symptoms.
It can be passed on through close contact with skin, clothes, bedding and towels – and, although not previously been described as a sexually transmitted infection, by direct contact during sex.
Health officials say people who develop a rash with blisters on any part of the body should contact NHS 111 or a sexual-health clinic.
A large proportion of cases diagnosed in the UK are among gay and bisexual men.
Doctors and public-health experts have spoken about the "delicate balance" of keeping those currently most at risk informed, without stigmatising them or letting others become complacent.
Wendi Shepherd, from the UK Health Security Agency, said: "Rapid diagnosis and reporting is the key to interrupting transmission and containing any further spread of monkeypox. This new legislation will support us and our health partners to swiftly identify, treat and control the disease.
"It also supports us with the swift collection and analysis of data, which enables us to detect possible outbreaks of the disease and trace close contacts rapidly, whilst offering vaccinations where appropriate to limit onward transmission."
Laboratories will have to notify the UK Health Security Agency if monkeypox virus is identified in a sample.