Mrs Vardy is giving more evidence at the High Court as her libel case against Coleen Rooney continues.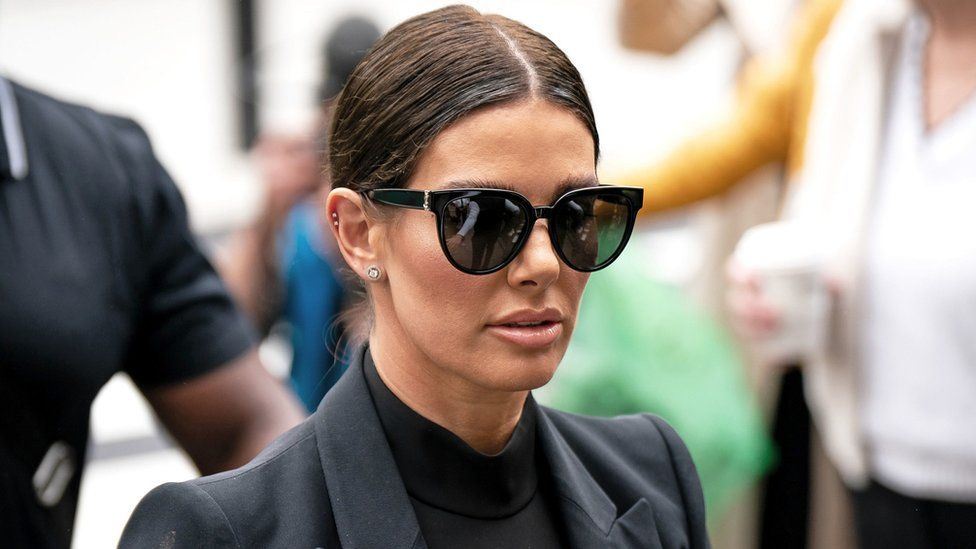 Rebekah Vardy has told the High Court she was "just gossiping" when messaging her agent about her husband's teammate not turning up for training in 2018.
Mrs Vardy returned to the witness stand as her libel case against Coleen Rooney continued on Wednesday.
The wife of ex-footballer Wayne Rooney is being sued for libel after claiming Vardy, the wife of Leicester striker Jamie, leaked her private information.
Resuming on Wednesday, Mrs Rooney's barrister David Sherborne read a message from Mrs Vardy to her agent Caroline Watt about then Leicester City footballer Riyad Mahrez.
In the message, Mrs Vardy told Ms Watt "the lads are fuming" – referring to Mr Mahrez's teammates – about his absence from training.
When asked by Mrs Rooney's barrister, David Sherborne, if Ms Watt had told The Sun newspaper other players were "fuming" about the incident, Mrs Vardy said: "That's absolutely not true."
Referring to their exchange, Mrs Vardy told the court: "It was speculation of just bits of information that I had heard and overheard, and also read in the press before.
"Yes, it doesn't look good there, I was gossiping about things that we already in the public domain. I was just gossiping."
She added that she did not know whether or not her husband's then team-mates were "fuming" about Mr Mahrez not turning up for training.
"It was probably something I was plucking from thin air. It was just a gossip that was all," she told the court.
Mrs Rooney's barrister on Tuesday compared Mrs Vardy's connection with Ms Watt in relation to the leaks as "like hiring a hit man or woman".
"Just because you're not the person who gets their hands dirty, doesn't mean you're not equally responsible," he said.
Mrs Vardy added that she had been "just joking" when discussing leaking another story with Ms Watt, this time about a woman allegedly cheating on her husband with a famous footballer.
She said WhatsApp messages between herself and Watt were often "outrageous and inappropriate", but said it was just "gossip between friends" and not evidence of leaking stories.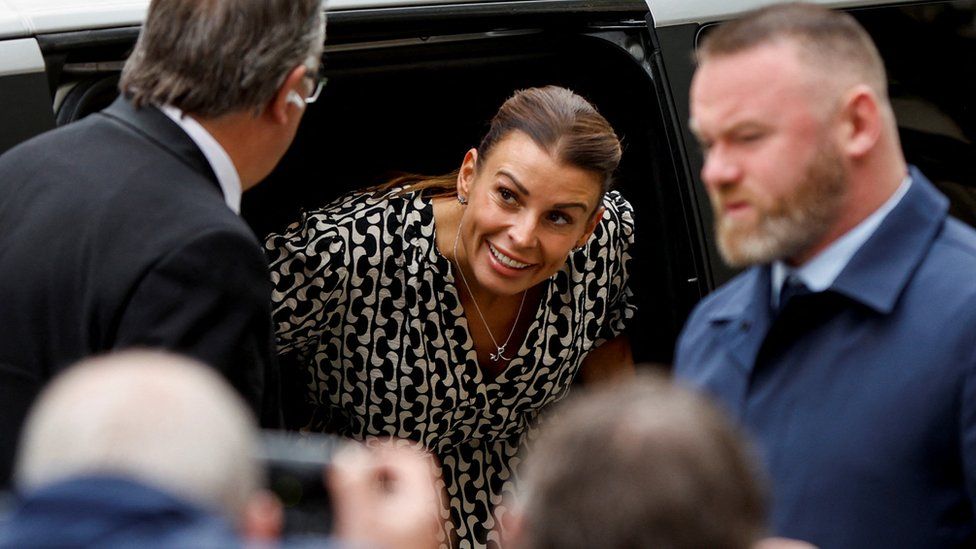 Mrs Vardy, 40, arrived at court on Wednesday dressed all in black, wearing sunglasses, a jacket, long skirt and high heels.
Mrs Rooney, 36, arrived once again with her husband, the former footballer Wayne, wearing a white and black patterned outfit. Her left foot was still in a brace.
On day one of the so-called "Wagatha Christie" trial, Mrs Vardy faced around half an hour of questioning at the end of the hearing.
She denied leaking stories but was accused of having a history of selling stories, including one about an alleged sexual encounter with the singer Peter Andre, to the newspapers.
Mrs Vardy's barrister Hugh Tomlinson said she had "had no choice" but to bring libel case against Mrs Rooney.
The trial centres on a viral social media post in October 2019, in which Mrs Rooney said she had carried out a "sting operation" and accused Mrs Vardy of leaking "false stories" about her private life to the press.
Mrs Rooney claimed an account behind three fake stories she had posted on her personal Instagram account with The Sun newspaper was Mrs Vardy's.