Police say the incident is a suspected terror attack, which follows a surge in violence.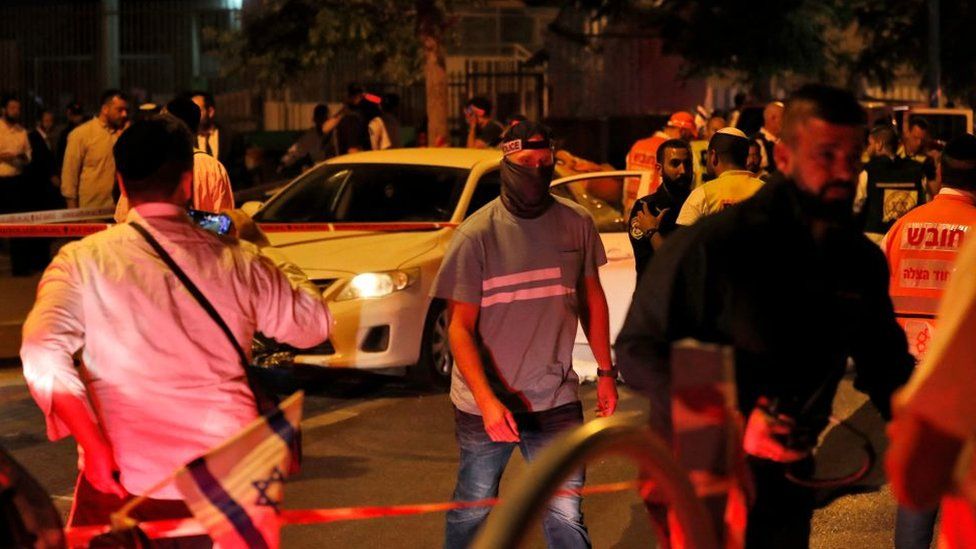 Three people have been killed and others wounded in what police say is a suspected terror attack in the central Israeli city of Elad.
Two attackers – one armed with a gun, the other an axe – targeted passers-by at a park in the city, Israeli media report.
Police are hunting for the suspects.
The attack came as Israel marked Independence Day, a public holiday marking the establishment of the country.
A volunteer medic said the "incident will be deeply etched in my heart".
Local authorities in Elad have ordered residents to stay indoors.
Most of the city's population are members of Israel's ultra-Orthodox Jewish community.
"The joy of Independence Day was cut short in an instant. A murderous attack in Elad that shocks the heart and soul," said Israeli Foreign Minister Yair Lapid, posting on Twitter.
The incident follows a spate of deadly attacks carried out by Palestinians and Israeli Arabs in recent weeks, the deadliest period of attacks in Israel since 2006.
Sixteen Israelis, including an Israeli Arab policeman, and two Ukrainians have been killed in the attacks in Israel and the West Bank in the latest flare-up.
Israel has responded by raiding Palestinian towns, sparking clashes that left at least 26 people dead, including bystanders.
Israel holds memorial ceremonies each year before Independence Day, marking its wartime losses and victims of deadly attacks.
The Jewish state was founded on 14 May 1948, and anniversaries are calculated in accordance with the Hebrew calendar.
On 15 May, Palestinians mark the creation of Israel with a day of mourning called al-Naqba, Arabic for "catastrophe".