Four days before the vote, far-right leader Marine Le Pen is behind Emmanuel Macron in the polls.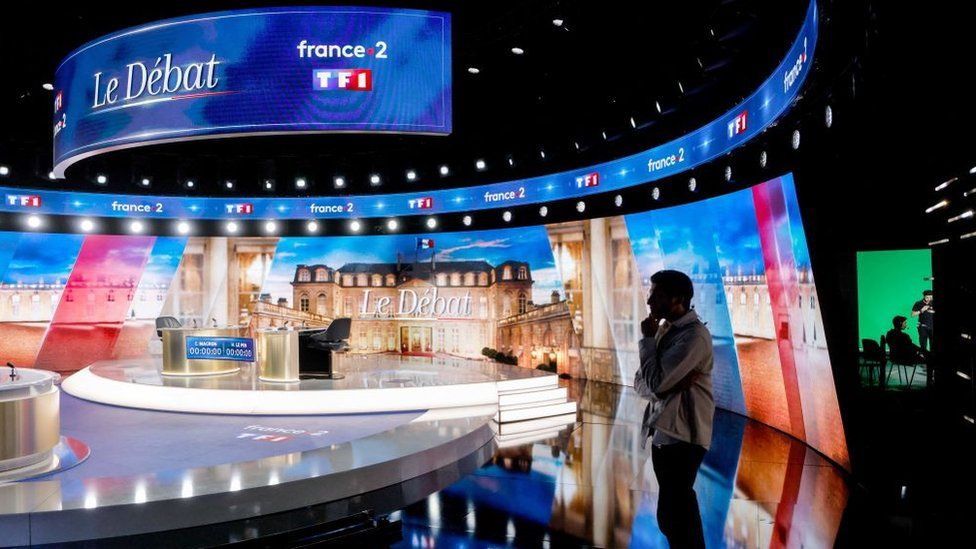 Four days before France votes on its next president, the two remaining candidates go head to head in their only televised debate.
Far-right leader Marine Le Pen has fallen behind Emmanuel Macron in the opinion polls but millions of voters are still undecided.
For two and a half hours they will take part in Wednesday night's duel in the hope of gaining an advantage.
Mr Macron emerged as clear winner in 2017 and went on to become president.
Although he won the first round of the vote 10 days ago, more than half of the electorate backed either far-right or far-left candidates.
The burning issue for voters has been France's spiralling cost of living and that is bound to play a big part in the debate, broadcast on the two biggest TV networks. It has also been a successful focus of Marine Le Pen's campaign.
Significance of debate
Televised confrontations between the top two candidates have been a highlight of French presidential elections for almost five decades. The last debate attracted 16.5 million viewers so it could play a crucial role with undecided voters.
The TV duels have proved most decisive when the polls are close. In 1974, conservative Valéry Giscard d'Estaing went on to beat Socialist François Mitterrand after performing well in their debate. Mitterrand did better in the rematch in 1981 and won the run-off vote.
And this is the first time since then that the same candidates square off in two consecutive elections.
The 2017 debate was a disaster for Ms Le Pen, who appeared exhausted and unfocused in front of a confident and articulate Emmanuel Macron. He was already well ahead in the polls and trounced his far-right opponent by securing two-thirds of the vote.
This time around it will be a much closer race and a strong performance by Ms Le Pen could win over a big section of undecided voters. She has halted her campaign since Monday to concentrate on the debate and her rival may not have the easy ride of five years ago.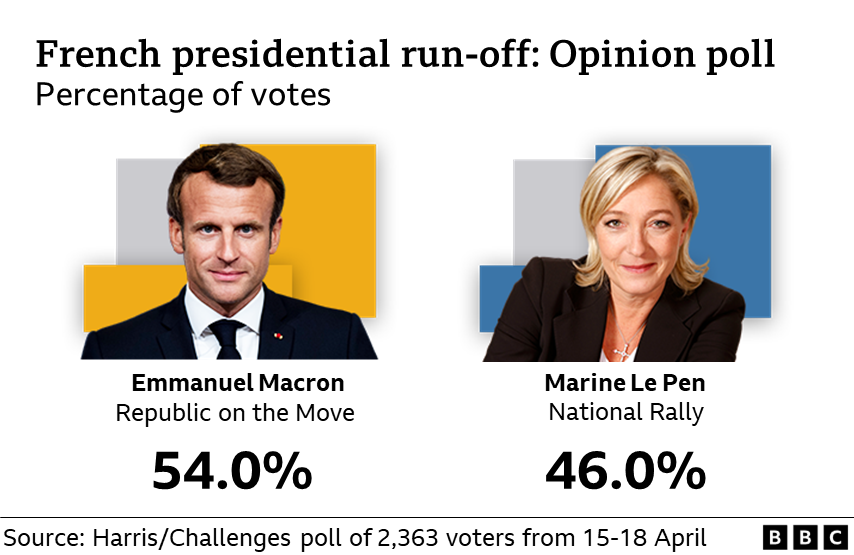 The gap in the opinion polls has widened slightly since the first round vote in which the incumbent president won 27.85% and Ms Le Pen came second with 23.15%. But they are still fluctuating wildly, suggesting Mr Macron will secure between 53% and 57% of the vote.
Marine Le Pen will need to perform far better than in 2017 to have a chance of victory. Both the debate and the race appear to be her rival's to lose.
What the candidates stand for
The choice for voters is far clearer than five years ago, when Emmanuel Macron won with very little experience as a politician.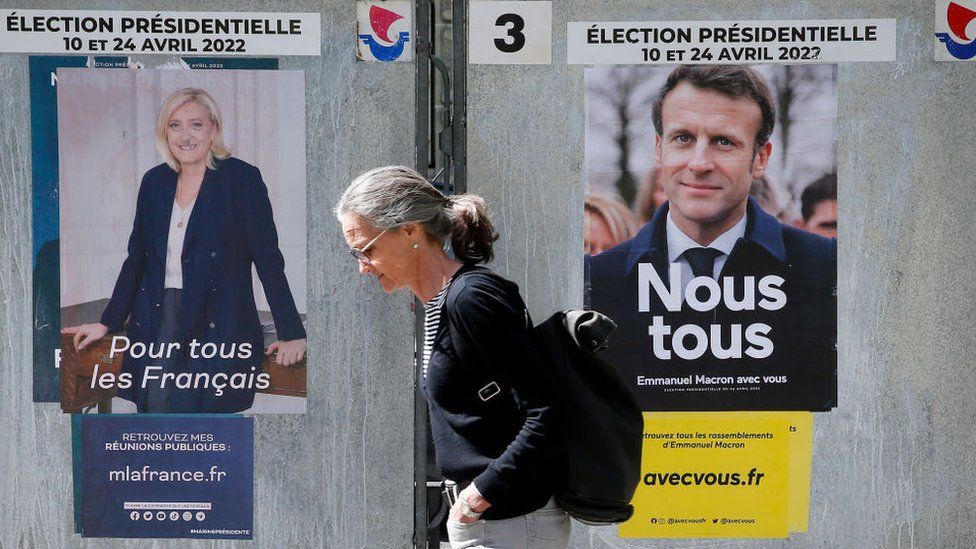 His strict Covid policies alienated many voters and he has been accused of acting as a "president for the rich". He is more popular in the big cities but has secured the support of other mainstream left and right parties for his pro-EU liberal and global outlook.
Marine Le Pen has toned down her nationalist, anti-EU rhetoric but she still plans to revise France's relationship with the European Union and Nato. She is traditionally more popular in rural, poorer areas.
What to expect
The debate will cover eight main themes from cost of living to social and international issues.
Cost of living: This is a strong point for Ms Le Pen, whose first-round success is widely attributed to her decision to focus on pocket-book issues at a time of high inflation and stagnating living standards for working families. Mr Macron will seek to highlight that unemployment is down to a 13-year low.
Foreign affairs: Ms Le Pen is vulnerable here for her links to Russia, although she has condemned the invasion of Ukraine. Russia's jailed opposition leader Alexei Navalny on Wednesday appealed to French voters to back Emmanuel Macron because of a Russian bank loan to her party and what he called "selling political influence to Putin".
Social issues: Here Ms Le Pen will aim to highlight her proposed generous pension benefits and spending on health. That could appeal to supporters of. far-left leader Jean-Luc Mélenchon, who came third with almost 22% of the vote. Her rival argues her social policies are unaffordable at a time of record budget deficit.
Immigration: Another hot-button issue for Marine Le Pen. She has toned down her anti-immigration rhetoric but her programme has been called "racist" by Mr Macron. She wants to prioritise French nationals over foreigners for social benefits and a plan to end residency rights for all those who have not worked for a year. During his tenure, Mr Macron has highlighted the need for migrants to accept French values and warned against "separatism".
Environment: They both promise to build more nuclear power stations but that's as far as they agree. Marine Le Pen wants to stop building wind turbines and end subsidies to renewable energy. Mr Macron is likely to secure the Green vote for his plan to phase out coal and gas,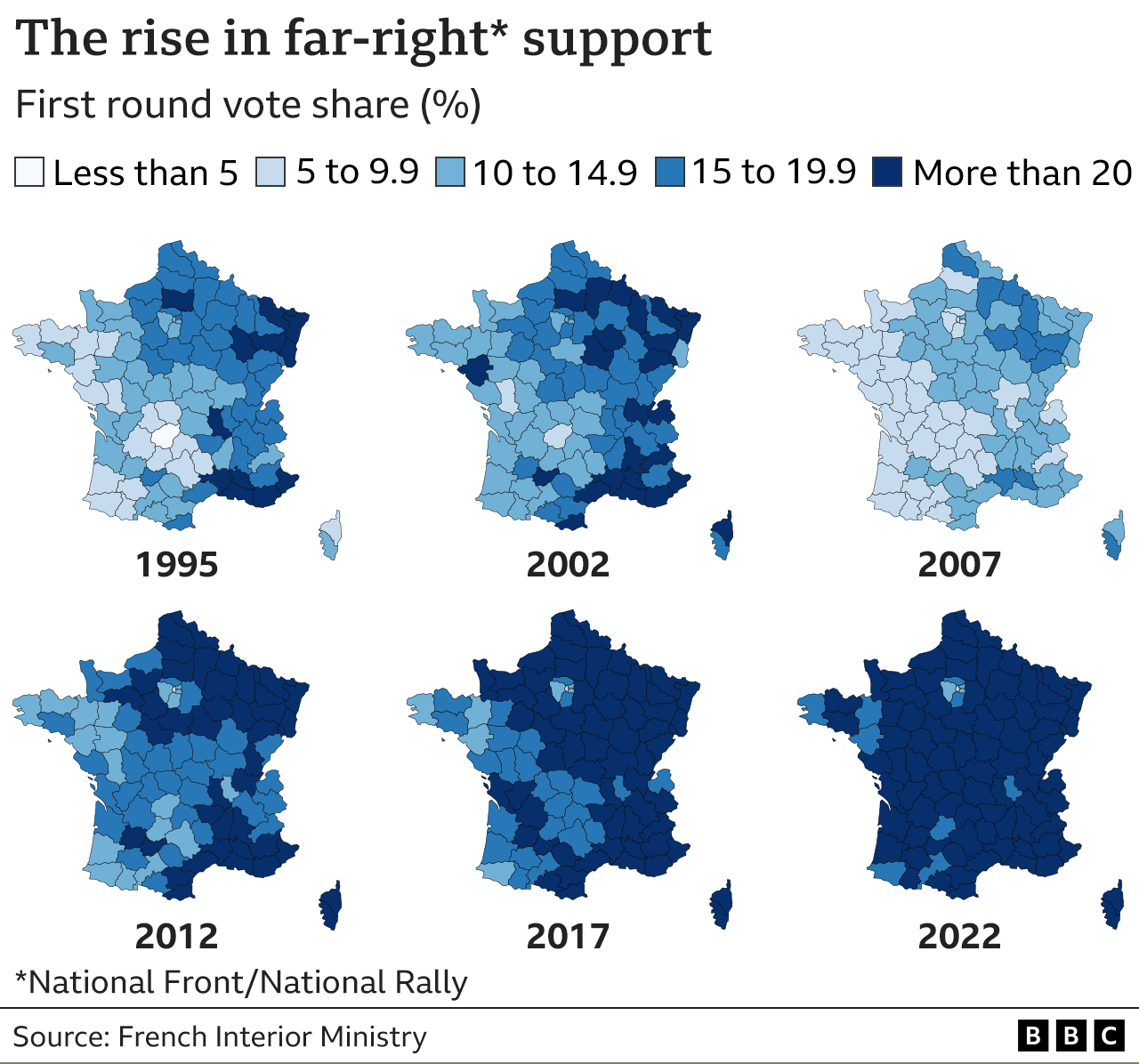 Race for the French Presidency