The Duke of Sussex drove a Land Rover round a course at the games, which he is due to open formally later.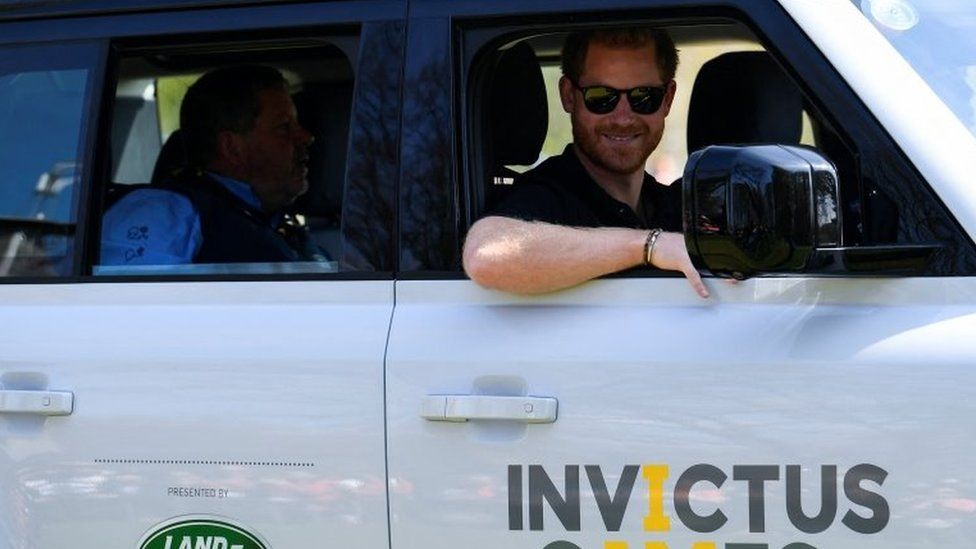 Prince Harry has taken part in a driving challenge as the Invictus Games get under way in the Netherlands.
The Duke of Sussex tackled a specialist course in a Land Rover ahead of the games' opening ceremony which takes place at 18:00 BST.
Prince Harry founded the games, where injured military veterans take part in a range of events, in 2014.
The duke and his wife Meghan stopped off in the UK on Thursday when they visited the Queen at Windsor Castle.
The couple, who have not been on this side of the Atlantic together since 2020, also saw Prince Charles while they were at Windsor Castle, the Sun newspaper reported.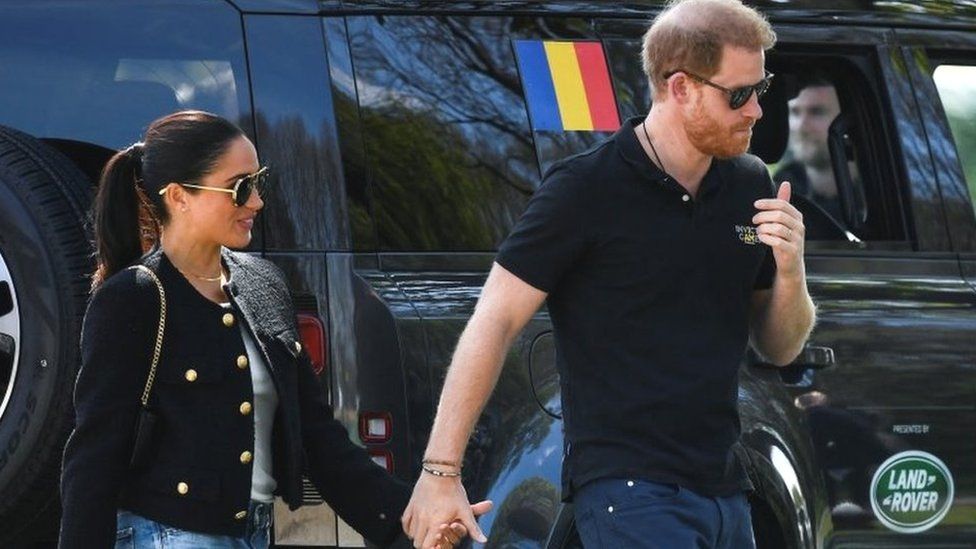 The Duke and Duchess of Sussex arrived at the Zuiderpark in The Hague around lunchtime before joining in with a junior driving contest where they were driven round a circuit in miniature Land Rovers.
The duke then took to a full-size car to complete his driving challenge, taking on a course featuring bridges, ramps and rocks.
The duke and duchess will both speak during Saturday evening's opening ceremony, when they address the audience at the televised event which will include members of the Dutch royal family and the country's prime minister.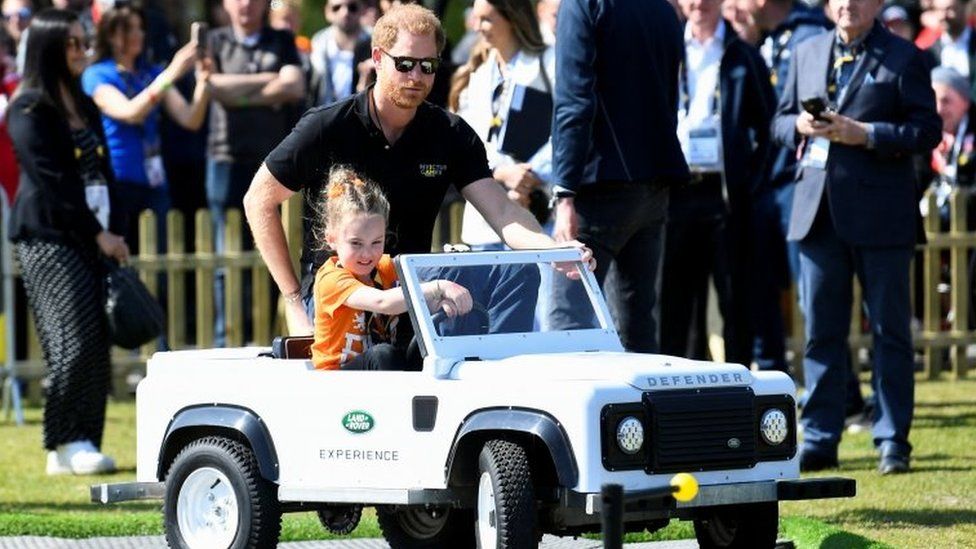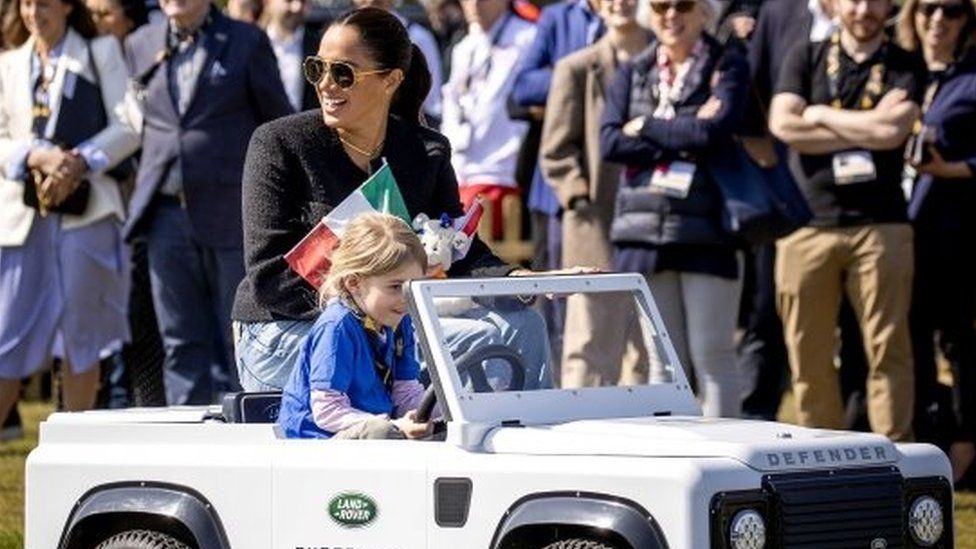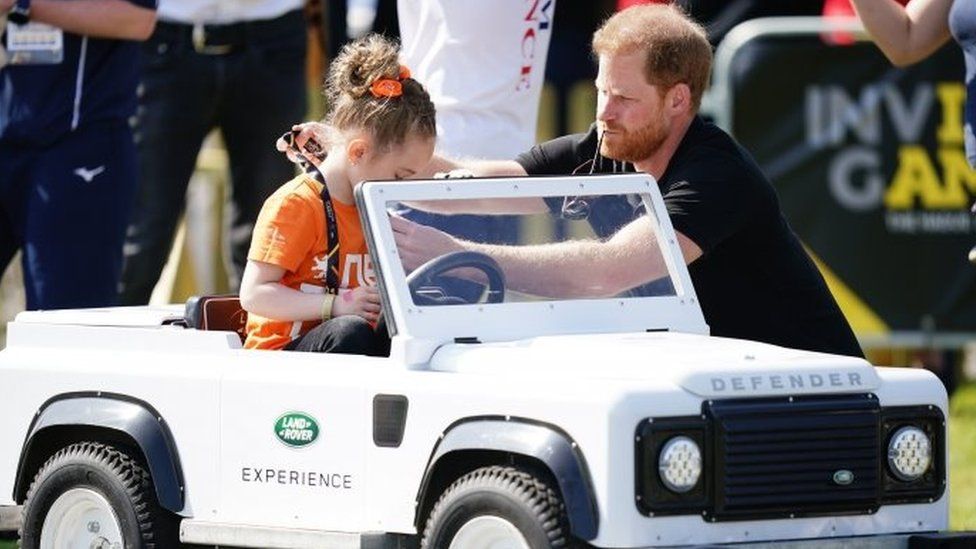 The opening ceremony will feature live performances by British rock band the Kaiser Chiefs, along with a military band, Dutch singer-songwriter Anneke van Giersbergen, and Hague-based rock band DI-RECT.
The 2022 edition of the Invictus Games run until next Friday. The city was originally due to host the event in 2020 but it was postponed due to the Covid pandemic.
Competitors will take part in events including archery, athletics, wheelchair basketball and sitting volleyball.
Ukraine will be represented at this year's games, after its competitors were given permission to leave the country by President Volodymyr Zelensky.
The duke was inspired to set up the games after seeing the 2013 Warrior Games in the US, where injured and retired service personnel competed.
The first edition of the games was held in London in 2014, with subsequent competitions being held in the US, Canada, and Australia.