The government is looking at lowering people's energy bills based on how close they are to onshore wind turbines.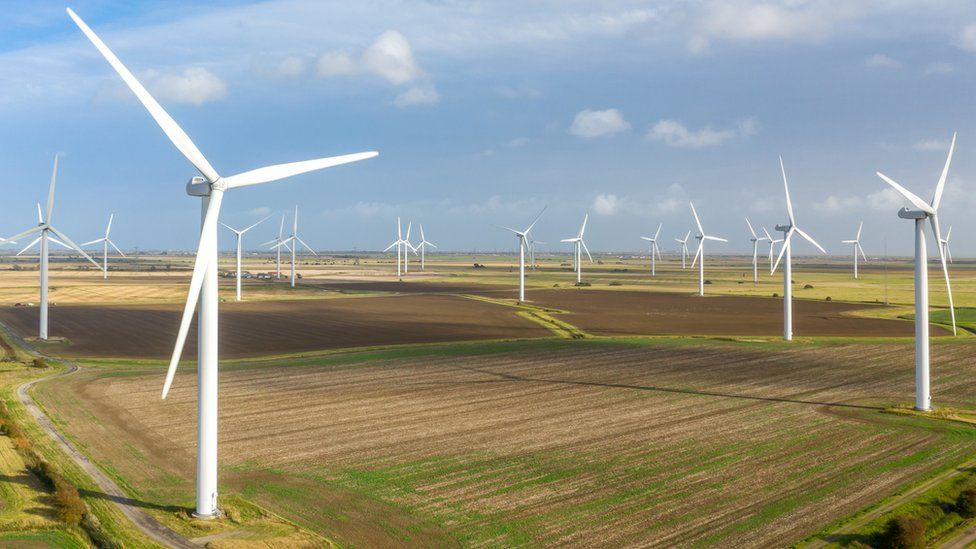 The government is considering plans to lower people's energy bills based on how close they are to onshore wind turbines, the BBC has been told.
It's an idea the energy company Octopus offers some customers in Yorkshire and Caerphilly.
But the government is considering expanding this across the country.
There are currently strict planning rules about where onshore wind farms can be built in England, which inhibit the development of wind farms.
Business Secretary Kwasi Kwarteng is in favour of loosening regulations to make it easier to approve plans for more onshore wind.
It's expected the government will outline its energy supply strategy next week – which will include plans for accelerating renewable energy in the UK.
One plan under consideration is reviewing planning laws in England, that were tightened in 2015, to make it easier to approve more onshore wind farms.
The business secretary supports the idea, and Downing Street sources have said the government has "got to be open" to more onshore wind.
It is understood Michael Gove – who is in charge of planning in England – is also supportive.
A government source said that – if the idea is approved – "as with any development, local consent is absolutely critical. We would always want to bring the public with us."

Energy costs
Electricity and gas bills for a typical household will go up by £693 a year in April, a 54% increase.
In October, customers in England, Scotland and Wales will receive a £200 rebate on their energy bills. They will have to repay this at £40 a year for five years, starting in April 2023.
But the OBR on Wednesday forecast that energy bills will rise by 40% again in October, if wholesale gas prices remain at the same level they are now.
In his Spring Statement, Mr Sunak said that VAT would be cut from 5% to 0% on energy efficiency products such as solar panels, insulation and heat pumps.

The BBC understands one option under consideration is introducing a scheme to make energy bills cheaper depending on how close people live to an onshore wind farm.
It's understood this would apply to new developments.
Currently, a similar scheme is run by the energy company Octopus. Their customers get 20% of electricity bills when their local turbine is spinning, and 50% off when it's picking up speed.
There are two local wind turbines using this model so far – one in Market Weighton in Yorkshire and one in Caerphilly in Wales.
The BBC has been told that the government is "very interested" in this model and are considering expanding it across the country to provide an incentive for onshore wind farms to be approved in people's local areas.
A government source said: "Ministers would want to ensure communities are able to directly benefit from hosting renewable energy infrastructure. There are a range of different options under discussion."
The energy strategy expected next week is likely to focus on plans to accelerate the rollout of more renewable and nuclear energy in the UK – as well as the government's ambitions to loosen regulations around extracting North Sea oil and gas while the government moves away from Russian gas and transitions towards more renewable energy.
Labour MP Darren Jones, who is chair of the Commons select committee which focuses on business and energy, called on the government for more action on energy.
"For colleagues in Parliament who have concerns about onshore wind turbines, which is a much better option than fracking, maybe they can demand that government brings forward the delayed updates to the energy efficiency voucher scheme to help families insulate their homes and reduce energy demand in the first place."