The US, EU, UK and Canada freeze the assets of the Russian president and his foreign minister over Ukraine.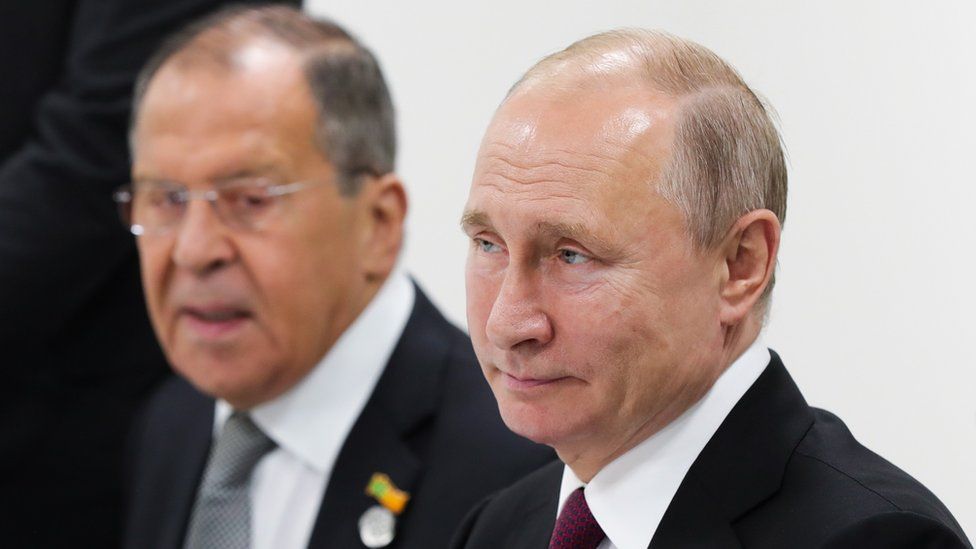 Western nations have ordered personal sanctions on Russian President Vladimir Putin and his Foreign Minister Sergei Lavrov over the invasion of Ukraine.
The men's assets in the US, EU, UK and Canada will be frozen and, in the case of the US, a travel ban imposed.
The announcement came on the second day of the Russian attack on its neighbour.
Such punitive measures against leaders are rare. The EU has only ever imposed sanctions on the presidents of Syria and Belarus, for instance.
The US, for its part, has previously announced measures against Venezuelan President Nicolas Maduro, in addition to Syria's Bashar al-Assad.
It is unclear how significant the assets of Mr Putin and Mr Lavrov are in the US, EU, UK and Canada, and what practical impact the sanctions will have.
Russia said they showed the West's "absolute impotence" on foreign policy.
Russia later vetoed a draft UN resolution to condemn the invasion of Ukraine after a debate at the UN Security Council.
India, China and the UAE all abstained from voting, while 11 other members voted in favour.
Speaking after the vote, the US ambassador to the UN Linda Thomas-Greenfield said, "Russia has abused its power today to veto our strong words, but Russia cannot veto our words."
"President Putin is the aggressor here, there is no middle ground."
'Finish this bloodbath'
The sanctions come as Ukraine's President Volodymyr Zelensky warned that Russia would try to "storm" Kyiv on Friday night.
In a video statement, Mr Zelensky said "this night will be hard, very hard, but morning will come.
"This night the enemy will be using all available means to break our resistance. This night they will launch an assault.
"This night we must persevere. The fate of Ukraine is being decided right now."
He added: "Our main goal is to finish this bloodbath."
While Mr Zelensky acknowledged Russian forces had inflicted casualties, he maintained "the enemy has sustained very serious casualties", too. The BBC cannot verify this claim.
His words came after a day which saw Russian tanks enter the capital for the first time with large blasts heard across the city.
Russian troops also reportedly entered the southern Ukrainian city of Melitopol, according to Russian news agency Tass. The BBC cannot independently verify this, but earlier Mr Zelensky said that there was heavy fighting in the city.
Earlier on Friday evening a spokesperson for Mr Zelensky said the country was prepared to hold ceasefire and peace talks with Russia immediately and were discussing a place and time to hold talks.
Analysts suggest Russia's advance has been slowed by fierce resistance.
German Foreign Minister Annalena Baerbock said the Russian president and his top diplomat were "responsible for the deaths of innocent people in Ukraine, and for trampling on the international system".
"We, as Europeans, do not accept that," she said, after a meeting of foreign ministers in Brussels.

Russia attacks Ukraine: More coverage

EU leaders have decided not to impose a European travel ban on them for now.
As Russian troops close in on Kyiv, Ukraine has been pleading with the West for faster and tougher sanctions to punish Moscow for its attack.
Mr Zelensky urged Europe to impose harder sanctions on Moscow.
He wants leaders to cut off Russia from Swift – the system used for global business transactions.
UK Prime Minister Boris Johnson has also urged the West to block Russia from the payments system to "inflict maximum pain on President Putin and his regime".
But the EU has so far opted not to cut off Russia from Swift – reportedly due to objections from some member states, including Germany and Italy, who are worried the impact on their own economies.
France's Finance Minister Bruno Le Maire said removing Russia from Swift remained an option, but only as a last-resort "financial nuclear weapon".
Mr Borrell said the latest round of EU sanctions – the second since Russia launched its offensive – would be followed by a third, if it was needed.
The EU's latest round of sanctions also target Russian elites and make its harder for its diplomats to travel.
Russia's invasion has also prompted a response in the sporting world.