No details of the Duke of York's payout to Virginia Giuffre have been made public.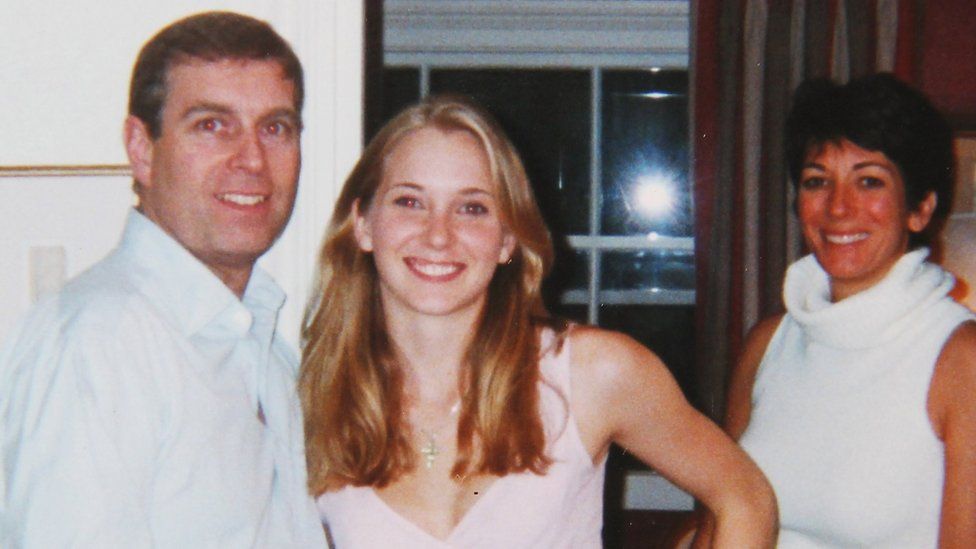 There are calls for clarity over Prince Andrew's role in public life and how he will fund a financial settlement, after settling the US civil sexual assault case brought by Virginia Giuffre.
The Duke of York agreed to pay an undisclosed sum as part of the settlement, and accepted Ms Giuffre had suffered as a victim of abuse.
He made no admission of liability and has always denied the allegations.
American lawyer Lisa Bloom said it was a huge victory for Ms Giuffre.
"This is a monumental win for Virginia," said Ms Bloom, who represents several of sex offender Jeffrey Epstein's victims – adding that it was a win "for everyday people… standing up against the rich and powerful".
Ms Giuffre had been suing the Duke of York, claiming he sexually assaulted her on three occasions when she was 17 – which Prince Andrew has repeatedly denied.
A statement from their lawyers said the duke would pay an undisclosed sum to Ms Giuffre and make make a "substantial donation" to Ms Giuffre's charity in support of victims' rights
It also said the duke regretted his association with Epstein. Prince Andrew had previously told BBC Newsnight in 2019 he did not regret being friends with Epstein.
But no details of the payout to Ms Giuffre have been made public – and there are calls for clarity about where the money will be coming from.
Although the exact amount of the financial settlement has not been revealed, reports have speculated that it could run into millions of pounds. The duke receives a Royal Navy pension and a stipend from the Queen's Duchy of Lancaster income.
Kate Macnab, a lawyer at Reeds Solicitors, says: "It is likely there will be some demands to know where the payment is coming from – public or private purse?"
And Graham Smith from the anti-monarchy group Republic said taxpayers deserved to know where the money for the settlement was coming from.
'Stay out of the public eye'
In the statement on Tuesday, Prince Andrew pledged to support "the fight against the evils of sex trafficking, and by supporting its victims".
Speaking on BBC Newsnight about the ways in which Prince Andrew can do that, Ms Bloom said: "I am sure that his money would be welcomed in organisations that are struggling to help victims everyday.
"In terms of his personal participation, probably not."
Former Royal Navy officer Rear Adm Chris Parry, who was Prince Andrew's flight commander, added: "I think really he should look to a private life and enjoy essentially what is a very good privileged lifestyle. But I think he should stay out of the public eye."
He said it was "good to see that he's done the decent thing" – but that Prince Andrew "has made some bad choices" and "needs to surround himself with better friends".

Is there any way back for Prince Andrew?

If Prince Andrew had gone to court in the US to fight it out with Virginia Giuffre, it would have made headlines as tall as a New York skyscraper.
That royal disaster zone has been averted by an out-of-court settlement.
But it comes with high costs to Prince Andrew, both financial and reputational, and it will be a long road back before there is any chance of clearing his name in terms of public opinion.
He won't get back any of the royal patronages, military links or the HRH title that were taken away from him.
And the many questions raised by his BBC Newsnight interview – about his connections with Ghislaine Maxwell and Jeffrey Epstein and details such as his inability to sweat – will be left unanswered.

Following the announcement of the settlement, Prince Andrew faced a renewed call from the MP for York to give up his association with the city.
Labour MP Rachael Maskell said he should lose his title of Duke of York out of respect for those affected by abuse.
"To demonstrate his seriousness in this endeavour, and his respect for those affected by abuse and the people of our city, I would ask that his first act of contrition is to confirm his support for the withdrawal of his ducal title," she said.
Ms Giuffre, who was previously known as Virginia Roberts, claimed she was the victim of sex trafficking and abuse by financier Epstein from the age of 16. Epstein died in prison in 2019 while awaiting a sex trafficking trial.
She said part of the abuse saw her lent out to powerful men, including Prince Andrew, who is the third child of the Queen and ninth in line to the throne.
Ms Giuffre, now 38, claimed the duke, 61, sexually assaulted her on three occasions when she was 17 at Ghislaine Maxwell's home in London, in Epstein's mansion in New York and on Epstein's private island in the US Virgin Islands.
In a 2019 interview with BBC Newsnight, Prince Andrew said he had no memory of ever meeting Ms Giuffre and said her account of their London meeting and sex at a house in Belgravia "didn't happen".
In January, the United States District Court for the Southern District of New York ruled that the civil action over him could go ahead.
Buckingham Palace later announced that Prince Andrew's military titles and royal patronages had been returned to the Queen and that he would defend Ms Giuffre's civil case as a "private citizen".
Mr Zelin said: "Both sides won, both sides got what they wanted, both sides gave a little something up, both sides can hold their heads up high".
Speaking in support of the duke, British socialite Lady Victoria Hervey said she hopes the Royal Family could now focus on the upcoming jubilee celebrations, and that "Prince Andrew can put these false allegations behind him".