There's a "whiff of Munich in the air", Defence Secretary Ben Wallace says, as diplomatic talks continue.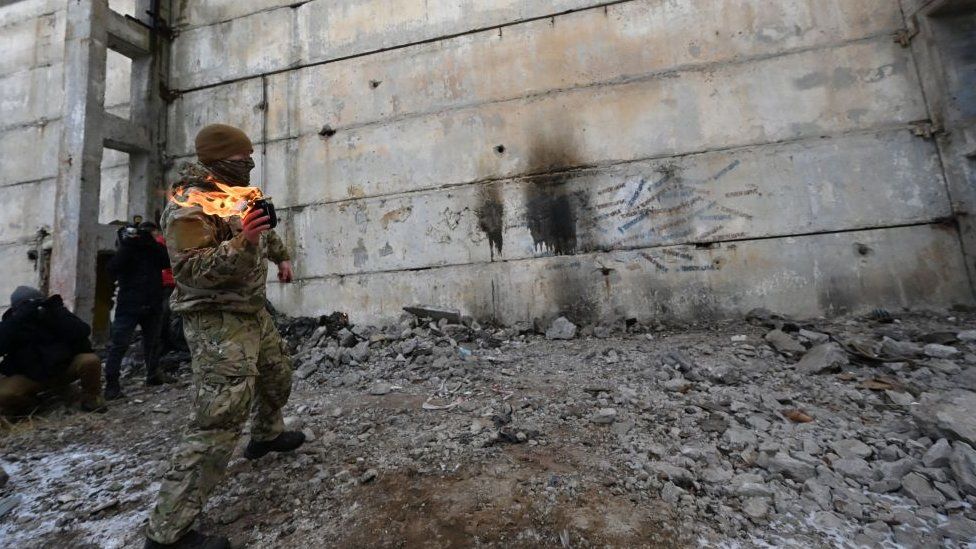 Russia is "highly likely" to invade Ukraine despite ongoing diplomatic efforts, the defence secretary says.
Ben Wallace said there was "whiff of Munich in the air" – a reference to diplomacy that failed to prevent World War Two.
Minister Brandon Lewis said Mr Wallace was expressing concern that "Russia has continued to move troops" during talks.
Moscow has denied any plans to invade Ukraine but has amassed more than 100,000 troops near the border.
In an interview with the Sunday Times, Mr Wallace said: "It may be that he [Putin] just switches off his tanks and we all go home but there is a whiff of Munich in the air from some in the West."
Prior to World War Two there was optimism that diplomatic talks, and policies of appeasement towards Germany, could prevent conflict on the European stage.
Northern Ireland Secretary Brandon Lewis told the BBC's Sunday Morning programme: "If you look back to that period of time there was a lot of diplomatic engagement, there was an optimism at the time, actually, that there may be a diplomatic way through.
"That eventually turned out not to be the case. It turned out that wasn't the intent or aim of Adolf Hitler at the time."
Mr Lewis said the fact Russia had not yet invaded could indicate talks were working, but he warned there remained a risk President Vladimir Putin may not be engaging sincerely.
Vadym Prystaiko, Ukraine's ambassador to the UK, said the comparison of diplomatic efforts with Russia to appeasement was unhelpful.
He told the BBC Radio 4's Broadcasting House programme: "It's not the best time for us to offend our partners in the world, reminding them of this act which actually did not brought peace but the opposite – it bought war."
In his interview, Mr Wallace also said Moscow could launch an "offensive at any time".
Writing on Twitter, he said he had "cancelled a planned long weekend abroad with [his] family" because of the situation.
More than a dozen countries have urged their citizens to leave Ukraine immediately, including Britain.
On Saturday, Armed Forces Minister James Heappey said advice to UK nationals in Ukraine had changed because Russia could now attack "at no notice".
Mr Heappey warned that the RAF would not be able to "fly in" and rescue those who chose to stay, comparing the situation to the evacuation of Afghanistan last summer.
US Secretary of State Antony Blinken has said the "imminent" threat of military action justifies evacuating the US embassy in Kyiv.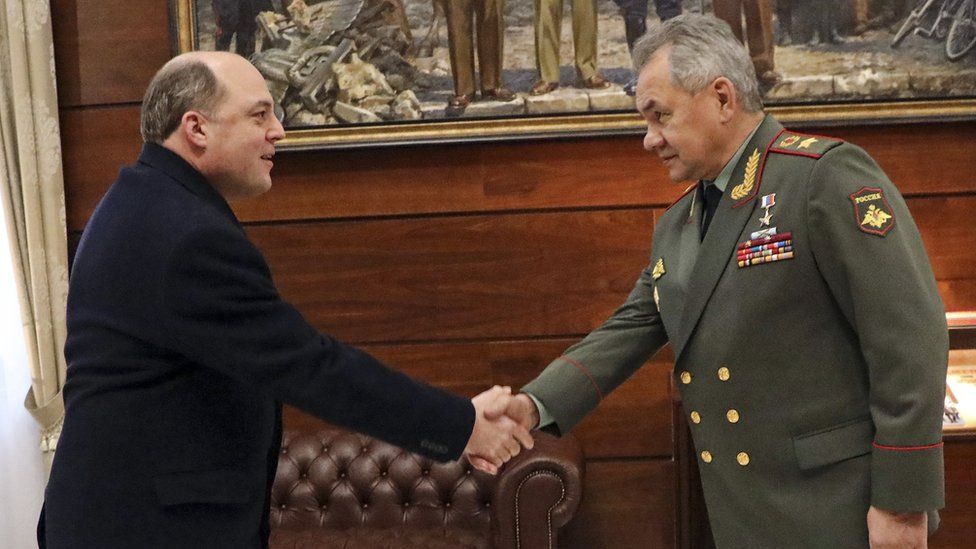 Yvette Cooper, Labour's shadow home secretary, said a "very strong and united international response" was needed for "this Russian belligerence".
"It is immensely serious and nobody should be naive about what Russia is up to, and the scale of the troops amassing on the Ukraine border," she told BBC One's Sunday Morning programme.
Ms Cooper said there had to be "extremely strong and swift and severe" sanctions in the face of any incursion.