Boris Johnson says Nato must draw "lines in the snow" as he pledges support for eastern states.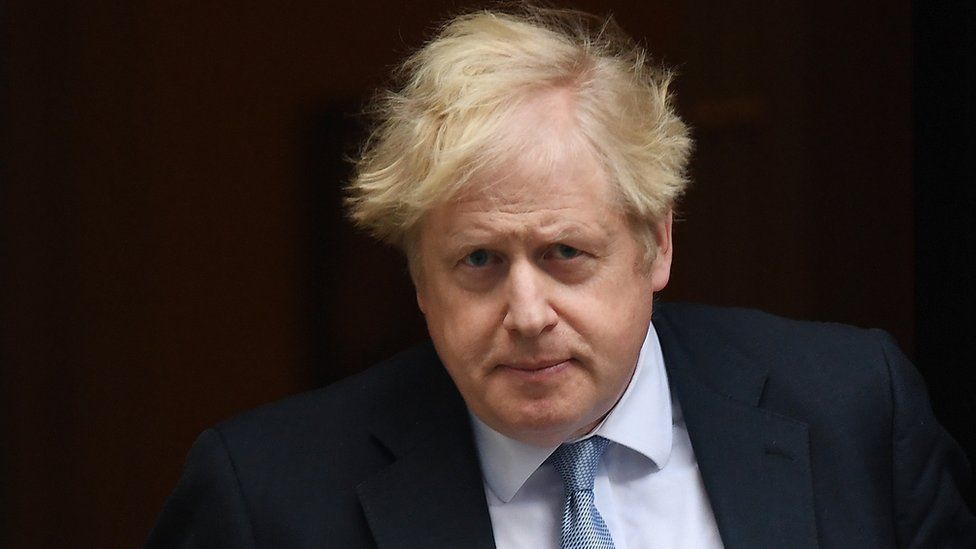 Prime Minister Boris Johnson is to travel to Brussels and Warsaw on Thursday in support of Nato allies, as he says the alliance must not compromise its principles.
He said Nato must draw "lines in the snow" amid tensions over Ukraine, including the right of every European democracy to aspire to membership.
Russia wants assurances Ukraine will not be allowed to join the alliance.
It denies plans to invade but has well over 100,000 troops near the border.
The prime minister's trip is part of a surge of diplomatic activity, with Foreign Secretary Liz Truss and Defence Secretary Ben Wallace also due to meet their Russian counterparts in Moscow on Thursday.
Ahead of the first visit to Russia by a UK foreign secretary in four years, Ms Truss said she was determined to stand up for freedom and democracy in Ukraine and intended to urge Moscow to pursue a diplomatic solution.
Labour leader Sir Keir Starmer is also expected to meet the Nato secretary-general.
Mr Macron told reporters on Wednesday that President Vladimir Putin had assured him Russian forces would not ramp up the crisis, but Russia said it had given no such guarantee.
Tensions continue to mount, with the US criticising large-scale Russian military drills about to take place over 10 days in Belarus, Ukraine's neighbour, as "escalatory".
The crisis is the latest stage in a long-running conflict, which began in 2014 when Russia annexed Ukraine's southern Crimea peninsula. Russian-backed separatists control swathes of territory in eastern Ukraine and at least 14,000 people have been killed.
Mr Johnson will meet the Nato secretary-general in Brussels and Poland's president and prime minister in Warsaw, intending to show solidarity with Nato allies who are most at risk from Russian hostilities.
The prime minister announced 1,000 more British troops will be put on alert in the UK, with the government warning of a possible "humanitarian crisis", if a Russian incursion into Ukraine sends people fleeing into neighbouring countries.
Meanwhile, 350 Royal Marines from 45 Commando are to begin deploying to Poland as part of support announced for the country earlier this week.
The UK will also offer to double the number of its troops in Estonia, deploy more RAF jets based in southern Europe, and to sail a Type 45 destroyer and HMS Trent, a patrol ship, in the eastern Mediterranean.


If it is Thursday, it must be Britain.
Both Moscow and Kyiv have seen a steady flow of western politicians in recent days. Today it is Britain's turn.
In Russia, the foreign and the defence secretaries will be repeating a message with which the Kremlin must now be familiar, one of deterrence and diplomacy: any Russian military action against Ukraine will be met by massive economic sanctions, but the West remains open to dialogue about Russia's security concerns once it has de-escalated its threat against Ukraine.
The prime minister, meanwhile, is off to Brussels to discuss with Nato chiefs what more the UK could do to bolster the military alliance's eastern flank. Mr Johnson will then head to Poland, which would be on the front line if conflict were to escalate in Ukraine.
The key aim of all this diplomacy is to maintain pressure on Russia while reassuring allies in Nato, retaining Western unity and keeping the door open to a non-military solution.

The prime minister said: "When Nato was founded, allies made an historic undertaking to safeguard the freedom of every member state. The UK remains unwavering in our commitment to European security.
"What we need to see is real diplomacy, not coercive diplomacy. As an alliance we must draw lines in the snow and be clear there are principles upon which we will not compromise.
"That includes the security of every Nato ally and the right of every European democracy to aspire to Nato membership."
Mr Johnson will meet British troops already deployed in Poland as part of Nato's strengthened defences in eastern states.
After touching down in Moscow on Wednesday, Ms Truss said Russia "must immediately withdraw its forces and respect Ukraine's sovereignty or face severe consequences".
"Any incursion would be a huge mistake. Diplomacy is the only way forward and Russia must pursue that path," she said.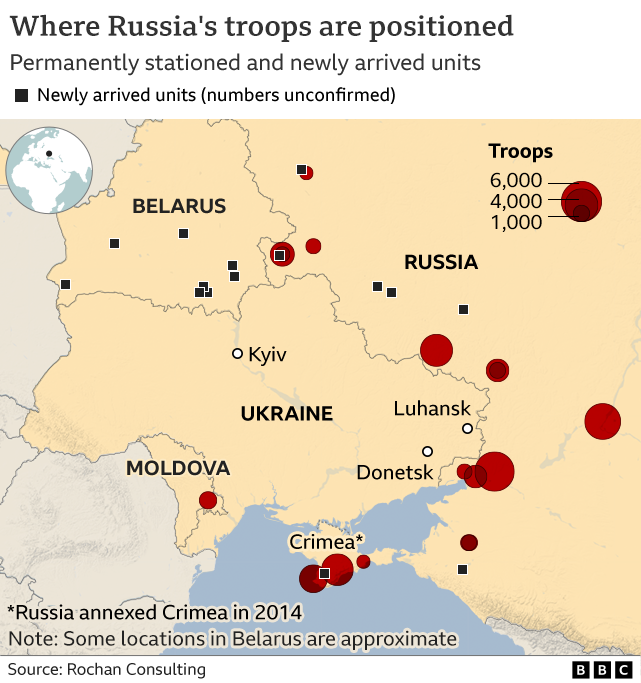 The foreign secretary has said the UK is prepared to impose what she called "the toughest sanctions regime we have ever had" if there was a Russian incursion.
Moscow in turn has repeatedly blamed what it calls "the Anglo-Saxon nations" for escalating tensions around Ukraine.
And it described the UK's claims that the Kremlin planned to install a pro-Russian puppet government in Ukraine as hysteria.