The Mirror says the photo was from a Christmas quiz held in Downing St when London was under Tier Two rules.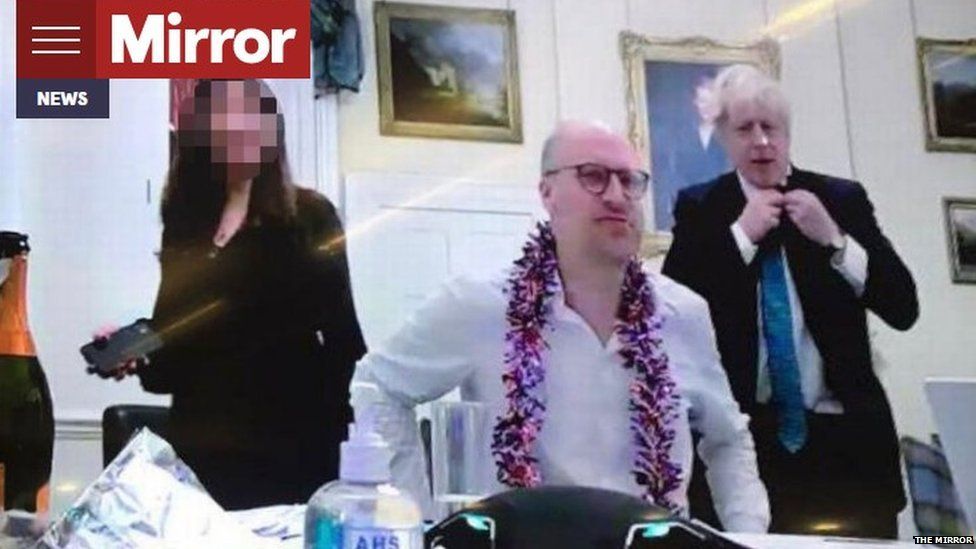 A photo has been published showing Boris Johnson stood next to a bottle of bubbly at what appears to be a Christmas event in Downing Street.
A third colleague is also in the room, with the open wine bottle and crisps on the desk in front of them.
The newspaper said the photo was taken on 15 December 2020 during a No 10 "virtual" Christmas quiz.
A picture from the same event was leaked to the Mirror last December, showing the PM sat at a table with two colleagues, but without any alcohol.
At the time, No 10 said the PM only "briefly took part virtually" to thank staff for their work during the pandemic.
The Metropolitan Police is carrying out an investigation into rule breaking parties in Downing Street during the pandemic.
The police are looking into 12 gatherings specifically – some of which the PM attended – but the event on 15 December was not considered by the force to have reached the threshold for criminal investigation.
It was looked into as part of the independent inquiry into the parties by senior civil servant Sue Gray, who has only published her initial findings while the Met carries out its work.
Sources told the BBC invites were sent out in advance via email and, while some joined virtually, others were grouped together in a room.
At the time of the event, London was under Tier Two restrictions, which banned mixing of households indoors – apart from support bubbles – and allowed a maximum of six people to meet outside.
Official guidance said: "Although there are exemptions for work purposes, you must not have a work Christmas lunch or party, where that is a primarily social activity and is not otherwise permitted by the rules in your tier."
Labour MP Fabian Hamilton raised the picture with Mr Johnson during Prime Minister's Questions.
He said: "At the height of the lockdown restrictions in 2020, my constituent – who has worked for the NHS for over 30 years – was diagnosed with a tumour on her spine.
"Whilst in hospital, undergoing painful surgery, her family obeyed the rules and didn't visit her."
He asked the PM if as a result of the picture surfacing, and "for the sake of my constituent and the sacrifices she made", would he refer it to the police.
Mr Johnson said he was "very sorry" about Mr Hamilton's constituent and "the difficulties she has been through", but added: "What he has just said he is completely in error."
Labour's Gerald Jones tried again to get the PM to commit to referring the gathering to the police.
But Mr Johnson said the event had "already has been submitted for investigation".