Five things you need to know about the coronavirus pandemic this Monday evening.
Here are five things you need to know about the coronavirus pandemic this Monday evening. We'll have another update for you tomorrow.
1. 'Tough targets' to tackle NHS backlog
Prime Minister Boris Johnson has promised tough targets to tackle record NHS waiting lists in England after plans to reduce the backlog were delayed. Speaking during a visit to a hospital in Kent, he denied reports the Treasury rejected the plans because the targets were not tough enough and insisted it was "working together in harmony" with No 10. Mr Johnson said the "vast majority" of people who suspect they have cancer should get a diagnosis within 28 days. That target was originally due to have come in last year, but had been delayed because of the pandemic. He also said that by March next year no-one should have to wait longer than two months. But that target already exists – and is not for diagnosis, but for treatment within two months. It is understood the commitment was for the NHS to return to pre-pandemic performance by March next year.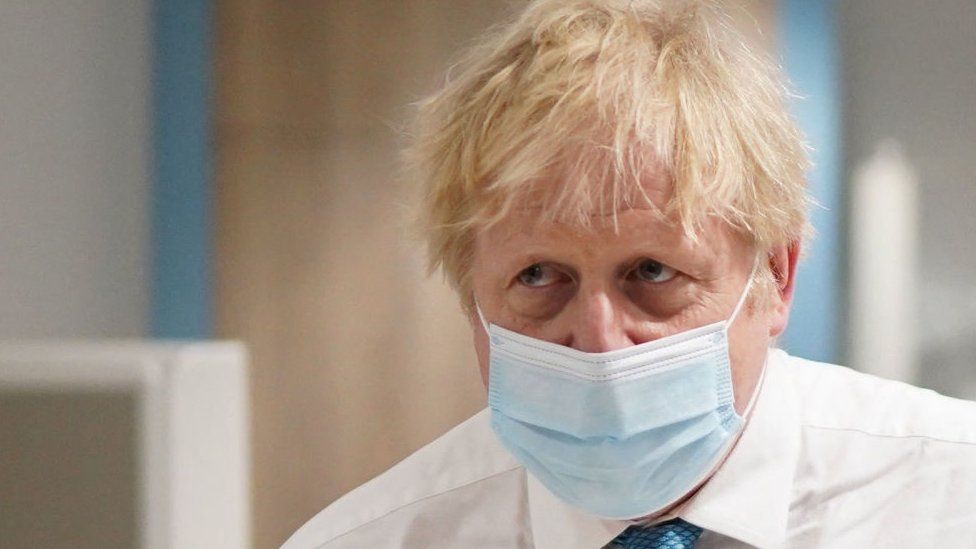 2. PM sang 'I Will Survive' to new spokesman
Away from NHS patient backlogs, it has emerged that Mr Johnson told his new communications chief "I will survive", singing lyrics from the Gloria Gaynor song, as he faces continued pressure – including calls to resign from MPs – over Downing Street parties during lockdown. Gutto Harri – who was appointed after a string of No 10 aides quit amid turmoil over "Partygate" – told a Welsh news website that after exchanging lines from the 1970s disco hit, and "a lot of laughing" during the Friday afternoon meeting, he and Mr Johnson "sat down to have a serious discussion about how to get the government back on track and how we move forward". He said the PM was "not a complete clown, he's a very likeable character".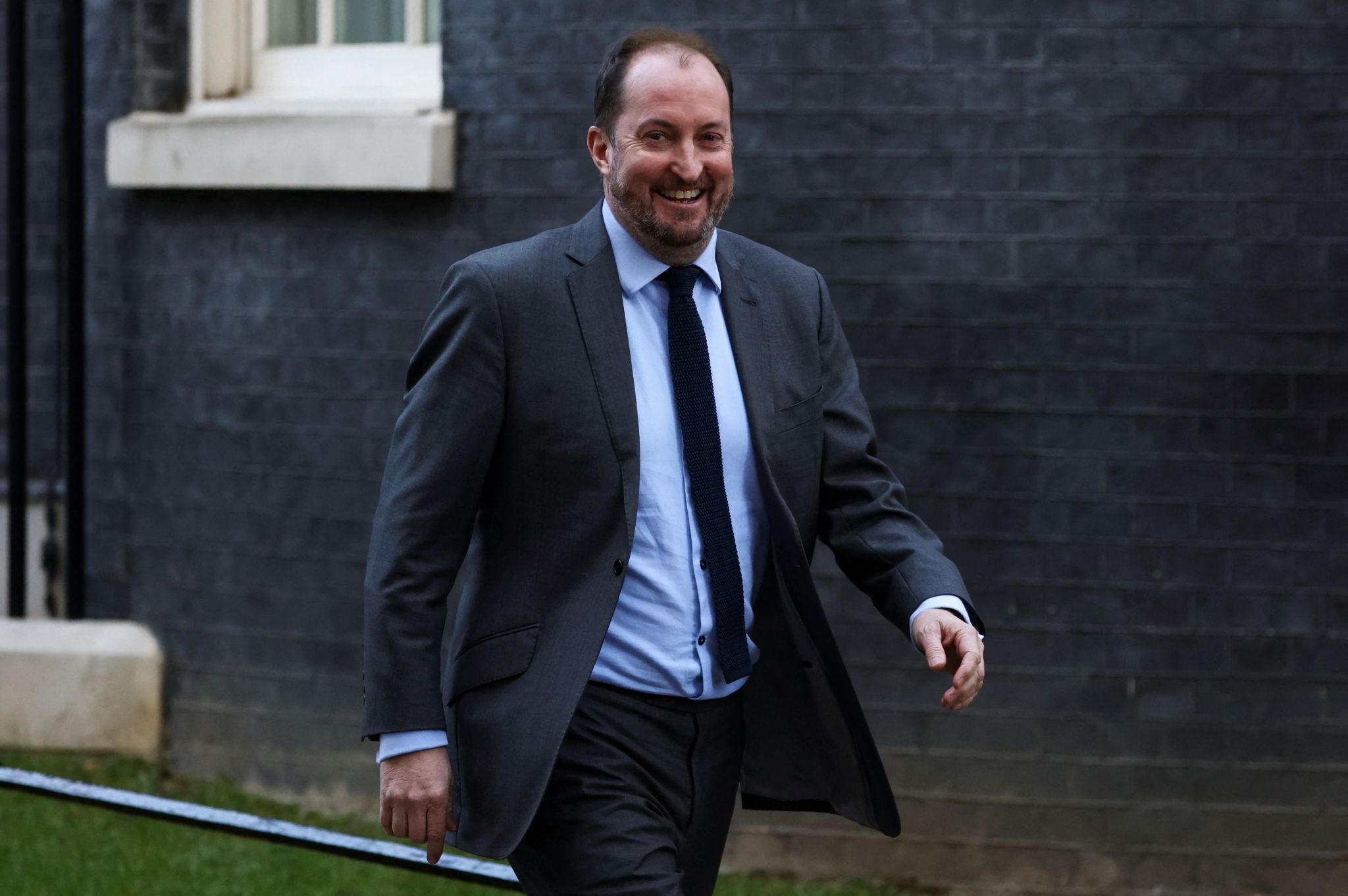 3. Swann wants NI Covid rules removal 'this week'
In Northern Ireland, Health Minister Robin Swann has said he is taking legal advice on how he can replace most remaining Covid restrictions as "this week" is the right time to remove them. It follows the resignation of First Minister Paul Givan – which means the executive – Northern Ireland's government – cannot meet. It had been due to discuss removing the remaining measures on Thursday. However, Mr Swann said he was not "prepared to allow a failure of politics to get in the way of lifting now unnecessary restrictions". Rules still in place include Covid passports for nightclubs and indoor unseated and partially-seated events of 500 or more people, and a limit of 30 on gatherings.

4. Truckers defiant as Ottawa protests grind on
Truckers in the Canadian capital of Ottawa are vowing to continue their protests despite a state of emergency and mounting frustration and anger among residents. For more than a week now, anti-vaccine mandate protests have paralysed the city's core, forcing businesses to close and disrupting daily life. The so-called Freedom Convoy is in response to the introduction of a rule that all truckers must be vaccinated to cross the US border. On Monday, several of them told the BBC they will stay until their demands are met. Trucker Lloyd Brubacher said he was supporting the protests because he fears his nine-year-old son would grow up "not having the right to choose for his freedom and his rights".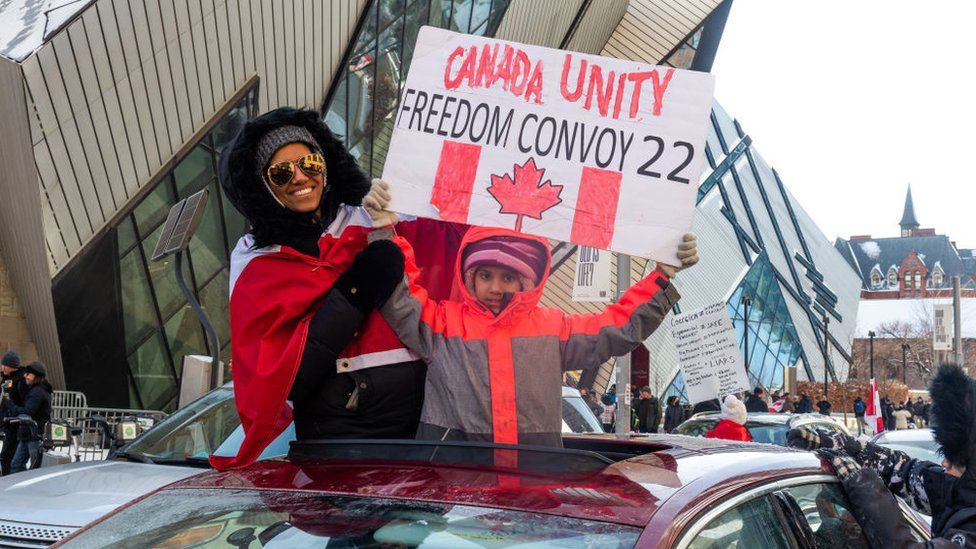 5. Joe Rogan podcast is staying on Spotify – boss
US podcast host Joe Rogan – who has been at the centre of controversy over claims he helped spread Covid misinformation and his past use of racist language – will remain on Spotify, the boss of the the music streaming platform has said. In a letter to staff, Daniel Ek said that although he "strongly" condemned racial slurs and other comments by Rogan, he did not believe silencing him was the answer. Neil Young and Joni Mitchell recently quit Spotify in protest at what they allege is Rogan's role in spreading Covid misinformation. Rogan denied trying to spread misinformation, but backed Spotify's plan to put a disclaimer at the start of controversial episodes. He apologised after a widely-shared compilation video showed him repeatedly using the N-word in early episodes of his show.

And there's more…
Here's a simple guide to staying safe now that some coronavirus restrictions have eased.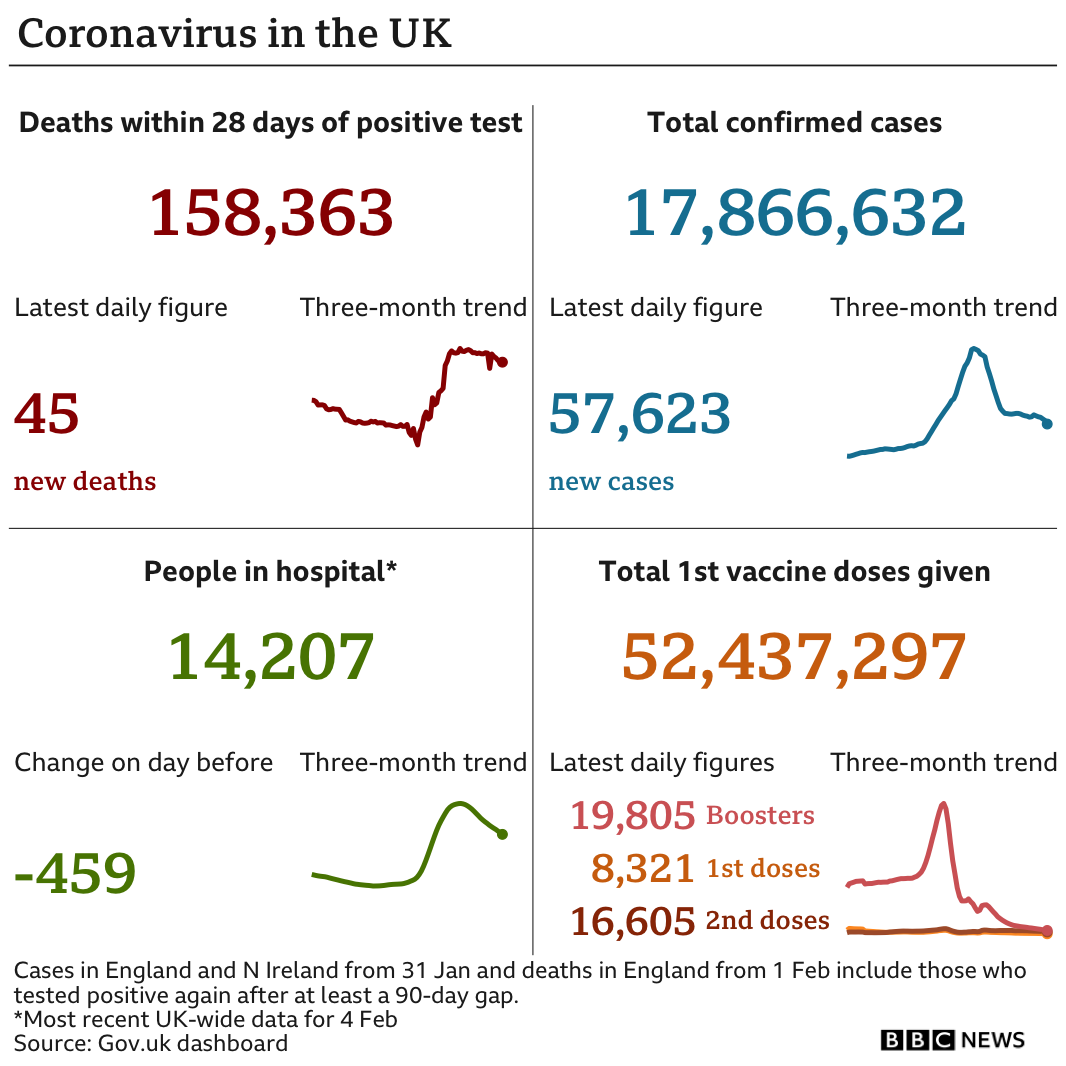 What questions do you have about coronavirus?
In some cases, your question will be published, displaying your name, age and location as you provide it, unless you state otherwise. Your contact details will never be published. Please ensure you have read our terms & conditions and privacy policy.
Use this form to ask your question:
If you are reading this page and can't see the form you will need to visit the mobile version of the BBC website to submit your question or send them via email to YourQuestions@bbc.co.uk. Please include your name, age and location with any question you send in.