Boris Johnson is under pressure to go after admitting attending a drinks party during lockdown.
Cabinet ministers have pledged their support for Boris Johnson, as he faces calls to resign after admitting attending a drinks party in lockdown.
Meanwhile, the PM cancelled a visit to Lancashire after a family member tested positive for coronavirus.
Scottish Tory leader Douglas Ross and other senior backbenchers have urged the PM to stand down.
But cabinet ministers have urged MPs to wait for the outcome of an inquiry into alleged Covid-rule breaking at No 10.
And Commons leader Jacob Rees-Mogg dismissed Mr Ross as a "lightweight".
Northern Ireland Secretary Brandon Lewis told BBC Breakfast: "You've got to let these investigations get to the full details and the full facts."
He said the prime minister recognised the "frustration, anger and upset" about what people perceived to be happening at Downing Street, adding he "absolutely" supported his leadership.
Foreign Secretary Liz Truss and Chancellor Rishi Sunak – both tipped as potential successors to Mr Johnson as leader – tweeted their support on Wednesday evening.
Ms Truss said she stood behind the prime minister "100%", while Mr Sunak said Mr Johnson had been "right to apologise", adding that he supported the PM's call for "patience" while Ms Gray completed her investigation.
Justice Secretary Dominic Raab said: "The prime minister has given a very clear account. He's been clear he believes he was acting in accordance of the rules at the time.
"But of course he understands the perception that those in power are not following the rules that many others are required to, particularly those who have gone through serious hardship or lost loved ones in this pandemic, and that is why he has apologised."
Mr Johnson's visit on Thursday to the vaccination clinic in Lancashire was cancelled, and he will follow official guidance, including taking daily tests and limiting contact with other people, a Downing Street spokesperson said.

Downing Street party row

Mr Johnson admitted at Prime Minister's Questions on Wednesday that he had joined colleagues for drinks in the Downing Street garden on 20 May 2020 for around 25 minutes, to "thank groups of staff" for their hard work during the pandemic, but had "believed implicitly that this was a work event".
He apologised for his handling of the event, saying he understood people's "rage".
The gathering, described in the invitation as "socially distanced", was attended by around 30 people, who were invited to bring their own alcohol. Food, including sausage rolls and crisps, was reportedly laid out on trestle tables.
"With hindsight I should have sent everyone back inside," Mr Johnson said. "I should have found some other way to thank them, and I should have recognised that – even if it could have been said technically to fall within the guidance – there would be millions and millions of people who simply would not see it that way."


And unlike other senior ministers, Rishi Sunak was not at Mr Johnson's side in the Commons.
Some newspapers have interpreted the timing and content of his message of support as lukewarm backing for his boss and neighbour in Downing Street.
Sources close to the chancellor point out the language he used about waiting for the report into lockdown-busting parties in Whitehall is almost identical to the messages posted by other cabinet ministers.
A peek at his diary also reveals a man with a genuinely busy day, which included a trip to Devon in the morning and a meeting with the prime minister in the evening, then more meetings with MPs worried about energy bills.
But Mr Sunak is seen as one of the favourites to succeed Boris Johnson, if and when he goes, even though the chancellor himself has said he is not interested in the top job.
The chancellor's colleagues may be frustrated with the media's obsession with this, but they'll just have to live with the fact that a leadership contender always attracts more rune-reading than a lower profile cabinet minister.
And supporters of the prime minister have started gently putting the pressure on the Chancellor to speak out on other big issues facing the country.
"Problems with the cost of living? I'd have thought that was one for your finance minister, wouldn't you?" said one advisor to a Johnson ally.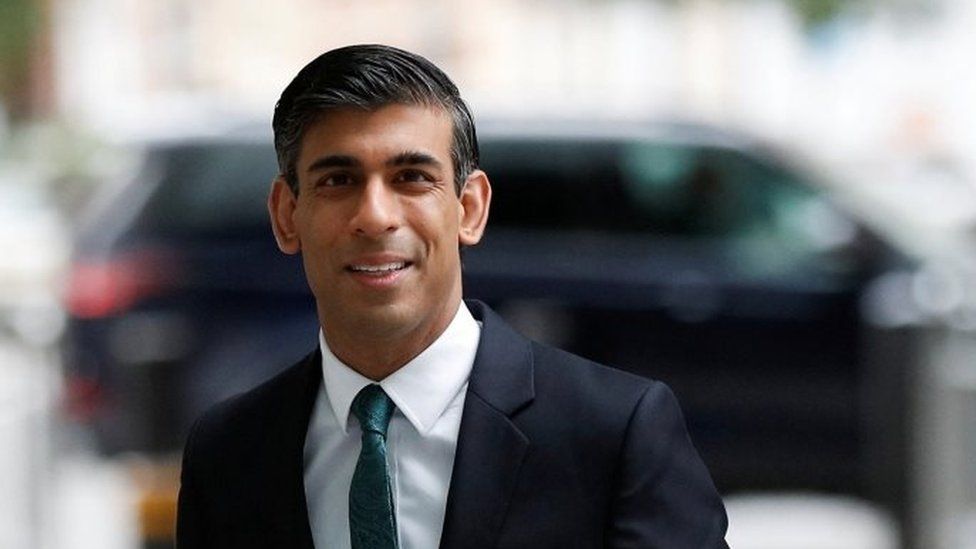 Labour, the Liberal Democrats and the SNP have called on the prime minister to resign, claiming he broke Covid rules brought in by his own government.
Labour deputy leader Angela Rayner has written to all members of the cabinet, asking whether they attended any gatherings during lockdown.
"It is time to finally come clean and tell us exactly what happened at the heart of government when the rest of us were following the rules," she said.
Mr Johnson's statement and apology received a mixed reaction among Conservatives, with Dan Poulter saying it was "not much consolation" for those who had worked on the frontline in the NHS.
William Wragg, a backbench Conservative MP who chairs an influential select committee, called the prime minister's position "untenable".
"I don't think it should be left to the findings of a civil servant to determine the future of the prime minister and indeed who governs this country," he told BBC Radio 4's PM programme.
And fellow Tory Caroline Nokes, who chairs another Commons committee, said the prime minister should resign now as he was "damaging the entire Conservative brand".
The former minister, who has previously been critical of Mr Johnson's leadership, told ITV's Robert Peston: "Regretfully, he looks like a liability. And I think he either goes now, or he goes in three years' time at a general election."
A minimum of 54 Conservative MPs must send letters to the 1922 committee in order to trigger a leadership challenge.