The public has been asked to minimise new year socialising amid record-high Covid cases.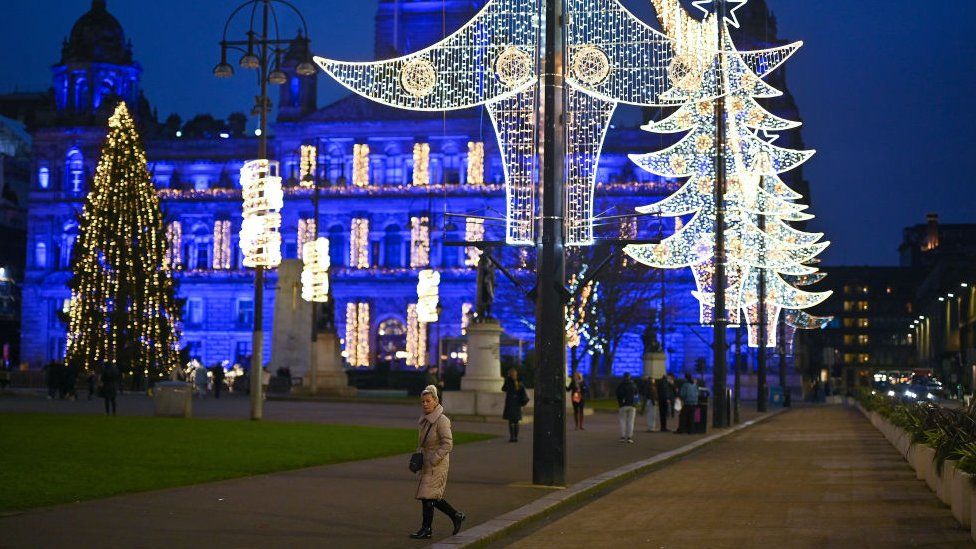 People should minimise Hogmanay socialising amid record Covid cases, the Scottish government has said.
All the major Hogmanay events in Edinburgh have been cancelled, as have many other events in towns and cities across the country.
On Thursday, Scotland recorded its highest ever number of Covid cases, with 16,857 cases confirmed.
But Scotland's first minister said the country could look forward to a "better and brighter new year ahead".
However, she said there was still a "very significant threat" posed by Omicron.
'Stay at home'
First Minister Nicola Sturgeon accepted that coronavirus restrictions meant that this was "not the Hogmanay we all wanted and hoped for".
She said: "The Omicron variant is a very significant threat. It means that, at the moment, we need above all to keep each other safe.
"We all need to stay at home, far more than we would want to at this time of year. And we have asked that you minimise new year socialising as much as you can.
"So this is not the Hogmanay we all wanted and hoped for. But I believe that we can still look ahead to 2022 with optimism."
People living in Scotland have been urged not to travel to England for New Year celebrations to get away from the more stringent Covid-19 restrictions.
There is no travel ban currently in place to stop people going to England, where nightclubs are still open.
But Deputy First Minister John Swinney said doing so would go against the "spirit" of Scottish Covid-19 measures.
He said travelling would be "the wrong course of action" due to the "serious situation" with the Omicron variant.
The UK government is not imposing further Covid restrictions in England, but there are limits on socialising in Scotland, Wales and Northern Ireland.
One UK government minister said people were free to move around the UK over the New Year festivities – at odds with Mr Swinney's call for people not to travel to England.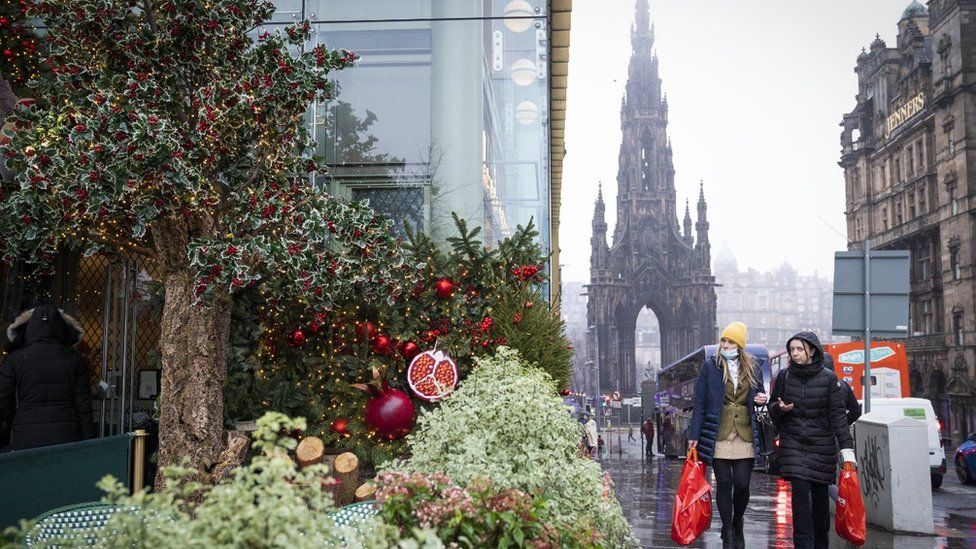 New rules came into effect this week which limit the size of gatherings, and place additional rules on the hospitality and leisure sector.
In bars and restaurants, there is also a limit of three households per booking, with physical distancing between groups, and table rather than bar service if alcohol is being served.
Nightclubs have also been closed for at least three weeks.
Louise MacLean, of the Signature Group, which owns restaurants, pubs, bars and hotels across Scotland, said cancellations were coming in all the time.
She said hospitality was also facing staffing challenges, with staff having Covid or self-isolating after being around someone who had it.
Booster target deadline
About 10-15% of Signature's workforce was currently off work isolating, she said.
She added that there was also a worry that the public would just celebrate in groups privately at home – where they could still contract Covid anyway.
The Scottish government said its target was for 80% of over-18s to have received their boosters by the end of the year.
But on Thursday it said an "exceptionally high" number of coronavirus booster vaccines would have to be given in the final days of the year to meet the target.
Health Secretary Humza Yousaf said approximately 120,000 people would need to receive booster jabs. He stressed that vaccine clinics had the capacity to achieve this, and whether the target was met would depend on how many people came forward.
Thursday's figures showed 2,944,977 people in Scotland had received a third dose or booster.