The spike in reported cases comes as frustration grows over a lack of available lateral flow tests.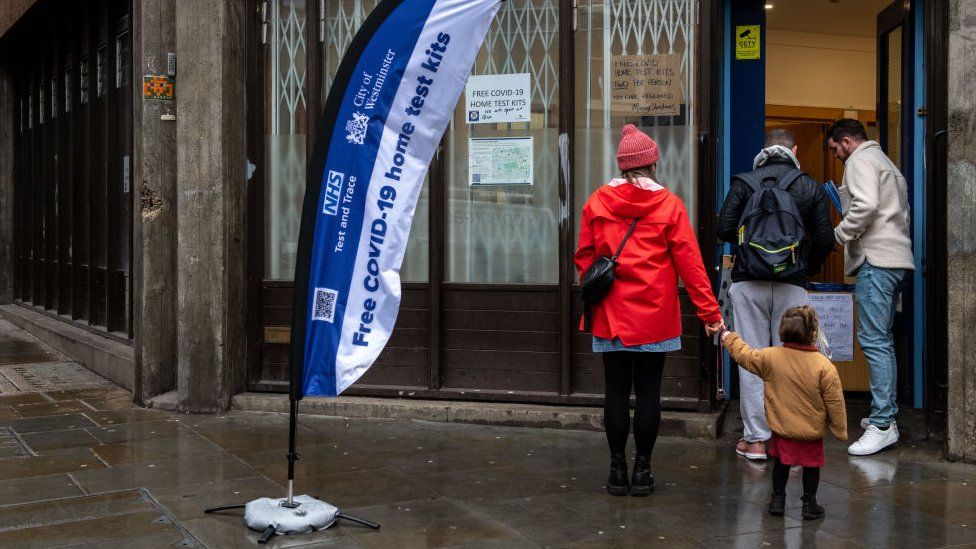 Daily reported coronavirus cases in the UK jumped to a record 183,037 on Wednesday.
The latest daily figure includes five days of data from Northern Ireland, as reporting was delayed over Christmas.
Meanwhile, frustration has been growing over a lack of available lateral flow tests.
But the public should keep trying to access testing as supply will be normal by next week, UK Health Security Agency boss Dr Jenny Harries said.
She also urged people to "use tests they have at home and not pull on the system".
On the high levels of cases, she said: "We need to watch data for a couple of weeks – after new year – to be absolutely sure which way this wave is going."
In the past seven days, 914,723 people have tested positive for Covid.
And a total of 10,462 people were in hospital with Covid in England as of Wednesday morning, figures from NHS England show.
This is up 48% from a week ago and is the highest number of admissions since 1 March.
Not all the patients in hospital will have been admitted for Covid – latest data suggests about three in 10 have the virus but were admitted to hospital for something else.


It should come as no surprise that cases continue to rise and that's translating into more people ending up in hospital.
This is likely to continue for some weeks yet – but it's important to look beyond the raw numbers.
The rapid jump in people in hospital – up 2,000 in England in two days – is likely to be partly down to a drop in people being discharged.
Last Christmas the numbers leaving hospital more than halved as it is more difficult to discharge over the festive period.
It means there could be hundreds in hospital who have recovered from Covid but not yet left.
The proportion in hospital for what is known as an incidental admission is also growing. These are people who are being treated for something else, but just happen to have Covid.
Last week they accounted for nearly a third of cases, but that figure is likely to have gone up by now.
However, the numbers who are seriously unwell with Covid are still going up.
Hospital numbers are rising more slowly than cases though, once again showing the Omicron variant is leading to milder illness.
And there are signs infection levels in London have already peaked. If that is the case and the trajectory is repeated elsewhere it would mean the burden on the NHS could peak at half the level seen last winter.