The Centres for Disease Control (CDC) recommends five days isolation for asymptomatic cases.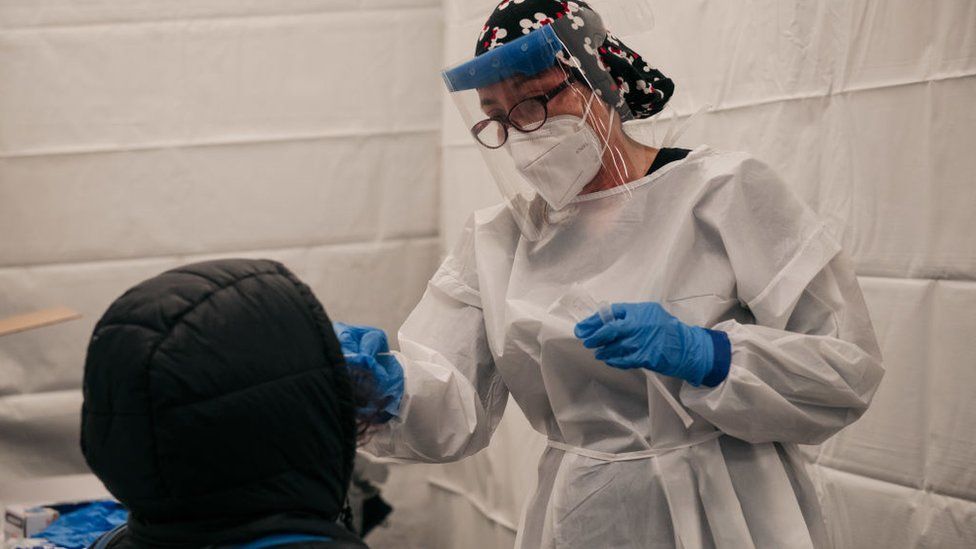 US health officials have halved the recommended isolation time for people with asymptomatic Covid-19 from 10 to five days, amid a surge in cases.
The Centers for Disease Control (CDC) said this must be followed by five days of wearing a mask around others.
It said most transmissions happen in the two days before and three days after symptoms develop.
The measure is expected to alleviate disruptions caused by staff shortages in many areas because of infections.
The sharp rise in cases has been fuelled by the Omicron variant of the virus, which is now the dominant strain in the US. Early studies suggest Omicron is milder but more contagious than other variants.
But the growing number of people becoming infected and having to isolate has put pressure on several industries, including air travel, with thousands of flights cancelled during the Christmas holiday.
The change, which the CDC said was "motivated by science", was announced as more than 200,000 daily infections were confirmed in the last two days in the country.
CDC director Dr Rochelle Walensky said the reviewed guidance "balances what we know about the spread of the virus and the protection provided by vaccination and booster doses".
There was no recommendation for people to take rapid at-home tests before the end of their isolation periods, a measure recommended by many experts as it helps to show whether people continue to spread the virus.
In England, people are now required to isolate for seven days, instead of 10, with two negative lateral flow tests needed to end their self-isolation – the first no earlier than day six of isolation and a second 24 hours later.
Prof Sir John Bell of Oxford University told BBC Radio 4's Today programme: "My view is that lateral flow tests are quite a good way of marking who's infectious and who isn't."
The CDC also shortened the quarantine period for people exposed to someone infected. Unvaccinated people will be required to quarantine for five days after exposure, down from 14 days.
The same applies to people who were more than six months on from their second dose of the Pfizer or Moderna vaccines, or two months after a Johnson & Johnson shot, and had not yet received a booster shot.
Last week, the CDC reduced the recommended isolation time for asymptomatic health workers from 10 to seven days. But they are required to take a test to end their isolation period.
While the new recommendations are not mandatory, they are closely followed by many businesses and policymakers across the US.
On Monday, President Joe Biden pledged to deal with a shortage of tests as Omicron threatens to overwhelm hospitals.
"Seeing how tough it was for some folks to get a test this weekend shows that we have more work to do," he said as he joined a call with the administration's Covid response team and state governors. "It's clearly not enough."
New steps will include improving at-home test manufacturing and making it easier to use Google to locate nearby test centres, he said.
Different states and local authorities in the US are introducing new measures in a bid to combat rising cases. New vaccine requirements have come into force in New York City, including a vaccine mandate for private-sector workers in the city.