Vaccinations are taking place in England over the festive period as Omicron cases rise further.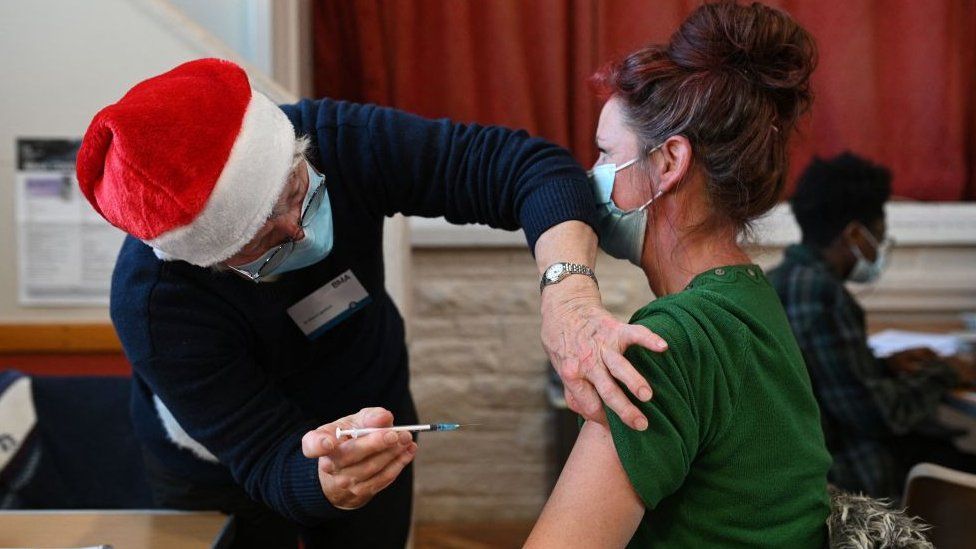 People in England will be able to get a Covid booster jab on Christmas Day and Boxing Day as part of efforts to target the Omicron variant, the NHS has said.
Vaccinations will also take place on Christmas Eve, with about 200,000 first, second or booster appointments still bookable over the festive period.
Health Secretary Sajid Javid thanked NHS staff and volunteers who were giving up time with family and friends.
Officials will also be working to fix supply chain delays with home tests.
The UK Health Security Agency (UKHSA) said it was sending a record number of rapid lateral flow tests to people's homes every day but acknowledged there is an issue with deliveries to some pharmacies.
NHS England said its "jingle jab" campaign will see Covid vaccines administered at local sites such as town halls and pharmacies over the Christmas weekend.
It advised people to book an appointment in advance but said they would be able to turn up at centres in some areas, including Eastbourne, Hartlepool, Croydon and Dewsbury.
Dr Emily Lawson, head of the NHS Covid vaccination programme, said she would "encourage anyone not already boosted to come forward, book an appointment and get the gift of a jab".
She said: "We've seen record after record broken in the run-up to the festive season and I want to thank every NHS staff member and volunteer whose goodwill and determination to protect their communities will keep the booster rollout going this Christmas weekend."
The UK set another daily Covid record on Thursday with 119,789 confirmed cases. There were a further 147 deaths within 28 days of a positive test.
It has also been a record-breaking week for booster and third jabs in the UK, with more than 968,665 administered on Wednesday, the highest number to date.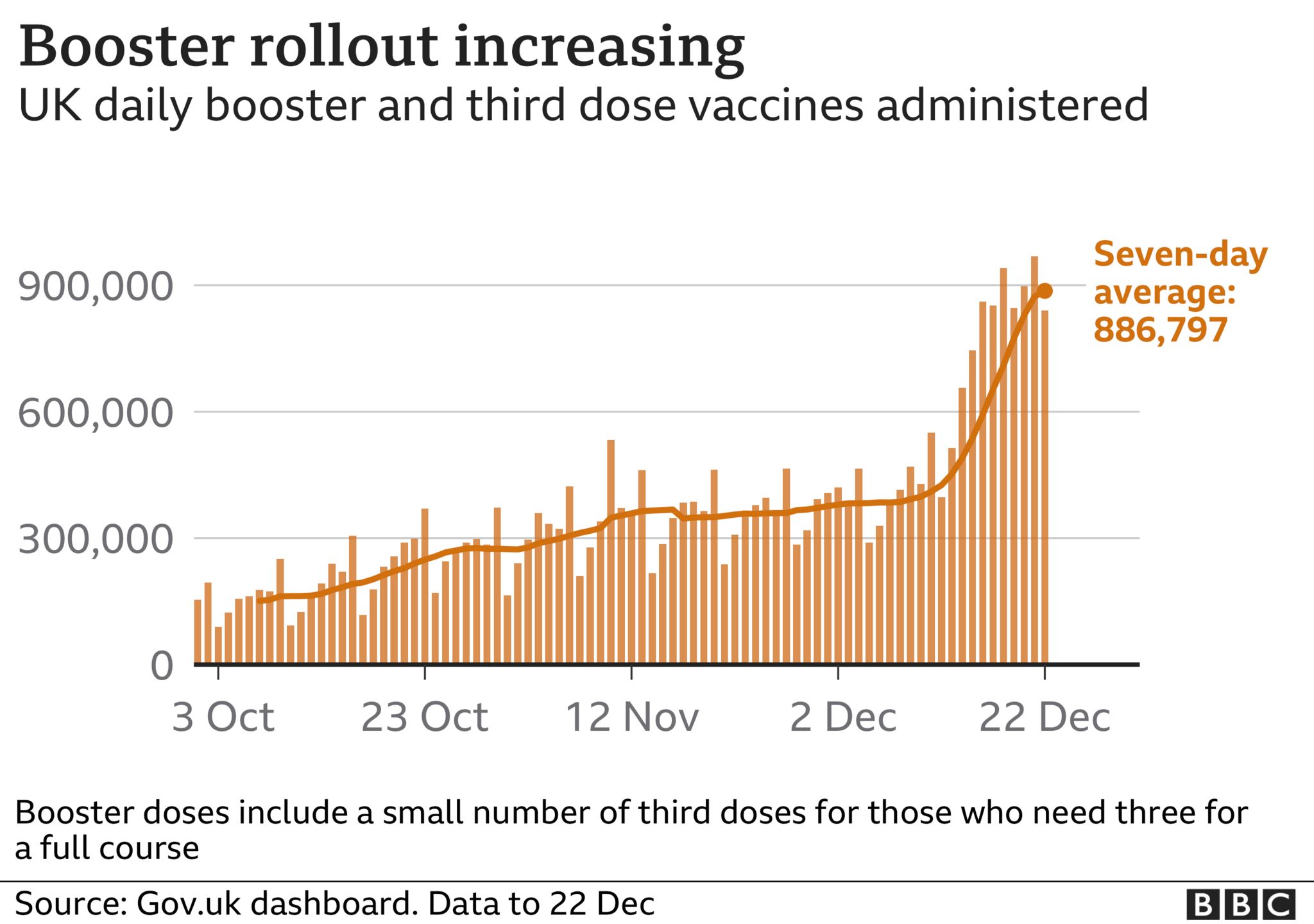 But the agency said the the variant could still lead to large numbers of people in hospital because it spreads so fast.
The health secretary said the early data from the UKHSA analysis on Omicron was promising.
But Mr Javid warned: "Cases of the variant continue to rise at an extraordinary rate – already surpassing the record daily number in the pandemic. Hospital admissions are increasing, and we cannot risk the NHS being overwhelmed… It is still too early to determine next steps."
Meanwhile, there continue to be reports of pharmacies running out of lateral flow tests.
Under the government's Plan B measures for England brought in to deal with the Omicron variant, fully vaccinated people who are close contacts of Covid cases have been told to take the tests – which are available free from pharmacies or via online order – daily for seven days.
Ministers have also been encouraging people to use the tests before they socialise or go to work, with the prime minister on Tuesday saying tests should be taken before they visit elderly or vulnerable relatives at Christmas.
The UKHSA said pharmacies were continuing to receive lateral flow tests and any delays in deliveries were a "supply chain issue and not a stock issue".
A spokesperson said: "Despite unprecedented demand, we are continuing to supply millions of rapid lateral flow tests every day.
"We are issuing record numbers of rapid test kits to people's homes across the country, and our delivery capacity has doubled to 900,000 test kits per day since Saturday… so more people can order tests."