The footage was found by Eric Morecambe's son Gary in the attic of his mother's house.
A long-lost episode of Morecambe and Wise is set to be broadcast in colour for the first time on Christmas Day.
The footage was found by Eric Morecambe's son Gary in the attic of his mother's house.
Dating from 1970, the 45-minute episode had originally been wiped by the BBC so the expensive tape could be re-used.
Gary Morecambe, 65, said the rediscovered episode represents "a golden era of television".
The newly colourised episode of the Morecambe and Wise Show will be broadcast on BBC Two at 19:45 GMT on Christmas Day.
It will be preceded at 19:00 GMT by the pair's 1971 Christmas show, featuring Andre Previn, Glenda Jackson and Shirley Bassey.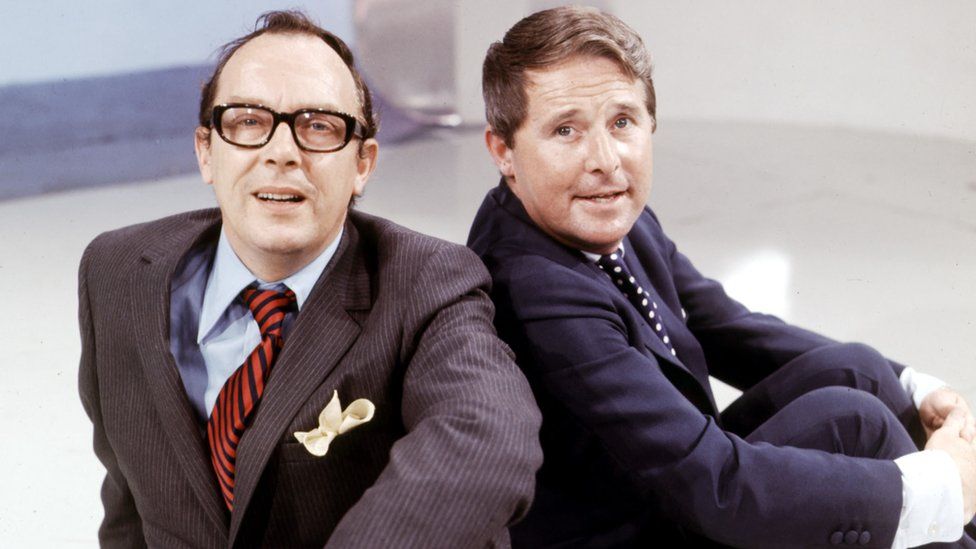 Gary Morecambe said he was searching for old scripts last year in the attic of the family home in Harpenden, Hertfordshire, when he found seven unlabelled canisters.
His agent sent them off to be examined and the films inside them were checked by experts.
"Six of them had virtually nothing of interest on them, and then the last one, which had part of a BBC sticker on it, had a show which had been presumed as lost," Morecambe told BBC News. "But it wasn't [lost], it was there."
The episode turned out to be the comedy duo's first show made for BBC One, dating from 8 October 1970 after they moved from BBC Two.
Morecambe said he was "staggered" when he received the phone call telling him the episode had been discovered.
"But I didn't realise at that point how far the BBC would go to present it," he continued, "that it would then get colourised, which is fantastic, so it's been brought bang up to date. And also what's really good is the quality of the show itself, you can see the embryonic Morecambe and Wise come through."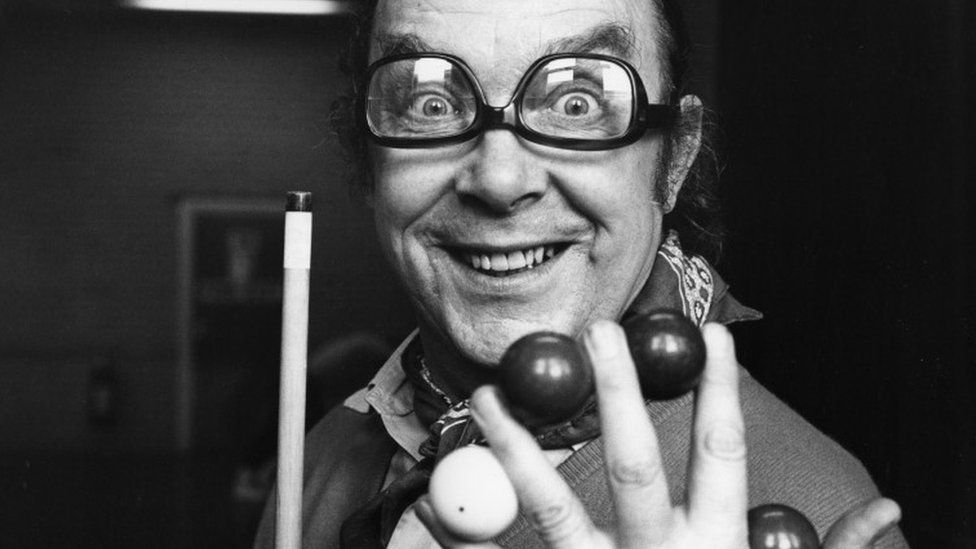 He added: "It's a bit like when they found something of Tony Hancock and Dad's Army, these are important pieces from the golden era of television so to find something that was presumed wiped, and has been sitting in an attic for 50 odd years, that is very exciting and very important."
Morecambe and Wise fronted 175 shows over a 22-year television career and in their 1970s heyday regularly pulled in more than 20 million viewers every week, with the duo's Christmas show seen as a "must-watch" by British viewers.

Morecambe and Wise on the BBC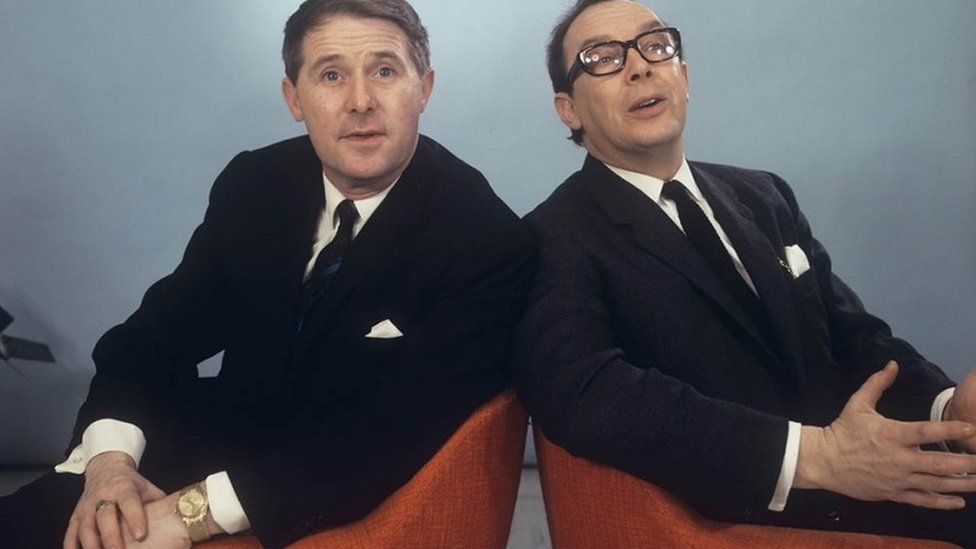 The Morecambe and Wise Show first ran on BBC Two on 2 September 1968. It marked the duo's return after 13 years away, during which time they had found success at ITV.
Eric and Ernie became the nation's most popular double act and their show became unmissable television, culminating in the 1977 Christmas Day special, which was watched by 28 million viewers.
Gary Morecambe, who now lives in Ernie Wise's home city of Leeds, said Eric would always watch the Christmas specials with his family.
"[Eric] would never stop laughing. He loved watching the show. And at the end he'd stand up and say 'I thought Ernie was really good'."
The pair returned to ITV at the end of their career for a show that ran between 1978 and 1983.
Eric Morecambe died in 1984 and Ernie Wise in 1999.

Gary Morecambe said the episode was one from their earliest days of working with writer Eddie Braben, who went on to write many of their most famous sketches.
"There is a lot in the show that will be incredibly familiar to people, showing the Eric and Ernie we came to know and love," he said.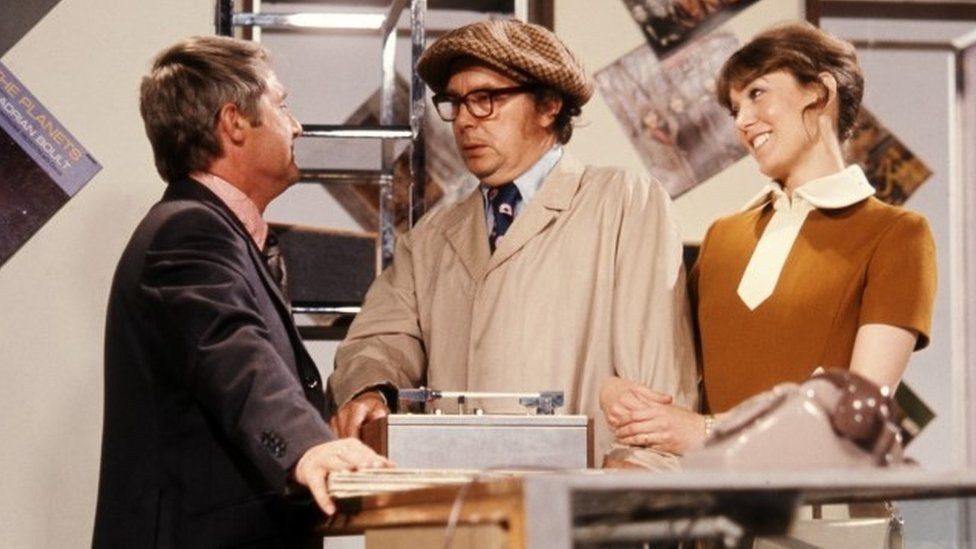 One clip from the rediscovered episode featured in an ITV documentary broadcast earlier this year, which also included rare archive film of the duo at work.
The duo's long-time collaborator, Ann Hamilton, played a nurse in a hospital sketch, looking on as Eric ate all of Ernie's grapes and then used the empty bag to catch an invisible ball.
The programme also featured celebrity Morecambe and Wise fans including actor Toby Jones, talk show host Jonathan Ross and comedians Ben Miller and Eddie Izzard.