The senior minister says he is grateful to the standards commissioner for rejecting a complaint.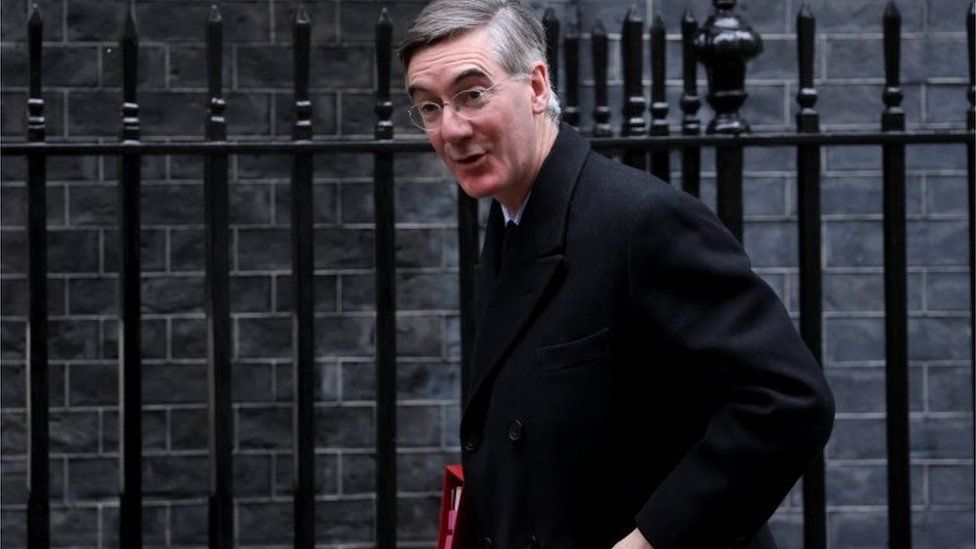 The MPs' standards watchdog has dismissed a complaint against senior government minister Jacob Rees-Mogg concerning his outside earnings.
The Commons standards commissioner opened an inquiry into whether he had failed to declare loans worth nearly £6m from one of his own companies.
Mr Rees-Mogg said he was "grateful to the commissioner for swiftly rejecting this accusation".
Quoting the Shakespeare play Othello in a tweet, the House of Commons leader added: "Who steals my purse steals trash… but he that filches from me my good name robs me of that which not enriches him and makes me poor indeed."
London home
Between 2018 and 2020, Mr Rees-Mogg borrowed up to £2.94m a year in director's loans from Saliston Ltd, a UK-based property company he owned.
He said the loans had been primarily taken out to buy and refurbish his central London home, and that all loans had been repaid with interest.
On 29 November, Kathryn Stone launched an inquiry to determine if the North East Somerset MP had breached the rules by failing to declare these loans.
Responding to Ms Stone, Mr Rees-Mogg confirmed he had taken loans from Saliston and said he had not received any "taxable expenses, allowances or benefits".
He added that he had "tried conscientiously to declare my interests and have never sought to be anything other thank frank with the House".
Offering her reasoning for exonerating Mr Rees-Mogg, the standards commissioner said there were two "initial tests" that determined whether an MP needed to register a financial interest.
Firstly, she said, the rules were not meant to regulate "what MPs do in their purely private and personal lives", and, secondly, MPs should register financial interests which "might reasonably be thought by others to influence his or her actions, speeches or votes in Parliament".
Ms Stone concluded that the loans had been solely connected to Mr Rees-Mogg's private life and that they could not be considered to have influence his actions as an MP.
On these grounds she decided to reject the complaint made against him and promised to publish her full decision "in due course".