It comes as pubs and restaurants struggle with reduced footfall and cancellations amid Covid fears.
The chancellor has set out measures to help England's hospitality sector as it struggles with a collapse in bookings sparked by the rise in Covid cases.
Speaking on Tuesday, Rishi Sunak unveiled a £1bn fund including cash grants of up to £6,000 per premises for each eligible firm.
He said the government would also help certain firms with the cost of sick pay for Covid-related absences.
The chancellor also announced an extra £30m to help theatres and museums.
He said the "generous" new support recognised the situation many hospitality and leisure businesses faced in the run-up to Christmas.
Businesses other than hospitality and leisure can apply for some of the funding.
However, the chancellor wouldn't be drawn on whether further help would come should further restrictions be announced, as ministers come under pressure to tackle the rapid rise of the Omicron variant.
On Monday, a further 91,743 Covid cases were reported across the UK – the second highest daily total on record.
Asked if more support would be offered, the chancellor said he would "always respond proportionately and appropriately to the situation we face".
But he added he thought the measures announced today were comparable to the grants that were on offer when businesses were fully closed earlier this year.
He highlighted support that is already in place that will last through to next spring, citing a reduced rate of VAT for the tourism and hospitality sectors and a discount on business rates.
But, challenged on whether he could rule out any more Covid rules before New Year, he said he understood people's frustrations but the UK faced a very uncertain situation over Omicron.
Echoing Prime Minister Boris Johnson's comments on Monday, Mr Sunak said ministers were keeping the situation under review and monitoring the data "day-by-day, hour by hour" but ruling nothing out.
But Labour's shadow Treasury minister Pat McFadden described Mr Sunak's announcement as "a holding package from a government caught in a holding position".
Mr McFadden said the support was "welcome" but that it should have been announced last week week when MPs voted to pass the government's Plan B measures.
Instead, he said, "it has only happened after the Chancellor was dragged back from California to focus on the plight facing businesses and workers here in the UK".
'Unprecedented support'
Shevaun Haviland, director general of the British Chambers of Commerce, said the new support would provide "welcome respite" to many firms affected by Covid measures, but warned that more could be needed if restrictions persist or are tightened.
She said: "We are pleased that the Chancellor heard our call for additional grant funding for hospitality and leisure businesses," adding that "clarity and speed" would be paramount to ensure grants are paid out quickly to help firms.
Kate Nicholls, chief executive of UK Hospitality, said her organisation had had "constructive engagement and dialogue" with the chancellor and other government ministers and welcomed the "unprecedented support" announced by Mr Sunak.
With just four days until Christmas, people are looking forward to spending the festive season with loved ones after many missed out last year, when restrictions were brought in just before Christmas.
Last week, Mr Johnson advised people to "think carefully before you go" out to socialise. England's chief medical officer Prof Chris Whitty also urged people not to "mix with people you don't have to".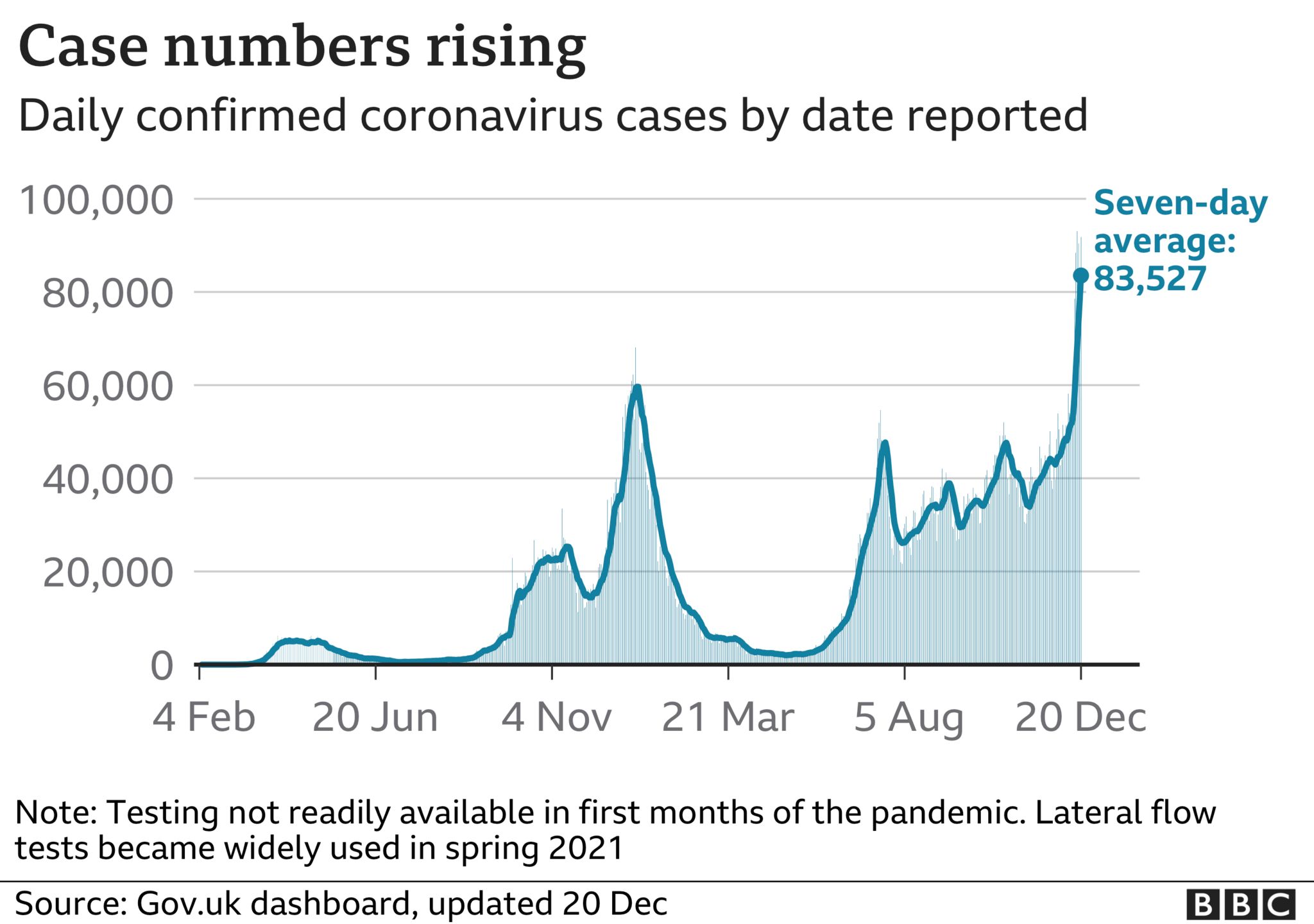 Many hospitality and leisure firms have been hit by a a collapse in bookings and reduced footfall as a result of fears over the spread of the Omicron variant.
Many have been calling for a clear decision from the government on whether there will be further Covid restrictions in England in the coming days.
BBC political correspondent Damian Grammaticas said it now seemed unlikely that new restrictions could be enacted in England before Christmas.
But hospitality and entertainment businesses were facing critical decisions in the coming hours about whether to go ahead with or cancel events over the holiday period, he added.
The government support being extended to businesses comes from two existing grant schemes administered by local authorities.
Hospitality and leisure firms can apply for help from the mandatory grants scheme, which has benefitted from the new money announced by the chancellor to make a total pot of £683m.
Under existing council-run schemes, restaurants, bars, cinemas and theatres can apply for a maximum grant of £6,000 for each of their premises.
Local councils can also dispense an additional restrictions grant – with a total fund of £102m – to businesses outside leisure and hospitality at their own discretion.
This means that any business, including suppliers of hospitality or leisure business, could apply for this money.
Meanwhile, the Statutory Sick Pay Rebate scheme is available to any business with fewer than 250 employees.
The UK's devolved administrations will receive £154m of Barnett funding to cover all three schemes, with around £80m for Scotland, £50m for Wales and £25m for Northern Ireland.