The foreign secretary will become the UK's lead negotiator with the EU over the Northern Ireland Protocol.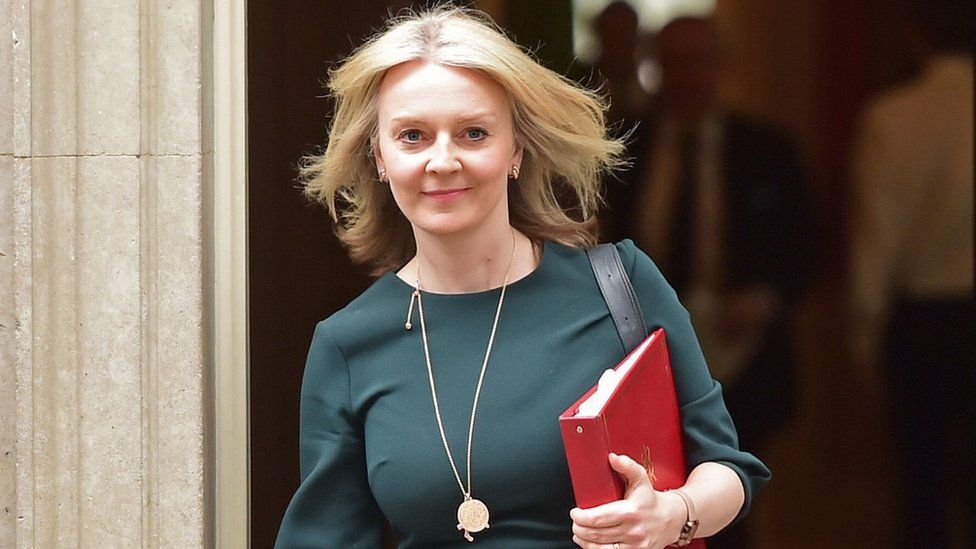 Foreign Secretary Liz Truss will replace Lord Frost as the UK's lead negotiator with the EU in post-Brexit talks.
She will retain her role as foreign minister alongside the new post leading negotiations over the Northern Ireland Protocol.
MP Chris Heaton-Harris will become Minister of State for Europe, Downing Street said.
Mr Heaton-Harris will be replaced at the transport department by Wendy Morton, who was previously at the Foreign Office.
The peer told Prime Minister Boris Johnson he had concerns over Covid policy, urging him to avoid introducing "coercive measures".
Some Tory backbench MPs who share Lord Frost's views described his exit as a "disaster".
But others in the party said it offered a chance to "press the reset button" in negotiations with the EU.
'Constructive spirit'
Ms Truss campaigned for Remain ahead of the 2016 EU referendum, saying continued membership of the EU was "in Britain's economic interest".
She has since said she would back Brexit if a referendum was held again.
Maros Sefcovic, the EU's lead post-Brexit negotiator, said he would "continue to co-operate with the UK in the same constructive spirit on all important tasks ahead, including the Protocol on Ireland/Northern Ireland".
The Northern Ireland Protocol has remained a sticking point since it was struck between the UK and EU in 2019, with some businesses saying it makes it more difficult to send goods to Northern Ireland from Great Britain.
In a statement on Friday, Lord Frost said of recent talks over gaps between the UK and EU: "There has been some progress, but not as much, and not as quickly as we had hoped."

Who is Liz Truss?

Elizabeth Truss became foreign secretary at the last reshuffle in September – replacing Dominic Raab.
Her rise to one of the great offices of state has seen her navigate a fast track through Whitehall – taking on her first government job just two years after first being elected as MP for south west Norfolk in 2010.
She began in the education department, before moving to become secretary of state for environment, food and rural affairs in 2014.
She was Lord Chancellor and justice secretary in 2016 – then chief secretary to the Treasury until 2019 when she became international trade secretary.
In this role, Ms Truss helped the UK deliver a number of post-Brexit trade deals with countries including Japan, Australia and New Zealand.