Ministers have been discussing what to do in response to rise of Omicron variant in UK.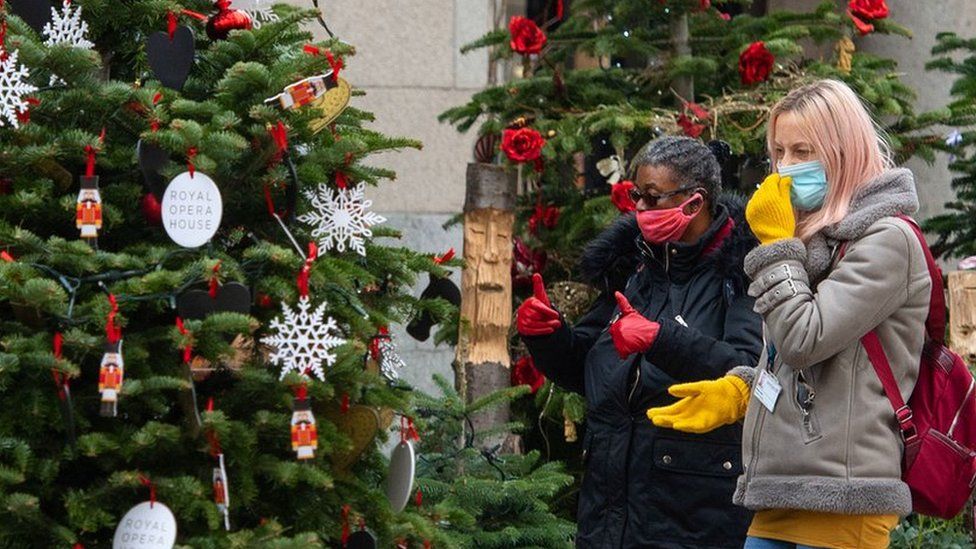 Wales is waiting to find out if ministers in Cardiff will reimpose tougher restrictions on businesses and social contact.
The Welsh government cabinet met twice on Thursday to decide how to tackle the new Omicron variant, amid alarm at its growing spread in the UK.
It is not clear whether they will issue advice, impose new legal restrictions, or do both.
The number of Omicron cases in Wales rose by 33 to 95 on Friday.
But a "rapid increase over the coming days and weeks is expected", according to Dr Meng Khaw, national director for health protection and screening services for Public Health Wales.
There will be a press conference, led by Mark Drakeford, on Friday, but more details may be released on Thursday night.
Wales' most senior doctor, chief medical officer Dr Frank Atherton, advised the public to "prioritise" who they see at Christmas.
He said the Welsh NHS has been asked to consider cancelling some types of care, which could include planned surgery.
It comes as overall UK cases have hit a record for the second day running.
First Minister Mark Drakeford predicted Omicron will hit Wales "very quickly and very steeply" in January.
He said a number of services – from the NHS to bin collections – could be affected if lots of workers are off sick.
At a Welsh Parliament committee meeting he warned of estimates indicating the coming wave could see "half of the population of the United Kingdom will fall ill with coronavirus".
"That is the most enormous number and it will be compressed in to a much shorter number of weeks than was the case with either Alpha or Delta," he said.
He said "fresh assistance" for parts of the economy most affected by Coronavirus are among the things being considered by the Welsh government.
'Need to prioritise at Christmas'
Dr Frank Atherton estimated Wales's Omicron rate was just a "few days" behind other parts of the UK.
He told BBC Wales the country's health boards had been given "advice and instructions" on ways to freeing up capacity in the NHS.
"You can work very closely with social care to make sure that patients who are ready and fit for discharge can get back to where they should be, which is in the community, and you can look to how you can relieve pressure on emergency care by using other ways of providing frontline care to patients."
He advised people to reduce their social contacts.
"We absolutely need to prioritize what we want to do at Christmas, for me it's about seeing family. It's not about going to the pub, it's not about going to a nightclub, it's not about going anywhere that's crowded or indoors."

Analysis by David Deans, BBC Wales political reporter
Could Wales become the first UK nation to reimpose coronavirus restrictions on social contact since they were scrapped in the summer?
The mood music from the first minister on Thursday was gloomy, with worries stretching not just from the impact on the Welsh NHS, but to the provision of services themselves given high levels of sickness absence expected.
There is no Treasury support in the form of furlough, restricting the support for businesses available if the Welsh government decides some may need to be closed, or restricted.
The question is – do ministers feel the situation is so bad they feel they have to act?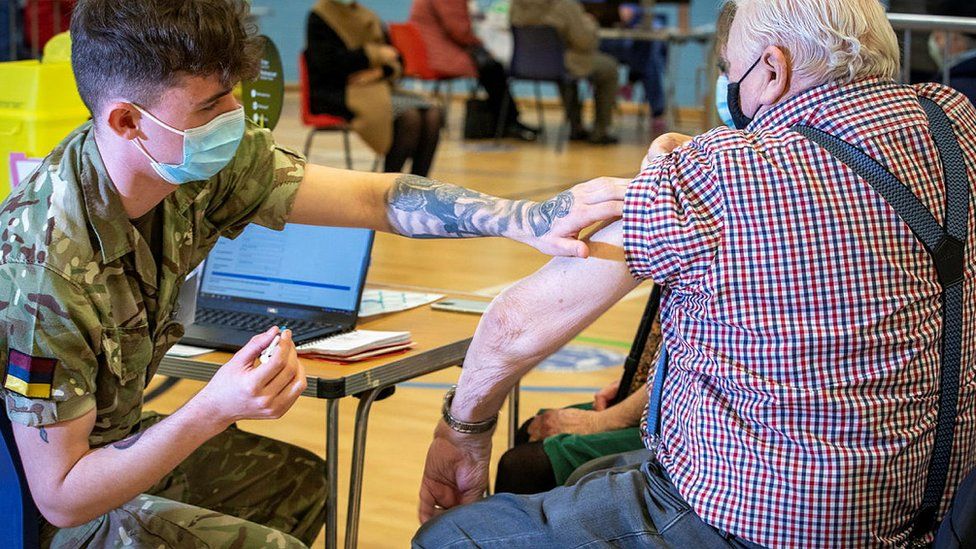 Military brought in for boosters in Wales
A letter from Education Minister Jeremy Miles calls on headteachers to plan for some classes, year groups or the whole school to move online.
Schools will have two days at the start of term to plan for pupils' return, meaning some schools will return to class later than planned after the Christmas break.
On Thursday the Ministry of Defence announced 98 armed forces personnel have been made available to support the booster programme, working in 14 teams of vaccinators.
Welsh ministers will be hoping their plans will be sufficient to cover the festive season and into the New Year, but will keep the option of making further changes during that period should they feel they are needed.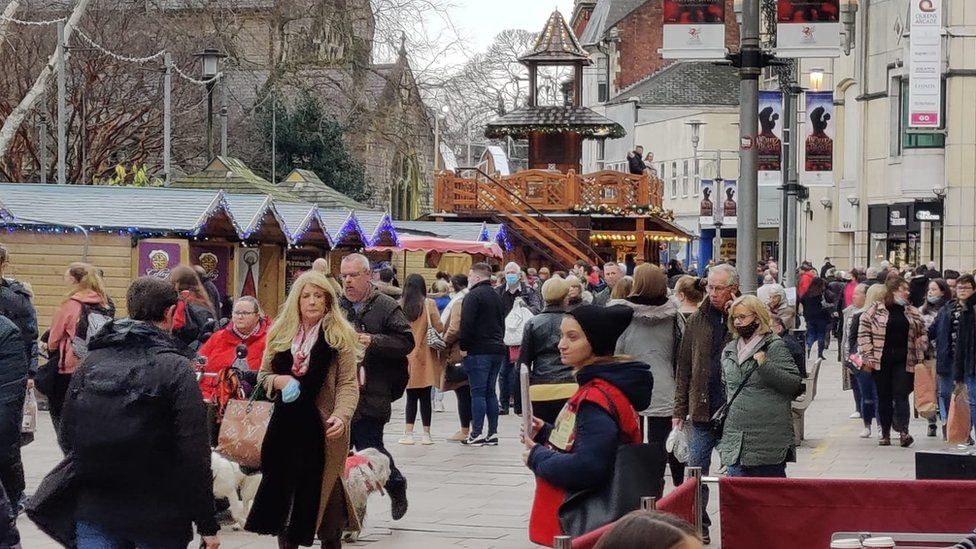 Wales' overall Covid rates have fluctuated slightly since November. The latest seven-day rate stands at 500.7 per 100,000 people.
Public Health Wales (PHW) reported 2,889 cases on Thursday, and no deaths. The total number of deaths it has reported stands at 6,501.
There were warnings that some Welsh firms are already seeing a significant impact on trade.
Welsh Conservative Senedd leader Andrew RT Davies said Labour ministers "must use the £500m of unallocated Covid support sitting in government coffers to help firms and protect jobs.
"It's clear ministers of all colours across the UK are facing a challenging public health picture in an uncertain period.
"However, any consideration and implementation of restrictions must be evidence-based and have an impact on tackling the virus, unlike vaccine passports."
'Our best defence is immunisation'
Dr Roland Salmon, a former PHW director, said there was not much evidence that restrictions work.
"Will they do any more than bring a lot of economic harm and long-term health harm to the people who are on the receiving end of those measures?" he said.
Welsh ministers are ramping up Wales' Covid booster campaign, aiming to offer all adults a third jab by the end of this month.
But an assistant director at Betsi Cadwaladr University Health Board warned emergency services may "possibly not be able to cope" if Covid cases surge.
Wyn Thomas, assistant area director for primary care at the Betsi Cadwaladr University Health Board, was asked by BBC Wales how much leeway there was in capacity, if predictions of a "tidal wave" of omicron hospitalisations proved true.
He said: "I don't think there's a lot of leeway. 
"It's not just the hospitals, primary care is very busy, social care is very busy, so I think actually the more people protect themselves and avoid the need to go to A&E or to be admitted to hospital, is going to take pressure off the system, because as we're seeing, this rapid increase means that some people [will] undoubtedly be hospitalised and I think the system is very full at present."
The health board is concentrating its booster jab efforts online and a booking website went live for the first time on Wednesday afternoon attracted 225,000 hits in the first 24 hours.