The new measures, some of which start from Friday, include Covid passes and tougher mask rules.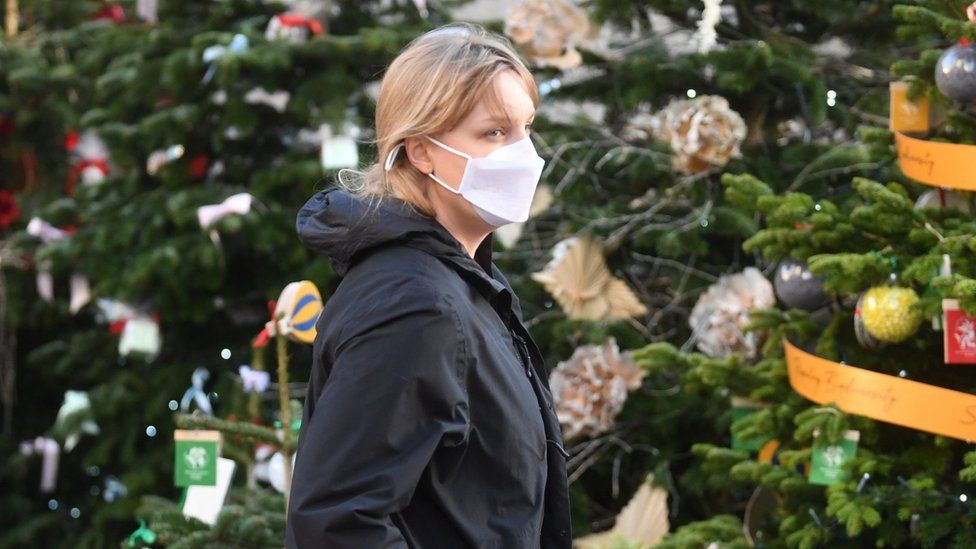 People in England are preparing for more restrictions on daily life after the PM approved his Covid Plan B to limit the spread of Omicron.
The new rules, some of which start on Friday, include masks in most public places, Covid passes for some venues and work from home guidance.
But Boris Johnson faces a mounting backlash to the plans from his own MPs.
One senior Conservative MP heckled Health Secretary Sajid Javid in the Commons, shouting for him to "resign".
Former Tory chief whip Mark Harper added: "Why should people at home listening to the prime minster and the secretary of state do things that people working in No 10 Downing Street are not prepared to do?"
Conservative backbencher John Redwood said many Tory MPs "do not think a good case has been made".
While a substantial rebellion is expected when the plans come to a vote in the Commons next week, they are likely to pass with support from Labour.
At a Downing Street briefing on Wednesday, the prime minister described the new rules as "proportionate and responsible" after the emergence of the Omicron virus variant.
He said early indications suggested the new variant "could lead to a big rise in hospitalisations and therefore sadly in deaths" – though a lot is still unknown.
Initial analysis suggested cases could be doubling every 2.5 to three days, he said. Some 568 confirmed Omicron cases have so far been identified in the UK.
From Friday, face masks will be required in more public settings – including theatres and cinemas
From Monday, people will be asked to work from home where possible
From Wednesday, the NHS Covid Pass will also be required for visitors to nightclubs, indoor unseated venues with more than 500 people, unseated outdoor venues with more than 4,000 people and any event with more than 10,000 people
Mr Johnson said Christmas parties and nativity plays should still go ahead – as long as the guidance is followed.
Ministers have repeatedly said there are no plans for another lockdown in England. "It's not a lockdown, it's Plan B," Mr Johnson told a Downing Street news conference.


New restrictions are on the way – but so too is a new revolt in Conservative ranks at Westminster.
Privately, and in some cases publicly, MPs questioned the timing of the prime minister's news conference.
As questions persisted about what went on behind Downing Street's black door a year ago, it seemed to some of Boris Johnson's Conservative colleagues that he was trying to divert attention towards what will happen this Christmas, instead what happened last Christmas inside No 10.
But the PM insisted that the increased transmissibility of Omicron meant he had to act – and he could no longer wait for the data he had previously said was needed on how serious the threat from the new variant was.

Other nations of the UK – which are in charge of their own Covid rules – have already brought in stricter restrictions similar to Plan B.
Covid passes are also currently required for venues in Scotland, Wales and Northern Ireland.
In England, people will be exempt from showing their Covid passport when attending religious worship, weddings and funerals.
Scotland's First Minister Nicola Sturgeon urged people to follow the rules.
She said: "Even if you feel angry with a politician just now, please remember just how important compliance is for the health and safety of you, your loved ones and the country."
Speaking alongside Mr Johnson on Wednesday, Sir Patrick Vallance – the government's chief scientific adviser – also urged people to comply. "It only works if we all do it," he said.
The UK government's chief medical adviser Prof Chris Whitty also acknowledged the anger when people feel "it's unfair".
But he added that was "quite different from people wanting to actually know what's going on and then make decisions".
On Wednesday, another 51,342 confirmed cases of Covid were recorded and a further 161 deaths reported within 28 days of a positive test.


Here are two big questions: How fast can Omicron spread? And how sick will it make you?
Understand those and you understand the threat and the challenge posed by Omicron.
Scientists around the world are now making the first stabs at answering those questions and giving us hints of what's in store.
Immunity is critical, Omicron has not rewound the clock to the start of the pandemic, but uncertainty clouds everything and definitive answers could be weeks away.

During a dramatic day at Westminster, Mr Johnson apologised "unreservedly" after senior aides were caught on camera joking about a party held at Downing Street during restrictions on 18 December last year.
The Metropolitan Police has said it will not investigate the 18 December party to due "an absence of evidence".
Meanwhile, the Conservative Party has confirmed four staff were disciplined after an "authorised social gathering" took place at its Westminster headquarters when London was in tier two restrictions banning such events last year.
And the BBC has been told several Downing Street staff members attended a gathering with Carrie Johnson in the flat where the prime minister and his wife live during England's national lockdown in November 2020.
Mrs Johnson's spokeswoman denied there was a party on 13 November and several of those said to have attended have said the claims are untrue.
The BBC has also been told there were informal leaving drinks for staff at No 10 on 27 November.