SNP Westminster leader Ian Blackford says he will table a censure motion in the prime minister next week.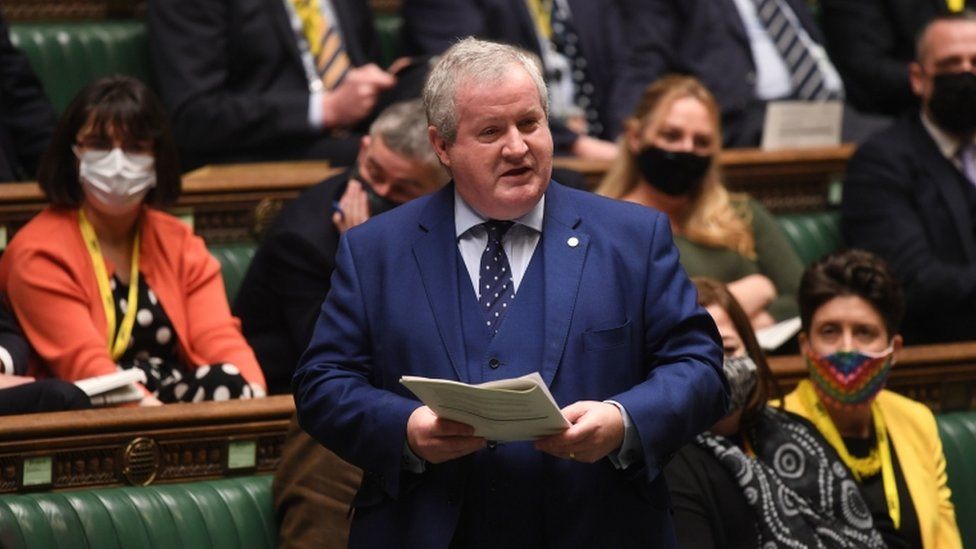 The SNP is to table a motion of no confidence in Prime Minister Boris Johnson at Westminster.
The party's Westminster leader Ian Blackford told SNP conference delegates that Mr Johnson should be held to account for his "disastrous actions".
He said his party would act as the "real opposition" by tabling a motion of censure on Tuesday.
Mr Johnson has insisted that his UK government is "delivering for the people of this country".
The Conservative administration has a working majority of 77 seats in the House of Commons, meaning it is unlikely Mr Blackford's motion will pass.
However, the SNP MP said it was important the prime minister was held to account, saying: "Unless he faces consequences for his disastrous actions, he won't just think he's gotten away with the mess he has made of the last few months – he will think he can do it all over again".
In his speech to the SNP's virtual party conference, delivered from his home in Skye, Mr Blackford criticised the "chaotic governance" within Downing Street.
The SNP Westminster leader said he would table a censure motion during the SNP's opposition debating time on Tuesday, saying Mr Johnson had produced an "omnibus of omnishambles" in his time as prime minister.
Labour has also attacked Mr Johnson's performance, with leader Keir Starmer saying he is "taking the country absolutely nowhere", breaking promises to voters and "delivering high taxes, high prices and low growth".
Mr Johnson has defended his record, pointing in particular to employment figures and the rollout of the vaccine programme.
He told MPs on Wednesday: "We are delivering for the working people of this country. We are fixing the problems that they thought could never be fixed, and we are doing things that they thought were impossible.
"There are now more people in work in this country than there were before the pandemic began. That is because of policies that this government has followed."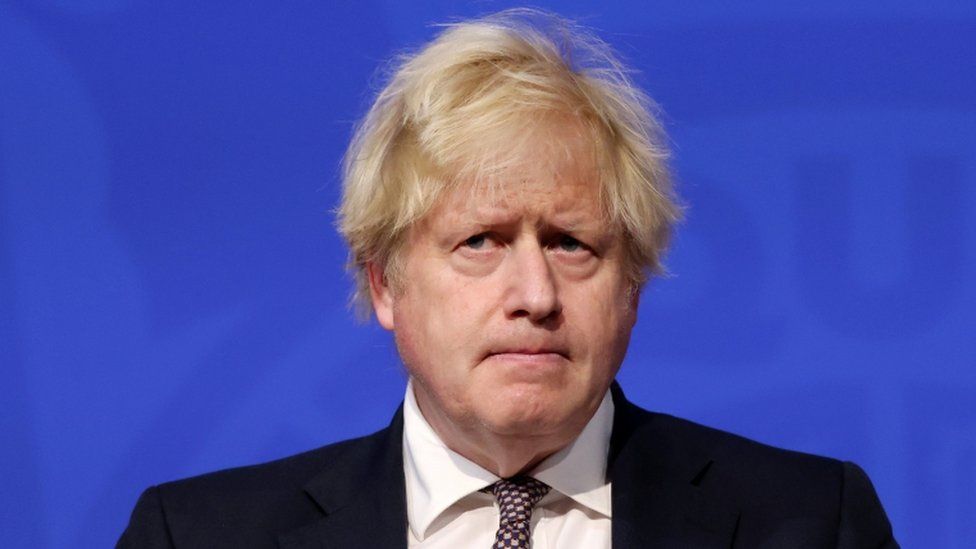 Mr Blackford told the conference that independence was the best way for Scotland to escape the "constant crisis" of the UK – claiming that it is "within grasp".
The MP told BBC Scotland's Sunday Show that a bill would be tabled and passed by the pro-independence SNP and Green parties at Holyrood "over the course of the coming period", and that a vote would be held in 2023 "in an ideal set of circumstances".
However, there have been questions over when the Covid-19 pandemic will have abated sufficiently to allow the national debate Mr Blackford said he was "absolutely desperate" to have, and whether legislation brought forward at Holyrood could be challenged at the Supreme Court.
Asked by the BBC's Andrew Marr whether concerns about the new Omicron variant could affect the SNP's timetable for a referendum, First Minister Nicola Sturgeon said that steering Scotland through the pandemic would be her main focus and priority "for as long as necessary".
She said: "I made a statement in parliament on Tuesday where I was really hopeful that we were starting to turn the corner. Clearly a few days on the situation looks potentially very different with the arrival of a new variant.
"I think if I stood up in front of my party and told them that I alone in the world could see when this Covid pandemic was going to end, then people would look at me askance."
Ms Sturgeon wants to strike an agreement with UK ministers to hold a vote – as happened for the 2014 referendum – but has been rebuffed by successive prime ministers.
Both Theresa May and Boris Johnson have said the time is not right for a fresh vote, with Mr Johnson arguing that UK-wide responses to the pandemic like the vaccine programme and furlough scheme underline the "merits of the union".
A UK government spokesperson said: "This is not the time for divisive constitutional arguments.
"Now more than ever, people in Scotland want to see the UK and Scottish governments working together to protect lives, jobs and recover from the effects of Covid-19 on our economy and public services."