Chef Andrew Pern's Star Inn in North Yorkshire is gutted when a blaze engulfs its thatched roof.
A Michelin-starred restaurant in a 14th Century building has been "reduced to ashes" after its thatched roof caught fire
Chef Andrew Pern said he was called on Wednesday night and told The Star Inn at Harome, near Helmsley, North Yorkshire, was ablaze.
He said its straw roof was "perfect" fuel for a fire, and the building "didn't stand a chance" once it had taken hold.
Firefighters remain at the scene.
The building, on the edge of the North Yorkshire Moors National Park, caught fire shortly after 22:00 GMT.
At its height, 45 firefighters tackled the blaze, North Yorkshire Fire & Rescue Service said, adding that all occupants had safely left when crews arrived.
"The crook frame has just about gone, [the roof] is probably three or four feet deep of straw so if you're a fire it's perfect," he said.
"It's one of those risks that comes with a thatched property, once it took a grip it didn't really stand a chance."
A post on the restaurant's Twitter account added: "We won't be open for a while as we are reduced to ashes with The Star on fire and still burning".
Mr Pern took on the restaurant in 1996, serving "modern Yorkshire" dishes made from "locally sourced seasonal ingredients".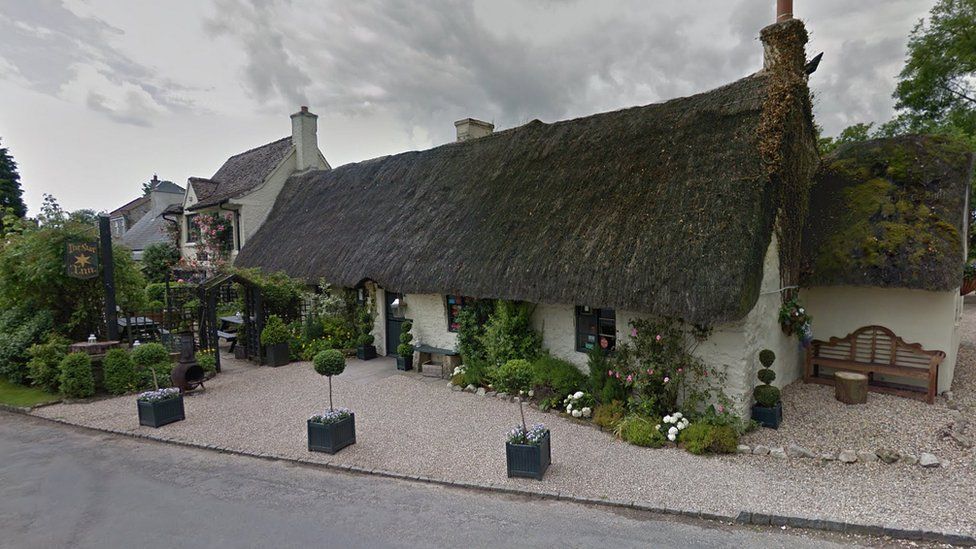 The restaurant is described in the Michelin Guide as "oozing character with its low beamed ceilings".
"While the restaurant side has a plush, luxurious feel, it's still very much the village local and you'll find the regulars supping on a pint of bespoke Two Chefs beer in the characterful bar," it reads.
Fellow Michelin-starred Chef Tommy Banks, who owns the nearby Black Swan at Oldstead, said news of the fire was "devastating".
"Our thoughts are with you Andrew and the whole team," he wrote in a tweet.

The BBC is not responsible for the content of external sites.