Home Secretary Priti Patel says there is "no quick fix" to stop Channel crossings following the tragedy.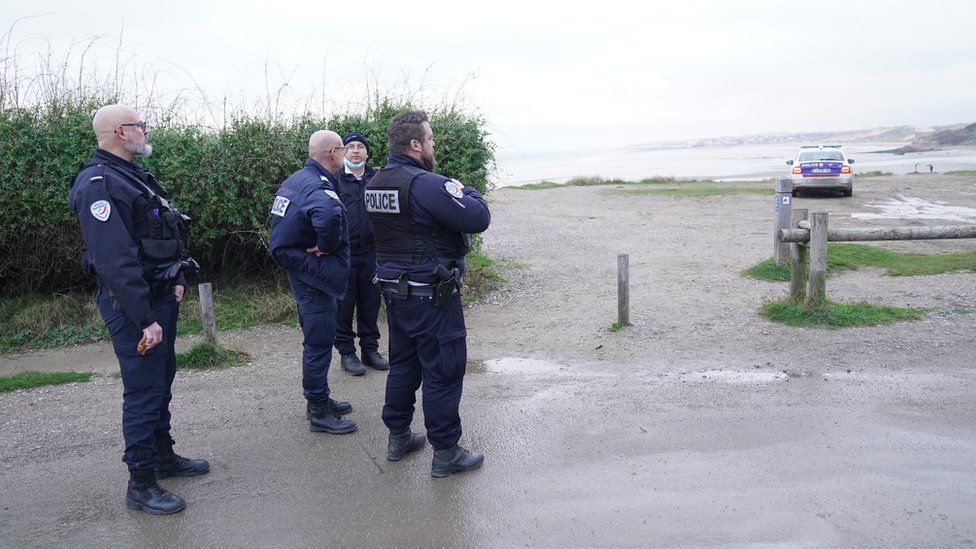 The UK and France have held "positive" talks on tackling trafficking following the deaths of 27 people in the Channel, a government source has told the BBC.
British officials are travelling to France later on Thursday to meet their equivalents and talk about how they can better work together.
Home Secretary Priti Patel will meet her French opposite number on Sunday, BBC News understands.
The 27 deaths marked the biggest loss of life by drowning in the English Channel on record and included 17 men, seven women – one of whom was pregnant – and three children.
France's interior minister Gerald Darmanin said regional prosecutors had launched an investigation into aggravated manslaughter.
He said two survivors were in a critical condition in a French hospital, where they are being treated for severe hypothermia. One is Iraqi and the other Somali, he told RTL radio.
A UK government source told the BBC's political editor Laura Kuenssberg that talks earlier between Mrs Patel and her French counterpart, Mr Darmanin, had been positive and that both countries had accepted there needs to be more collaboration between the two governments to help tackle people smuggling.
Earlier, Mrs Patel told Parliament there was "no quick fix" to tackle the issue but said she had spoken to her French counterpart to offer to put more officers on the ground and had continued to push for joint patrols of the Channel.
She said that while the drownings were a "dreadful shock", they were not a surprise – describing the crossings as "absolutely unnecessary".
"This is about addressing long-term pull factors, smashing the criminal gangs that treat human beings as cargo and tackling supply chains," she said.
Calais MP Pierre-Henri Dumont dismissed the idea of joint patrols as "crazy" and said it would not change anything along the vast shoreline.
French President Emmanuel Macron has called an emergency meeting of European ministers to discuss how to stop the crossings.
He said France was going to ask for "extra help" from the British , adding that despite authorities telling migrants they were able to stay in France, they wanted to reach the UK.
Since the start of the year, 1,552 smugglers have been arrested in northern France and 44 smuggler networks dismantled, Mr Macron said.
Despite this, he said 47,000 attempted Channel crossings to the UK took place this year and 7,800 people were rescued.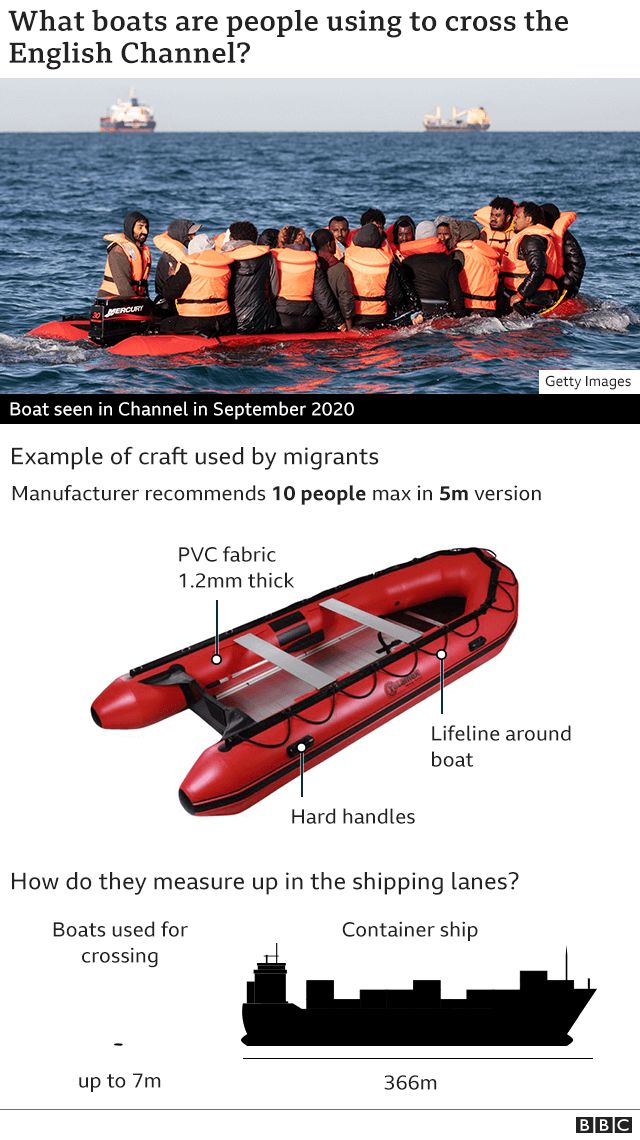 Charles Devos, volunteer for the French National Sea Rescue organisation SNSM, was one of the first to reach the scene of Wednesday's tragedy after getting a mayday call from the coastguard.
He told French radio station Delta FM he and his crew picked up six bodies that were drifting in the water.
"We passed next to an inflatable boat that was completely deflated. What little air remained was keeping it afloat. I don't know if there were children, but we picked up [the body of] a pregnant woman and a young man who was around 18 or 20," he said.
"It's hard to say, but I was expecting this, we know it would end in tragedy, and today sadly that's the case."
Despite the loss of life more people made the dangerous crossing on Thursday morning, with a group wearing life jackets seen huddled together onboard a lifeboat near Dover.
BBC News reporter Simon Jones said around 40 migrants were brought into Dover by the lifeboat charity the RNLI.
Labour leader Sir Keir Starmer criticised Mrs Patel for "playing to the headlines" but "actually not achieving anything".
He said the UK should be working with the French authorities in the makeshift camps, where the power of the people smugglers was "far greater" than that of the authorities.
The UK has pledged to pay France €62.7m (£54m) during 2021-22 to help secure the borders.
The Dover Strait is the busiest shipping lane in the world and has claimed many lives of people trying to cross in inflatable dinghies.
Record numbers of migrants are making the crossing from France to the UK and it is thought at least 10 other people had died in the past few weeks while attempting to cross.
While the number coming across the Channel by boat has soared, that is only part of the picture regarding migrants – as this year has seen far fewer using other strategies to enter the country undetected.