Stella Creasy learns of the new rule after appearing with her three-month-old at Westminster Hall.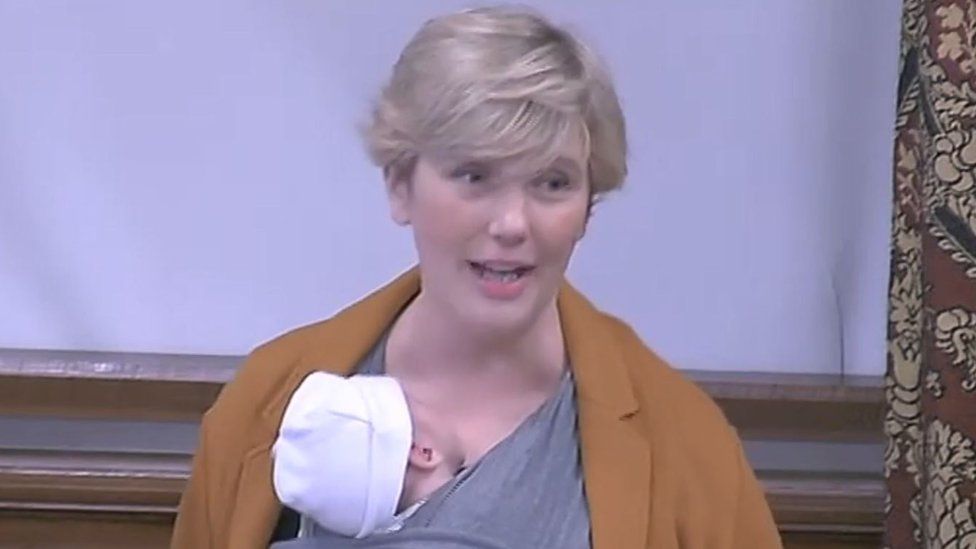 An MP has said it "has to be possible for politics and parenting to mix" after being told she cannot sit in the Commons with her three-month-old son.
Labour's Stella Creasy was informed it was now against the rules to bring a child to a debate at Westminster Hall after doing so on Tuesday.
She said the change was "news to me" after attending debates with a baby in the past and called for a review.
The House of Commons said it was "in communication" with Ms Creasy.
The Walthamstow MP told the BBC she had regularly taken her son – who she is breastfeeding – and before him her daughter, into the Commons chamber.
But after appearing with her son at the adjoining Westminster Hall on Tuesday, she received an email from the private secretary to the chairman of the Ways and Means committee, Dame Eleanor Laing, which said this was not in line with the current rules on "behaviour and courtesies".
Ms Creasy – who is encouraging more mothers to enter politics through a campaign called This Mum Votes – shared the email on Twitter, writing: "Mothers in the mother of all parliament are not to be seen or heard it seems…"

The rule book, which was issued by the speaker and deputy speakers and applies to the chamber of the House of Commons and Westminster Hall, was updated in September.
It says: "You should not take your seat in the chamber when accompanied by your child, nor stand at either end of the Chamber, between divisions."
But another MP, Alex Davies-Jones, said she had been assured by Commons Speaker Lindsay Hoyle that if she needed to breastfeed her child in the chamber she could do so.
Ms Creasy said this was "not a system that works for anyone who isn't a man of a certain age from a certain background".
"I don't have maternity cover – I don't have the employment rights to have maternity cover," she said, adding the situation as it stands "is bad for our democracy".
Asked what needed to change to help MPs continue to work as new parents, she said: "It's too late for me – so I am trying my best to make sure Walthamstow continues to be heard because it deserves to be heard."
She called for the MPs' rule book to be reviewed and has asked House authorities what she should do if she continues to bring her son to work.
"I've had a baby, I haven't given up my brain or capacity to do things and our politics and our policy making will be better by having more mums at the table," she added.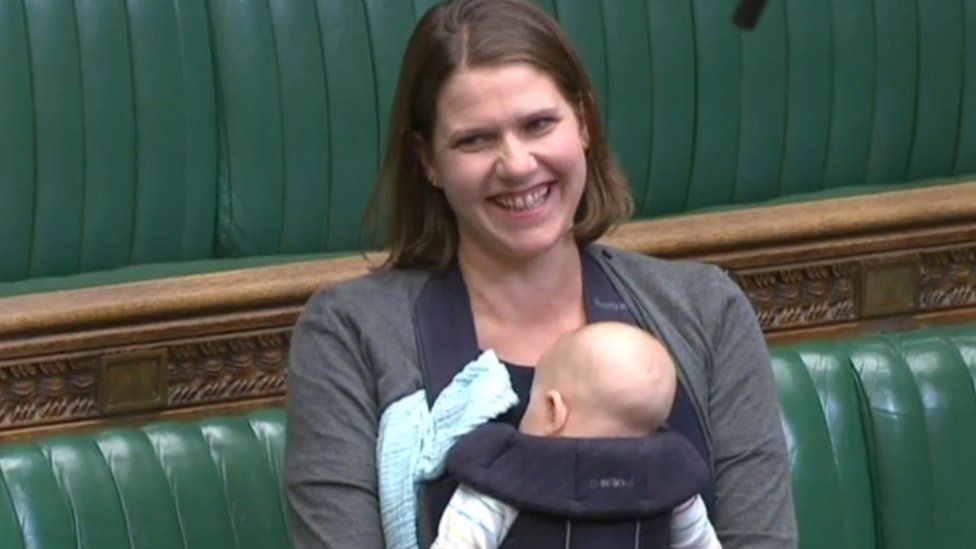 While MPs are entitled to six months paid maternity leave and a proxy vote, some have said it is difficult to obtain funding for adequate maternity cover.
In recent years, new mothers have appeared in the Commons with their babies to take part in debates.
Also that year, New Zealand Prime Minister Jacinda Ardern became the first world leader to take her baby to the floor of the United Nations General Assembly in New York.
A House of Commons spokesperson said it was vital all MPs were able to carry out their duties in and around Parliament.
MPs could consult with the speaker, deputy speakers, clerks and doorkeepers about their requirements while in the chamber or Westminster Hall at any time, they added.