Climate activists close a central London bridge in support of nine campaigners jailed this week.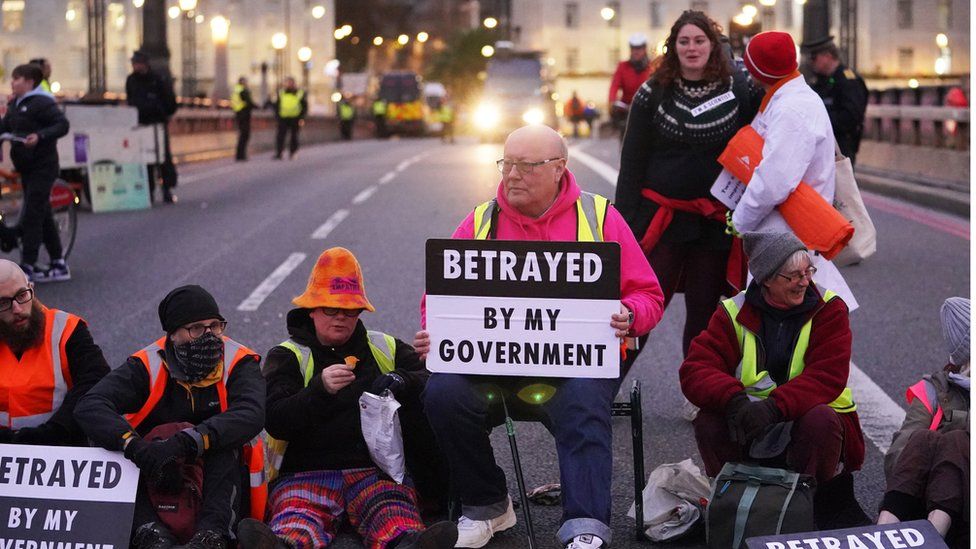 Police have arrested 30 climate activists after a central London bridge was closed by a sit-down protest.
Up to 250 people took part in the sit-in, shutting the bridge for hours.
Police made the arrests after imposing Public Order Act conditions on the protest.
The Metropolitan Police said the bridge was reopened at about 19:00 BST, with the final protesters removed from Vauxhall Cross a few minutes later.
Earlier, uniformed officers stood on Lambeth Bridge while traffic was diverted, with police saying it was "for the safety of all".
Meanwhile, demonstrators made speeches, sang songs, ate lunch and chanted slogans.
Campaigners told the crowd that the nine jailed Insulate Britain campaigners were "political prisoners" who will not be the last to be locked up for their convictions about climate change,
The nine protesters were given sentences of three to four months for breaching an injunction, aimed at preventing the blockades which have brought several roads to a standstill and sparked anger among motorists.
Activists on the bridge said they would not be deterred by the threat of prison.
Gabriella Ditton, 27, an animator from Norwich, told the PA news agency she has already been arrested six times with Insulate Britain.
"I expect to go to prison at some point for at least six months because I am not going to be apologetic about this," she said.
She said "civil resistance" was necessary to create the political will to solve the climate crisis.
Zoe Cohen, 51, who travelled from Warrington, Cheshire, to protest, said "ordinary people should not have to do this and risk prison".
She said the disruption caused by the protests was "microscopic" compared to the death and suffering caused by climate change.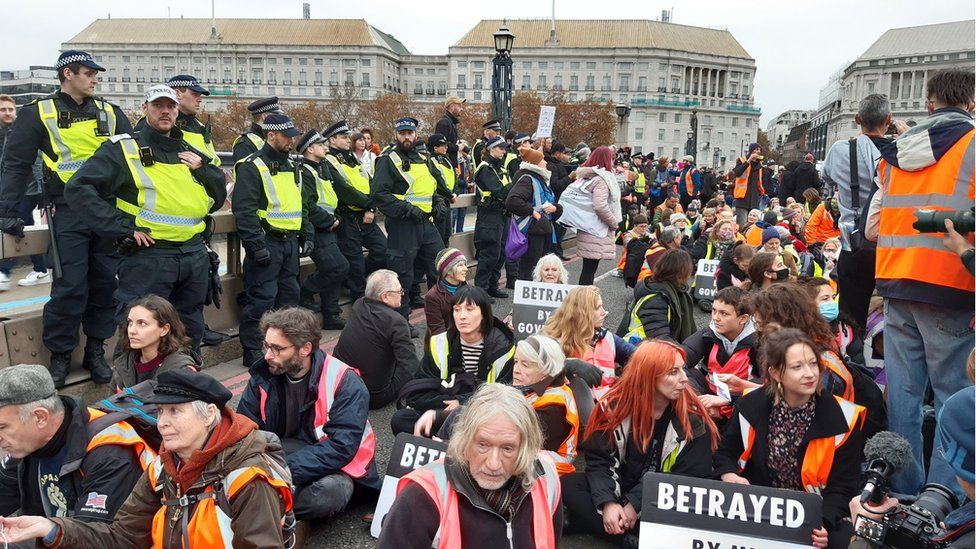 Gully Bujak, a campaigner linked with Extinction Rebellion, said to police at the protest: "These streets are ours and we will put one foot in front of the other, and dare you to stop us."
She added: "You can jail the resister but not the resistance."
Another told the crowd, to cheers, that "good people have a duty to disobey bad laws".
Insulate Britain said it was not involved in organising the demonstration, which participants said was "community-led".
But the group has said it intends to continue to protest until the government agrees to ensure homes are insulated by 2030 – a key factor in reducing the UK's energy use and carbon emissions.
The High Court has issued five injunctions so far to prevent road blockades, covering the M25, as well as other major roads around London and the port of Dover.
But Saturday's arrests were made under police powers to impose conditions on public assemblies or processions, restricting the numbers attending, location or duration.