The 95-year-old monarch had missed the Remembrance Sunday service due to a sprained back.
The Queen has been seen taking part in public duties for the first time since she pulled out of the Remembrance Sunday service at the Cenotaph.
She was pictured having a face-to-face audience with Gen Sir Nick Carter, chief of the defence staff, at Windsor Castle on Wednesday.
The monarch, 95, had to miss Sunday's event because she had a sprained back, Buckingham Palace said.
The palace had previously said it was the Queen's "firm intention" to attend.
The Queen was seen standing as she greeted Gen Sir Nick for the military audience in Windsor's Oak Room.
It is the first time in nearly a month the Queen has been pictured carrying out an engagement in person. She had her regular face-to-face audience with Prime Minister Boris Johnson last week but was not pictured doing so.
She smiled as the pair shook hands and began chatting, with the Queen saying it was "rather sad" he was leaving his role.
Gen Sir Nick, who is preparing to step down as armed forces chief at the end of the month, agreed "it's a long time", saying he had been in the post for eight years.
Her pet dorgi Candy – a cross between a corgi and dachshund – could be seen at the door of the room as the military leader entered.
The Oak Room is the Queen's sitting room where she spends much of her time and it doubles as her office.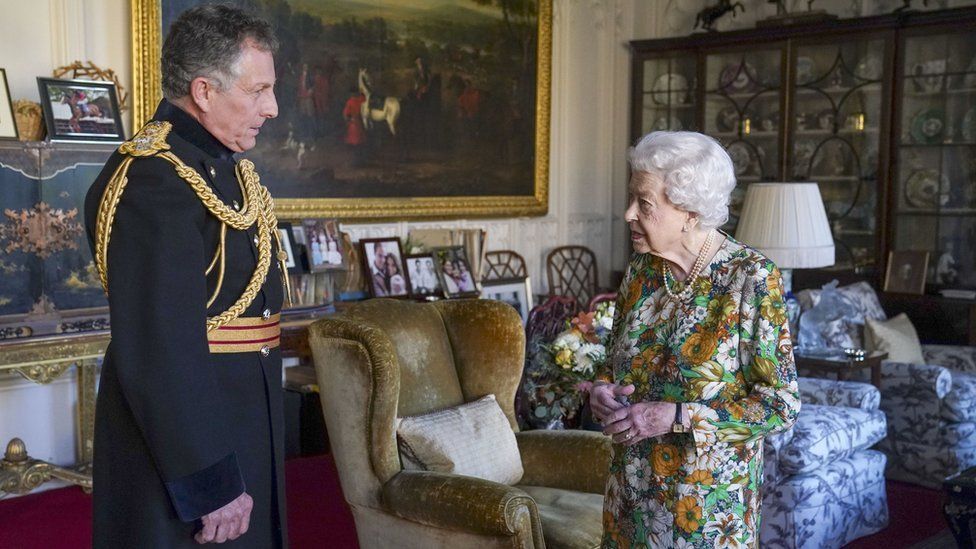 The Cenotaph service was due to be the first time the Queen was seen in public since taking time away from her duties for health reasons.
She had been advised by doctors to rest until mid-November after she spent a night in hospital on 20 October for checks.
However, she did undertake some light duties during that time, including meeting ambassadors via video link from Windsor Castle.
The Queen was meant to attend the General Synod earlier this week, but her message to the Church of England was delivered by her son, the Earl of Wessex, instead.