Aung San Suu Kyi has not been seen in public since a coup removed her from office in February.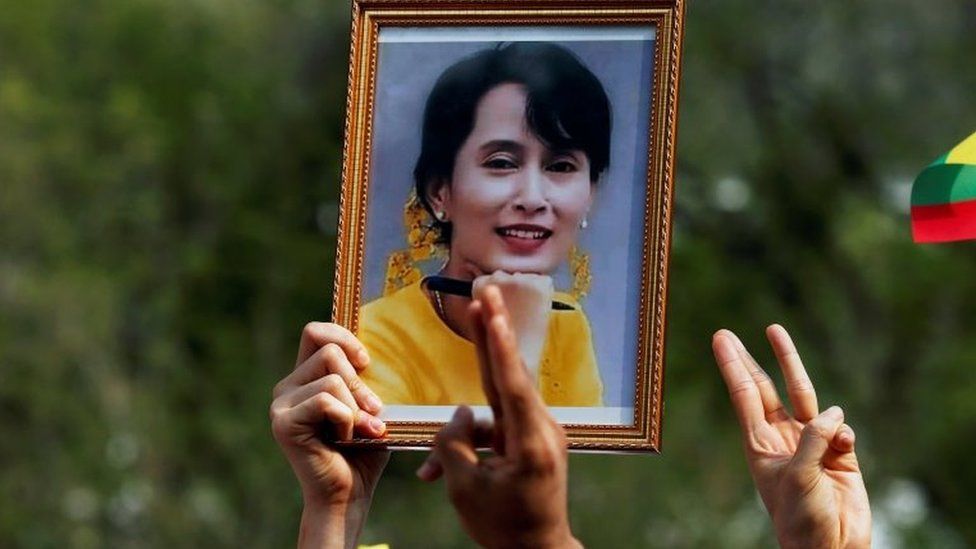 Myanmar's military has told the BBC that authorities are not mistreating ousted leader Aung San Suu Kyi.
The 76-year-old former leader has not been seen in public since a February military coup removed her from office.
The BBC's interview with military spokesman Major General Zaw Min Tun comes after the release of US journalist Danny Fenster who had been sentenced to 11 years in prison.
Dozens of journalists and thousands of people have been held since the coup.
Maj Gen Zaw Min Tun said Ms Suu Kyi was being kept well in detention.
"I mean we let her live with her own people in a house although she is under house arrest," he said. "We try our best for her, what she wants or whatever she wants to eat."
Ms Suu Kyi has been charged with breaking a colonial-era official secrets law. She also faces corruption charges and possessing illegal walkie-talkies.
She has appeared in court but little has been seen or heard from her aside from these brief appearances.
The UN has called for her release.
Speaking to the BBC, Maj Gen Zaw Min Tun also said that authorities intended to release US journalist Danny Fenster.
Mr Fenster was released on Monday, just days after he was sentenced to 11 years in prison for breaching immigration law, unlawful association and encouraging dissent against the military.
He was also set to stand trial on further charges of sedition and terrorism.
Maj Gen Zaw Min Tun denied that anything had been promised in return for the release of Mr Fenster, who worked for Frontier Myanmar.
Last month, Myanmar's government said it will free more than 5,000 prisoners jailed for protesting against the coup.